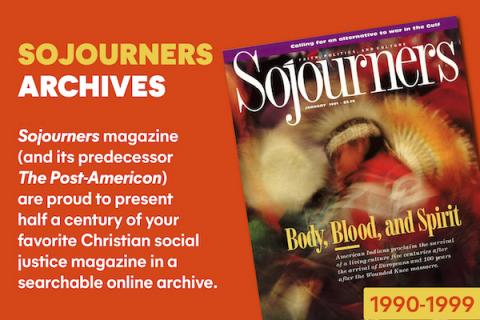 Amnesia, whimpering, and nostalgia seem to be the order of the day among evangelicals who are trying to find a legitimate place for their social justice in the conservative culture of American evangelicals. For some reason, the last two or three years has seen an increased volume of whining among those of us who hold the basic doctrines of evangelicalism close to our orthodox hearts while also trying to live with an outward doctrine of justice. We seem to think that it used to be acceptable in the United States to love Jesus and work on behalf of the oppressed, that it used to be legitimate to seek the forgiveness of personal sins while also confronting the public sins of our nation and the multinationals.
Did we fall asleep or something? Is our memory that fallible? Or have we abandoned our courage?
It just isn't American to combine social justice with evangelicalism. And it never really has been. Yes, a few small published tomes documenting the social activism role of evangelicalism in the past are just that-a few small tomes. Meanwhile, millions of evangelicals over the past one hundred years or so have lived with the notion that piety of faith is the entire substance of what it means to follow Christ, and that the outward workings of that faith are optional, certainly not requirements. Unless, of course, we are referring to evangelism and missions-the mechanism by which the personal piety is propagated.
Those of us evangelical leaders who are committed to the biblical call to do justice must stop our complaining about being ostracized as though it were some kind of contemporary phenomenon. We should admit the facts: It never has been popular to wed the notion of evangelicalism with social justice-until very recently-and that, believe it or not, was the doings of fundamentalists, not evangelical progressives.
I'm referring here to the anti-abortion movement. We should wonder a little longer than we normally do about the issue of abortion among the conservative crowd because it is clearly a social justice issue-speaking on behalf of the unborn, those who are unable to speak for themselves. This one agenda item has conservative evangelicals fairly unified. They have accepted this pro-life stance into the heart of their evangelicalism, and, as such, we have to be fair and acknowledge that here is a contemporary example of justice being embedded in the conservative sub-culture.
To be anti-abortion is almost to be evangelical. We can criticize all the trappings that go with the pro-life movement, but the truth is, in all of my contact with progressive evangelical peers, none of us report a clean track record in trying to advance social justice in our own context. A lot of messy terrain lays behind us. This shouldn't diminish our protest, nonetheless, against a movement that professes the Lordship of Jesus Christ and yet continues to propagate injustice against women, the poor, the culturally marginalized, and the Earth.
There has always been a small body of Christians within the evangelical camp who insist that social justice is a part of the faith-that indeed it is a non-negotiable component of following Jesus. Their role has not been accepted by the gatekeepers of American evangelicalism. Rather, their function in our culture would be more accurately identified with that of biblical prophets-those nutty kinds of people whom God historically instructed to marry prostitutes, live in caves, preach condemnation, and tell the kings that their days were more numbered than they cared to think.
The fact that so many evangelical activists today are looking for a place of legitimacy in the evangelical camp is more a reflection of prophets growing weary than an indication that the evangelical camp has shifted toward the Right. It never abandoned its place in the Right. By definition it is Right.
A SHORT HISTORICAL reflection would help. In the 1960s, the evangelical social activist crowd began to emerge in response to corporate and national ills-racism and war being the primary focus. Later, sexism and environmentalism were added. Nowhere in the evangelical-fundamentalism debate in the few decades prior to that was the central question: Should Christians speak out on justice?
More fundamental questions of the centrality of Christ and the trustworthiness of scripture held central station. Fundamentalists and evangelicals were legitimately concerned that the foundation of the faith was being eroded in the process of identifying with people of other faiths, that the uniqueness of Christ was being negotiated in the caldron of response to human need.
Syncretistic language began to emerge in some ecumenical circles, and, naturally, these gatekeepers of evangelical orthodoxy concluded that social engagement and doctrinal impurity went hand in hand. Fornicating, lying, breaking marriage vows, cheating on taxes, and the pointing of the malicious finger were just as much a part of the evangelical church back then, but somehow they were never identified as potentially dangerous to our faith.
A third of a century ago-which pretty much covers the living memory of today's evangelical progressives-saw a small, but vocal emergence of evangelicals who insisted that racism and oppression could not be a part of the evangelical church. They may as well have been from Mars, and the leading evangelical publication of the day, Christianity Today, couldn't find room for those opinions.
As the civil rights movement gave way to the Vietnam War, and as Christian activists called for non-involvement in the war, they became synonymous with peaceniks. Indeed, our culture at large presumed it anti-American to be against military involvement in Vietnam: Those people supported communist-inspired civil rights nonsense, and withholding their support from a war that was to do away with communists in another tiny, little country none of us could locate on a map was to give direct credence to a godless political system.
It was not a very good place to be if the goal was to suggest that social justice was as American as evangelism. Never mind that the main engine of the civil rights and anti-Vietnam movements was a biblically inspired notion of the equality before God and the desire for peace.
As some evangelicals began to take leadership for the social justice people, notably Jim Wallis, John Perkins, Ron Sider, John Alexander, and Tony Campolo, the idea emerged in the late 1970s that perhaps the progressives should be let INTO the evangelical camp. Perhaps the notion "evangelical" could be broadened to accept their viewpoints.
THE TRUTH IS THAT never really happened. Wallis and Alexander found that Sojourners and The Other Side, their respective publications, were more ecumenical than progressive evangelical (and they discovered neither publication could survive on evangelical dollars). Their readership naturally grew among mainline denominations and Catholics who identified with the social justice agenda and felt comfortable with these new magazines that were not calling for traditional evangelical ap-proaches to evangelism.
Sider's oxymoronic group, Evangelicals for Social Action, never did grow to anything larger than the size of a small rural neighborhood. After a rough decade and some focused constituency research, the organization concluded that views such as pacifism and women's rights were not palatable by the broader evangelical public and perhaps should not be central to their mission. They began to look for a middle road that didn't offend too many in terms of economics, peace, and public policy, and one of the rewards from the evangelical camp was that Sider made it to the coveted cover of Christianity Today.
John Perkins continued his "quiet revolution" in Mendenhall and Jackson, Mississippi, and later Pasadena, California, where his organization worked on several fronts to call evangelicals to work for justice and the total human dilemma. His clear commitment to the person of Jesus and the call to evangelism have made it impossible for conservative evangelicals to tarnish his ministry.
Campolo, of course, continues to ravage the nation with his wit and whim, but he never did ask to receive credentials to gain entrance. His legacy includes a community-based ministry in Haiti, Beyond Borders, and an urban ministry in Camden, New Jersey, Urban Promise.
A few more recent expressions of the evangelical progressive movement have emerged, including the Christian Community Development Association (CCDA), Christians for Biblical Equality, and the Christian Environmental Association. CCDA has captured the imagination of urban pastors who are looking to establish solid church-based ministries that work for justice. This organization, founded by John Perkins, now calls together 1,500-plus leaders annually from almost every state.
These are real practitioners who take their cues from Perkins as one of the classic evangelical progressives-his direct confrontation with the state authorities, his imprisonment and beatings are the price he paid for following his deeply held evangelical conviction that racism is a sin. (As a curious portrait of the strange nature of the evangelical progressive movement, the same organization does not press for justice for women. It largely holds to the model that men are called to spiritual leadership over women.)
Christians for Biblical Equality has taken on this niche for gender justice in their relatively young movement. Now about 2,000 members strong, they advance the notion among evangelicals that full equality for both genders is an evangelical option and a non-negotiable position from a biblical point of view. Their movement has been a largely white, middle-class female movement, but it is beginning to broaden its scope to include justice concerns for women of the two-thirds world.
Evangelical theologian Carl F.H. Henry stirred the evangelical pot a bit back in 1947 with his short book The Uneasy Conscience of Evangelicals and again in 1967 with Evangelicals at the Brink of Crisis. Henry was trying to make the case that the evangelical caution not to become syncretistic while trying to identify with other people was legitimate. But it was not legitimate to the degree that it prevented us from engaging in social justice.
Henry's writings remind us of the fact that social justice was not central or acceptable to the broader evangelical definition back then. He was pleading for its inclusion but failed. Indeed, as editor of Christianity Today for a short stint, Henry tried to have coverage of the civil rights movement published and his attempts were stymied. No one in Henry's day would have questioned his commitment to evangelism. They just couldn't understand his fixation with "liberal" notions about social justice.
Evangelical historian of the 1970s Richard Quebedeaux made the observation that there was an emergence of a progressive group of evangelicals. He called them the "new" evangelicals and noted that they were marked by their willingness to have a glass of wine, mix with the secular crowd, and engage social issues. Fascinating combination of distinctives.
Quebedeaux's reading was that theology had little to do with the shift. It was more cultural. And their engagement in social issues was more along the line of feeding the hungry than standing against political and economic oppression. Quebedeaux left the evangelical crowd to become the official theologian of the Unification Church in the mid-1980s, but his observation survived his own abandonment of the faith. Evangelicals now have wine closets, attend the arts, and give money to support World Vision children.
Some of the larger evangelical organizations have attempted to include justice issues in their agendas, but have experienced a venomous backlash from donors who have threatened withdrawal of support should such forays into
supposed liberalism continue. These issues have included women's rights, environmental care, and justice for the poor. World Vision, InterVarsity Christ-ian Fellowship, and Navigators are a few of the organizations that have had to slow their engines to accommodate a support base that is more imbedded in the culture of conservative evangelicalism than the biblical call to do justice.
EVANGELICAL progressives have not been kicked out of the evangelical camp. True, we have always been evangelical, but just as true, we have never been accepted as "bone of my bone, flesh of my flesh." We shouldn't be looking to be grafted in now either.
The most important question facing the older progressive evangelical leadership is this: Do they want to keep up the fight or just look for acceptance in their waning years? One of the more telling signs of the demise of this group was the Chicago II event in late 1993. Spurred by the historical Chicago Declaration of 1973 that gave rise to the group Evangelicals for Social Action, older leaders gathered to reminisce and plot a course for the future.
The event sent out the shock waves of a sock falling on a carpet. Too many of the older progressive gatekeepers were looking to write a declaration that ensured the acceptance of the evangelical mainstays. They wanted to be careful to receive positive press by the conservative publications on the event-to be viewed as a legitimate expression of the conservative camp. Very little of the '70s fire, risk, courage, and vision was there. Younger leaders, together with a handful of older leaders, were amazed to watch the virtual burial of a movement.
Some of us who represent the younger set of emerging leaders do not have any plans for early retirement, and we were never taught to expect a place at the evangelical table. Our discipling at the hands of Wallis, Perkins, et al., taught us that the right thing to do is to do the right thing. Sounds simple enough when you strip away the need for inclusion and legitimation.
Tomorrow's successes will be measured by our resolve simply to do right. We should be scared of leaders who are asking for the blessing of the church and culture. Those exchanges are lethal to our faith and erode all the integrity of our mission. Progressive evangelical leaders must accept that they are the riff-raff of culture, the spirit-filled, visionary, love-driven men and women who basically set out to do justice. That's it.
I grew up under the tutelage of Nelson Mandela. The truth is my education was enough to give anyone a headache: I was born in South Africa to missionary parents and lived there until I was 18 years old, at which point I was kicked out of the country for refusing to serve in the military.
The white church and missionary establishment that made up the majority of my daily Christian diet insisted that the racist system of apartheid was God's answer to godless communism and other forces of evil that would attempt to dismantle the republic. A more substantial education entered my system on Sundays when my father's itinerant preaching took me into the neighborhoods and homes of blacks who were living under this supposed design of God.
Nothing could have been more revolutionary for a young child who was taught by his parents to take the Bible's words seriously. I began to hear the rumblings of an illegal movement led by imprisoned Mandela. His banned words worked their way into our hearts and imagination. What mattered, he taught us, was not our own freedom or rights, but the rights and freedom of others. He fully expected to die in prison an old man, having spent his life trying to create a society for the next generation of children where the notion of loving our neighbors as ourselves would be enjoyed by all the colors of people God created.
Few people experience the dramatic rewards that Mandela now enjoys. He never worked from the basis of legitimacy or personal freedom yet God has mercifully allowed him to see the fruit of a life lived in faithfulness. Nelson's legacy is the long, terrible path of the prophet. He drank from the cup of Calvary both in spirit and in deed.
Let's be clear to ourselves: The need for legitimacy in the culture of American evangelicalism cheapens the heart of our calling, denigrates the work and words of the prophet. Progressive evangelicals come from a lengthy, honorable tradition of calling for justice. The world today is in need of people who will look deeply into the suffering that issues from the evil of our hands and unjust systems. And this world needs people who, so seeing, courageously speak the truth.
GORDON AESCHLIMAN is president of the Christian Environmental Association.