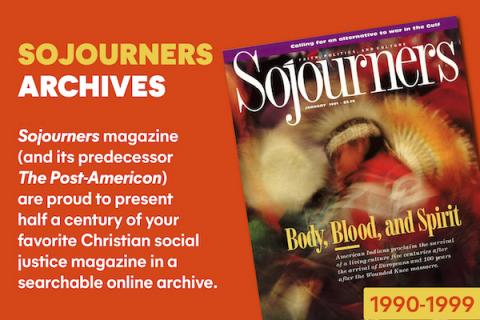 TO PRAY FOR HEALING is to risk an encounter with the living water of God's transforming love, not knowing if it will come in a gentle stream or a tidal wave. The Israelites' demand for water in the Old Testament (Exodus 17:1-7) and Jesus' conversation with the woman at the well in the New Testament (John 4:5-26) suggest two different ways to pray for healing for ourselves and for our loved ones.
In cautious prayer, we define the healing and put God to the test. In bold, courageous prayer of faith, we allow God to define the healing and ourselves to be changed by our encounter with God.
Usually our prayers for healing are not exclusively one or the other, but a combination of both or a vacillation between the two. It is easier to understand the difference if we look at them one at a time. First are some observations on cautious prayer for healing.
Faith in God is never easy, but it sure is easier when everything is going well. When things are not going our way, faith is so much harder. When we thirst, like the Israelites wandering in the desert, we want to put God to the test. When we thirst for justice, for renewed strength, or for healing for ourselves or a loved one, we grumble among ourselves, like the Israelites, "Is the Lord among us or not?" (Exodus 17:7).
In our suffering and anguish, we want relief, we want things to be different, we want a cure, we want healing according to our definition. It is natural to pray, "Loving God, prove that you are with us, that you are our God, that you hear our cry and you care. Prove this by meeting our heart's desire. Answer our prayer, meet our demands, fulfill our hopes, and we will be reassured that you are a powerful God and you are with us."
The Psalms are full of prayers of this kind. Although it is an honest prayer, straight from the heart, this prayer is centered in our need to understand, to be in control, and to find relief—rather than being centered in God's will.
We may be afraid to pray truthfully whenever we find ourselves in anguish. Afraid to hope, lest we be disappointed; or worse, that our fragile faith might be threatened: "Blessed are they who never ask for anything, for they shall not be disappointed."
We may be afraid to feel our true feelings, never mind bring them to God in prayer. Can we risk being with doubtful, troublesome feelings long enough to pray out of that place, or is it too dangerous? It is not that God cannot handle what we sometimes feel, but that we cannot handle it. Dare we be angry with God? Or acknowledge in our prayer how confused, or bereft, or abandoned we feel? How can we go on trying to be faithful if we actually acknowledge that sometimes, in some small, dark corners of our souls, we fear that God does not hear our cries?
So we search for a theology that will spare God and spare us. If we can construct explanations for disease, human suffering, and death, we might be able to blame ourselves or each other for our human condition. It would increase our suffering, but at least we get to stay in charge. We could spare God from rumors of powerlessness. We could spare ourselves the risky journey to the limits of our faith, just in case God is not there.
One way we might accomplish this is by glorifying suffering as God's will, in order to purify us, or as a privilege, sharing in the cross of Jesus. Then we can embrace all suffering without discernment, completely overlooking the significant difference between the suffering of difficulties that are a result of our faithfulness, the suffering that is simply part of the human condition, and the suffering that we create for ourselves or others when we are unable to be faithful to all that we are called to be. The first two kinds of suffering can break our hearts open to deeper relationship with God and others, while the third kind of suffering separates us from God and others. There is a danger in embracing suffering without discerning its effects.
Pathways into Prayer
CAUTIOUS PRAYER FOR HEALING is more like a wish than a true prayer, because it is not really open. The alternative is to push the limits of personal faith with courageous prayer characterized by expecting the unexpected: healing through being "broadsided by grace." We have to risk letting God be in charge and our being changed by our encounter with God.
Four guidelines may be offered for this open kind of prayer for healing:
1. Trust your heart to lead you to the heart of God. What might be the prayer of a beloved child of God who is in pain? One authentic prayer—one I've never heard about in church—is the tantrum. Those who really let God hear about their pain, grief, outrage, or fatigue often feel or hear a response in the quiet of their emptied hearts. This is not complaining at God, but pouring out our hearts fully, without editing our prayer so that it's "nice."
The God of Job listens and responds, like the most loving parent who recognizes through a tantrum a child who needs to be held. A human heart that has poured out its anguish can receive an in-filling reminder that we are not God, but that we are deeply loved. The final chapters of the book of Job, especially chapters 38 through 41, poetically and firmly put things in proper perspective. We don't get explanations; we get held and loved, cradled and consoled. This is the basis of our hope: God is out there somewhere and is all-encompassing and in charge.
2. Trust God to meet you in the unexpected person, the unacceptable situation, the rejected feeling, the prayer you are afraid to pray. The story of the woman at the well tells us that Jesus comes to the Samaritan woman in us, the foreigner who is considered unclean, the outcast with whom we refuse to identify. He knows all about her and her unfaithfulness, yet he seeks her out and asks her to give him a drink of water. He has no drinking vessel with him, so he is ready to drink from hers. Unthinkable!
How do we identify the outcast within ourselves? Who do we think are less worthy than ourselves in the outer world? Affluent people? Politicians, doctors, lawyers? Gays and lesbians? Conservatives, liberals? Obese people? Those who are mentally ill? If the living Christ comes to us through one of these, will we be open to his presence, or will he go unrecognized?
What do we reject within ourselves? Selfishness? Anger? Judgmentalism? Our "wayward" sexual desire? Our aggressive instincts? What if Jesus meets us at our broken, growing edges, and we're afraid to meet him there?
What about evil in the outer world and evil within? Neo-Nazis, Ku Klux Klan, drug pushers, child abusers, or inner abusers of our inner child? Will repulsion and shame keep us from bringing these neediest ones to Jesus in prayer for healing?
What situations are unacceptable by our rules for God? When children die? When a young mother or father has cancer? Accidents, disability, disease? When someone is a victim of crime? The infinite, true God cannot be our God unless we give up the job. Of course we abhor loss and senseless suffering, but we have to remember who is God, that God has created the world and allowed humankind free will.
Some pain and loss are part of the human condition; some are the result of personal and collective human failure. If I expect God to intervene and to protect me from the consequences of my own and others' behavior, that is the height of wishful thinking, not true prayer. When I protest, "It's not supposed to be this way," sometimes God might agree, but it is human limitation, not God's limitation, that is at issue. If I expect God to act according to my rules, then I am trying to reverse the right order. Right relationship is foundational to authentic spirituality.
3. Trust that God's will for us is good, far beyond our comprehension, or even our imagination. When we pray for healing, rather than focusing on relief or a cure, we have to let God define the healing, trusting that God cares about the whole person.
The story of the woman at the well is illuminating. She is preoccupied with the physical need for water and the work of drawing water from the communal well each day. Jesus says to her and to us, "If you knew the gift of God, and who it is saying to you 'Give me a drink,' you would have asked him and he would have given you living water." Living water? What is that? He goes on to say, "The water that I shall give them will become in them a spring of water welling up to eternal life."
The Samaritan woman and Jesus are talking on different "wavelengths." He understands her, but she does not grasp this concept of living water. Like her, we take our need for healing to Jesus, and answers come that we cannot hear or understand.
What could this spring of living water be, that wells up in a person, welling up to eternal life? Jesus tells us (paraphrased), "If you knew God's infinite, unconditional love for you, and if you knew me, the embodiment of God's love that I am, you would ask for true healing, the spring of living water within the human person, welling up to eternal life."
When we pray for healing for ourselves or a loved one, this spring of living water flows in us and grows in those for whom we pray if they are open to it at all. How could it be otherwise? To pray—as opposed to wishing—to pray is to give God an opening. Like the ordinary water, the living water of eternal life just needs an opening in order to flow. This "welling up to eternal life" that Jesus speaks of affects bodies, minds, and spirits in a way that brings about greater health and wholeness.
When God defines the healing, it may or may not include a cure for disease or a remission, but there will always be healing. This greater wholeness will be recognizable. That is not to say that a cure is not important. The healing ministry of Jesus clearly demonstrates God's commitment to curing physical disease as an important aspect of healing the whole person. Physical results are inseparable from healing of the whole person according to natural laws that far exceed our scientific understanding.
There are limits, though, to what the human organism can endure, and we are still mortal creatures. Our best chance for a cure, as well as for wholeness of life and deeper relationship with God, is available through confident prayer for healing.
But we have to participate. God's healing is not a passive event. It is not a matter of praying and then sitting back, waiting to receive. The healing that comes first may be physical, emotional, or spiritual, but it will require participation and a faithful response on our part.
God's definition of healing makes very individual and specific demands. The inner spring of living water may demand costly changes in our lives. For example, it may require owning one's empowerment, changing one's life, thawing out old grief or rage, finishing unfinished business, changing our beliefs about the nature of reality, seeking fullness of life, or finding expression in self-giving. It may carry a price tag that costs giving up illusions, giving up helplessness, or giving up ambivalence.
Faithfulness to the demands of the inner spring of living water is rewarded with abundant life, greater inner peace, and a deeper relationship with God, self, and others, regardless of our state of health. We are not promised a pain-free life, however. God's healing is likely to result in an increase in the kind of pain that comes with increased awareness and a decrease in the kind of pain that comes with avoidance.
Healing prayer cannot fail. Our definition of healing, like the Samaritan woman's understanding of water, is simply too small. If our definitions and limitations and controls are not blown away, there is no room for healing. The Israelites thirsting in the desert received water flowing from a rock. We have to be open to the unexpected.
This calls for believing in the healing that is taking place, no matter what the outcome with regard to state of health. This is the unambivalent faith that can move mountains. This is the faith that can pray a prayer of praise with tears in our eyes at a graveside. This is the defiant, subversive faith that says, "Because of the resurrection of Jesus Christ, and because of the little resurrections that I myself have known, I cast my lot with the Most High God, no matter what."
4. Trust that God is with us. Jesus opened his arms wide enough on the cross to embrace all of our suffering, regardless of its source and its effects—the suffering we create out of being unable to be completely faithful, and the persecution and difficulties that result from faithfulness, and the suffering that is simply part of the human condition—all of it. He took it into his very being. He is crucified whenever we are. How "with us" can God be? God drinks from our cup, whether it contains sweetness and joy or bitter tears.
Is the Lord among us or not? God is with us, but God's living water respects the spiritual dams that we build. When we thirst for healing, are we willing to open the floodgates through direct and honest prayer, not knowing God's definition of healing in a particular situation and what it will require of us? Or would we rather stand safely on dry land and pray cautiously for rain?
Elaine V. Emeth, co-author of The Wholeness Handbook, was a spiritual director and student at Wesley Theological Seminary in Washington, D.C., when this article appeared.