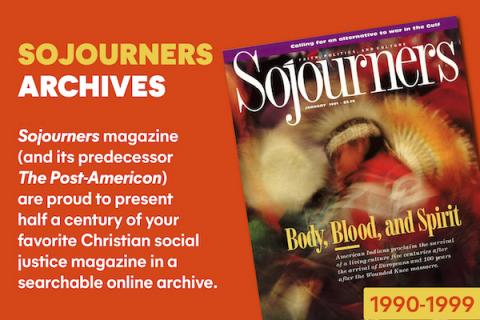 Bill Pelke had come a long way from the day he had a vision of his murdered grandmother while atop his crane at a Portage, Indiana steel mill to the day he told his story to a Gary, Indiana high school classroom seven years later. He had traveled the distance between a desire for revenge and the need for reconciliation. It remains an unfathomable gap to some, including his close family members.
When Pelke finished telling the Lew Wallace High School class how he had come to forgive—and even love—a former student of their school who had brutally killed his grandmother, some shook their heads. Some gasped. "You must have a big heart," one girl said. Pelke replied, "I have a big God."
"I believe in God, too," the student said, "but I believe nobody has the authority to take anybody else's life."
Pelke's response: Exactly. And that "nobody" includes the State of Indiana. That is why he ended up fighting the death sentence handed down July 11, 1986, against 16-year-old Paula Cooper, who had pleaded guilty to killing his grandmother. Cooper's sentence was commuted to 60 years, meaning she'll serve 30 if given the standard half-time for good behavior.
Pelke, along with Marietta Jaeger, whose daughter was snatched out of her tent on a camping trip, are two of the 1,500 members of Murder Victims Families for Reconciliation, a group of people who have experienced the murder of a loved one but who oppose the death penalty. MVFR works like a leaven of forgiveness and nonviolence in a culture prone to revenge and retribution.
BILL PELKE.
Pelke's Lew Wallace high school visit, part of a series of MVFR-sponsored events in 1994 called the Journey of Hope, took on deep personal significance. Pelke's public stand against the death penalty initially caused tension between him and his father, who favored capital punishment for Paula Cooper. The bloodied body of Bill's grandmother, 78-year-old Ruth Pelke, was found by Bill's father.
"He's got scars from what he saw that he'll have to live with for the rest of his life," Bill Pelke says. "And my father testified in court that it would be a travesty of justice if she did not get the death penalty. I knew he was going to have some problems with what I was doing."
Bill says their relationship has since healed; they simply avoid talking to each other about Paula Cooper or the death penalty. Still, opposition came from many corners. Pelke's wife, Judy, thought he was crazy for forgiving Paula, and even his best friend questioned his actions. One of Pelke's cousins who sought Paula's execution continues to speak publicly of the pain he feels when Pelke rallies against the death penalty.
On the other hand, another cousin, Judy Weyhe, belongs to MVFR. She tearfully presented a plaque in memory of her murdered grandmother to Lew Wallace High School in a gesture of reconciliation. The plaque carries the phrase "...in the spirit of love, compassion, and forgiveness." Nowadays Bill Pelke recites the last four words like a mantra. But it wasn't always like that.
ON MAY 14, 1985, four high school girls wanted money to play the arcades. One suggested they see Ruth Pelke, a well-respected resident of her community. Pretending to seek Bible lessons, the girls were let in. When they came out, they stole Ruth Pelke's car, leaving her repeatedly stabbed body on the dining room floor.
A year later a judge sentenced Paula Cooper, considered the dominating force in the murder, to death. Her three accomplices got jail time. Pelke recalls having "no problem" with Cooper's death sentence.
But his views took a U-turn four months later when, distraught over having just broken up with Judy, the steelworker began to pray from up on his crane. In tears, he questioned the events in his life, his stint in Vietnam, a divorce followed by bankruptcy.
"And it was at that point where I began to picture somebody with a whole lot more problems than I had. I pictured Paula Cooper slumped in the corner of her cell with tears in her eyes, saying, 'What have I done, what have I done?'"
Pelke recalled that on the day of her sentencing, when it became clear the judge was about to order the death penalty, Paula's grandfather cried out, "They're going to kill my baby, they're going to kill my baby." The grandfather was ordered out of the courtroom and Pelke remembers the tears in the man's eyes, and the tears running down Paula's cheeks, staining her light blue dress as she was led off to death row.
Then suddenly he pictured his grandmother, the way she looked in a photo run in a newspaper with each story about the murder and court proceedings. "It was a very beautiful picture of her taken several years before she was killed," Pelke says. But this time Pelke saw tears coming down her cheeks. "There was no doubt in my mind that they were tears of love and compassion for Paula and for her family. I was convinced that she wanted someone in our family to have that same love and compassion.
"At that point I started thinking about forgiveness and how I was raised and what the Bible had to say. I recalled how Christ was crucified, nailed in his hands and his feet, with a crown of thorns in his brow, and he looked up to heaven and said, 'Father, forgive them, they know not what they're doing.' I basically thought that's where Paula fit in, I mean she didn't know what she was doing—that was a crazy act that took place in my grandmother's house."
So Pelke started to pray for God to give him love and compassion for Paula and her family. He decided then and there to write Paula and share his grandmother's faith with her. "I knew immediately that I no longer wanted her to die and I no longer had to try to forgive her—forgiveness at that point was automatic."
He has since exchanged more than 200 letters with her. He has learned that Paula Cooper, a victim of child abuse who attended 10 different schools by the time of her arrest, has received the equivalent of a high school diploma while in prison and has been taking college correspondence courses. She has told Pelke she feels remorse for the pain she caused him and his family. She knows she'll have to live with her past actions. She wants to help young people avoid the pitfalls she experienced.
Forgiveness changed everything. All of a sudden it didn't make sense to Pelke to hold a grudge against someone who had called him a name 10 years ago. He quit getting drunk from time to time. Forgiveness helped him heal his relationship with Judy.
And it gave him the strength to plant a crab apple tree in front of Lew Wallace High School, a few blocks from where his grandmother lived, as a sign of healing. A circle of students and death penalty abolitionists looked on as the tree was placed in a hole and students and MVFR members took turns shoveling dirt over its roots. Someone started singing "We Shall Overcome," and the circle picked up the tune. Bill Pelke laid one of the last shovelfuls of dirt around the tree. His face twisting with emotion, he said, "I think my grandmother has a smile on her face today. It's very, very rewarding."
MARIETTA JAEGER.
Like Pelke, Marietta Jaeger says she is the one who benefits from the God-given ability to forgive. She has seen what can happen to people who, like her, have lost a loved one to the violent act of another human being.
Family members who maintain a "vindictive mindset" allow themselves to become in a sense the killer's next victims because the quality of their life diminishes, Jaeger says. They remain bitter and tormented, filled with hatred and unhappiness. Jaeger, a Detroit writer, says she struggled with the same feelings after a man kidnapped her 7-year-old daughter, Susie, from a tent in the middle of the night during their family vacation in Montana in June 1973.
"I'd had a real wrestling match with God shortly after my little girl disappeared. I had to get eye to eye with God and get down to the absolute basics. But after a nightlong struggle, I said to God I would be willing to forgive this man. That was hard for me to say, because initially I would have been happy to take his life with my own bare hands. But I said to God, I give you permission to change my heart. I can't do it alone."
At that point, not knowing where or how Susie was, Jaeger, the mother of five children, said the only way she could cooperate with God was to listen to the calling of her Catholic faith. It told her that the kidnapper was "just as precious as my little Susie" in God's eyes. She reminded herself that the kidnapper was a "son of God and Jesus had died for him too. Therefore he had dignity. And so, pragmatically I had to try to think and speak of him with respect and not use derogatory terms. And I asked other people if they would speak of him with respect, at least in my presence."
Thus began a yearlong spiritual journey. Jaeger constantly prayed for the unknown kidnapper, willing that at least one good thing would happen to him everyday. "And you know what happens when we start praying for somebody—God changes our own hearts. The more I prayed for him, the more I realized how very important it was for this man to experience the love of God."
On the year-to-the-minute anniversary of the kidnapping, the man called. He had seen a newspaper article that said Jaeger felt concern for him and wanted to talk to him. He called to taunt her. "To my own amazement, as I was hearing his voice in my ears, I was filled with genuine feelings of concern and compassion for him. No one was more surprised than I. But that's the miracle that God had worked in my heart."
Also taken aback, the kidnapper stayed on the line, letting down his guard and inadvertently revealing so much about himself that the FBI was able to identify and arrest him. Jaeger learned that he had murdered her daughter.
She says she struggled with forgiveness. She questioned whether she would be betraying her daughter if she were to forgive someone who had done such terrible things to her. But she says God kept calling her beyond that. "Though initially I ran the gamut of outraged reaction, I have come to believe that the only whole and healthy and happy and holy way that we can respond to a hopeless situation like that is to forgive."
The penalty for murder and kidnap in Montana was death. Jaeger notes that this had had no deterrent effect on the kidnapper. "By this time I had finally come to understand that God's idea of justice is not punishment but restoration." She asked the FBI to offer him life imprisonment and a chance for psychiatric care. He confessed to Susie's murder and that of two boys and a teen-age girl.
Jaeger says the death penalty does not accomplish what society thinks it will. She labels it a "gut level, bloodthirsty desire for revenge" that leaves family members of victims "empty and unsatisfied and unhealed." Capital punishment has the same ill effect on society as it does on individuals, she believes.
"Believe me, there are no amount of retaliatory acts that will compensate for the loss of my little girl or restore her to my arms. Even to say that the death of one malfunctioning person is going to be just retribution is an insult to her immeasurable worth to me. My little girl was a gift of beauty and sweetness and goodness in my life. To kill somebody in her name is really to violate her and profane her. I'd rather honor her life by saying that all of life is sacred and all of life is worthy of preservation from the very beginning of conception till the end when we die."
MVFR's ABOLITIONIST PERSPECTIVE is all the more relevant and urgent as politicians striving for a tough-on-crime image try to make it easier to be executed, and more and more of the executed have serious questions arise as to their guilt or turn out to have been innocent. Members proclaim their message at rallies and in churches, in front of prisons and through their newspaper, The Voice. They have found a way out of their personal hell through love, compassion, and forgiveness.
Mary Sue Penn was a freelance writer living in Hammond, Indiana, when this article appeared. You can visit Murder Victims' Families for Reconciliation on the Web at www.mvfr.org.