WHEN VILLANOVA PROFESSOR Vincent W. Lloyd reflects on the theology of the phrase "Black Lives Matter," he begins with the "death-dealing forces of white supremacy" and the tragic " vulnerability to premature death" experienced by Black people. But Lloyd doesn't stop there. To affirm the value of Black lives, Lloyd writes, requires life that is rich, creative, and flourishing.
Lloyd doesn't think such flourishing is possible without faith. Specifically, he argues that to hold on to "a hope against hope" in the face of these noxious, murderous systems and practices requires belief in the possibility of life after death: "For Black life to matter," Lloyd writes, "we must believe in resurrection." As Carmen Acevedo Butcher puts it in her interview with Betsy Shirley, "It may not look like it," but "Love's in charge." That's an important reminder for all of us, in this Easter season and always.
On a lighter note: We're pleased to have a guest appearance by our former art director (and humor columnist) Ed Spivey Jr., who came out of retirement to offer his pearls of wisdom on artificial and other kinds of intelligence.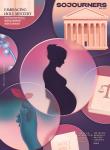 This appears in the May 2023 issue of Sojourners
Got something to say about what you're reading? We value your feedback!