Bill McKibben's "Top-Notch Theology (or Not)" brings to mind how, in many hunting/gathering traditions, the artist shows hands with holes in them to signify that we should take only the resources that we need, not every last one. I hope God can forgive us our greed and help us find what is right.
Hilarie Malmberg
Reston, Virginia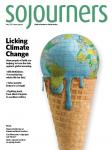 This appears in the May 2013 issue of Sojourners
Got something to say about what you're reading? We value your feedback!