Of the many gifts that the 99 percent award to the 1 percent—the various tax breaks and tributes that have helped push inequality in America to record levels—none are quite as annoying as the subsidies awarded the fossil fuel industry.
Vermont Sen. Bernie Sanders introduced a bill this spring that would trim $20 billion a year from those payouts to coal and oil and gas companies. Barack Obama, modest almost to a fault, has identified $5 billion in handouts that he'd like taken away before this year's budget is finalized. Whatever the number, the principle is crucial. Because if we can't agree not to subsidize the fossil fuel industry, I'd submit we pretty much can't agree about anything.
For environmentalists, few things could be more important. Worldwide, it's estimated that global warming emissions could be cut in half if all governments stopped subsidizing fossil fuel—something that won't happen unless the U.S. takes the lead.
But let's say for the moment that you don't care about climate change. Let's say you agree with Republican Sen. James Inhofe of Oklahoma that global warming is impossible because it says in Genesis "that 'as long as the earth remains there will be seed time and harvest, cold and heat, winter and summer, day and night.' My point is, God's still up there," Inhofe said. "The arrogance of people to think that we, human beings, would be able to change what He is doing in the climate is to me outrageous." (I can't help myself: This is an exceedingly dumb theology. God allows war but prevents carbon emission from heating the atmosphere?) Even if you thought that way, you'd still want to keep the federal government from paying Exxon bonuses every year.
Read the Full Article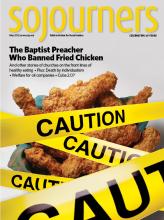 ​You've reached the end of our free magazine preview. For full digital access to Sojourners articles for as little as $3.95, please subscribe now. Your subscription allows us to pay authors fairly for their terrific work!
Already a subscriber?
Login