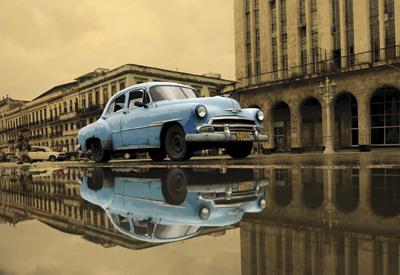 The cars in Cuba fascinate me. Where else in the world can one see a classic 1956 Oldsmobile, a shiny 1957 Chevy, and a 1970 VW bug alongside a new Audi and modern Chinese tour buses?
Our guide said there are four generations of cars in Cuba. First are those pre-revolutionary American cars—the vintage Chevys, Fords, Oldsmobiles, and Studebakers from the 1950s that somehow keep running. Then came the Russian-made Ladas, the small, ugly, square compacts that look like Fiats stripped of any Italian design.
By the '70s and '80s, Japanese and other Asian cars started trickling into Cuba, and they became the auto of choice after the fall of the Berlin Wall. Then, in the last decade, the more expensive European cars began showing up. More recently, a fleet of fancy buses, mostly from China, has arrived to shuttle around the 2.5 million tourists now visiting the island each year (and improve public transportation in general).
The cars, of course, reflect the stages of Cuba's economic relationship with the outside world: the embargo from the U.S., its initial reliance on all things Russian, then growing global trade, followed by the influx of European tourists, and the recent economic resurgence of China.
Cars can now be bought and sold by Cubans. This is one example of dramatic new economic policies, approved last April, being instituted in Cuba. Dr. Osvaldo Martinez, director of Cuba's World Economy Research Center, called these changes "shock therapy," like that being experienced by Greece, Spain, and many countries. Cubans should no longer "idolize" the Cuban economic model, Martinez said. Salaries have been increasing faster than productivity. Foods are being imported that could be produced domestically, but weren't because of the inefficiencies of centralized, Soviet-style agriculture. There has been an "exaggerated number of state employees," and massive layoffs have been occurring. At times Martinez nearly sounded like a Republican.
So the Cuban government has been legalizing and enlarging "self-employment." People can employ themselves as carpenters, plumbers, masons, shoe repairers, taxi drivers, and food vendors—in all there are now about 300,000 self-employed people in 200 areas, and the numbers are growing all the time.
WALKING DOWN QUIET side streets of Havana, one sees small shops in the front courtyards of row houses selling pizza, snacks, ice cream, and lunch sandwiches. More restaurants are opening. Away from the cities, parcels of unused agricultural land are now being given, rent-free, to small producers, reminiscent of the American practices that opened the West to farming.
Next year a tax policy—unknown previously to most Cubans—will go into place. All these are major changes now being adopted, implemented, and accelerated in Cuba's socialist economic system.
At the same time, officials insist that Cuba's socialist model is not being abandoned; it is being reformed. The gains made in human development—the elimination of illiteracy, accessible and free education for all, free medical care that touches every citizen, a system of social security—will always be safeguarded, they say. Life expectancy in Cuba is 78.8 years, one of the highest of developing countries and similar to the U.S. What we would call the "social safety net" is sacrosanct, protecting all Cubans, even in the midst of the dislocation experienced by some from these economic reforms.
Cuban religious life is finding new vitality. While I visited, pilgrimages honoring the Virgin of Charity—based on the story of the appearance of the Virgin to two Indigenous Cubans and a slave boy in 1612 in El Cobre—were underway, involving 2 million people.
The Methodists in Cuba have the goal of establishing a "preaching station" in every community in the country, and they report being 85 percent toward completing this outreach. Their worship has become more Pentecostal in style. Pastoral leadership is raised up locally, often without much training. It sounded like the story of Methodism on the American frontier in the 19th century.
Even the Orthodox Church is growing in Cuba. A previous Greek Orthodox Church in Havana withered away after the revolution, and its building became a children's theater. But in 2004, the government responded to a request supported by the Ecumenical Patriarch in Istanbul to build a new church in Havana. At the time, there were four baptized Orthodox in Cuba, and one priest.
Our delegation of U.S. church leaders visited the small but beautiful new cathedral in downtown Havana, and the Greek Orthodox Archbishop for Central America, Mexico, the Caribbean, and Cuba was with us. Today, he told us, there are 1,500 Orthodox families in this church, and Orthodox missions have been started in five other cities in Cuba. Young people come, searching for a deep spirituality. The archbishop, who grew up in Chicago, said that Cuba is "absolutely open to religious freedom."
Regardless of one's assessment, there is no doubting that religious life is alive and flourishing. Pentecostal and evangelical churches are growing, often in all-too-familiar tension with more-mainline Protestants on the island, whose numbers have expanded in the last two decades. Cuba's historic Catholic community was anticipating Pope Benedict's late March visit. This visit was scheduled to commemorate the 400th anniversary of the appearance of the Virgin of Charity. Politically, it signifies the Vatican's support for the steps toward political and economic reform being carried out by the Cuban government.
Part of the negotiations over the pope's visit involved a release of nearly all those recognized as political prisoners. Amnesty International stated that the release of these prisoners would result in only one "prisoner of conscience" remaining. Others cited more, but at the end of 2011, Raul Castro announced an overall amnesty of 2,900 prisoners—including some classified as political prisoners—as a humanitarian gesture, and probably linked to the papal visit.
Cuba continues with a one-party political system without the opportunities of political organizing and civic engagement taken for granted in Western democracies. But even U.S. diplomats in Havana admit that the freedom to express political views is growing.
The fundamental gains in health, welfare, and education from the Cuban revolution are deeply embraced by society. The hope is that the economic reforms will now open new options and that political changes will follow. But don't expect a Tahrir Square in Havana; these changes will be evolutionary, not revolutionary.
The U.S. embargo on commercial, financial, and trading relationships between the U.S. and Cuba has been in place in various ways for 52 years, making it the longest-lasting trade embargo in U.S. history. When our delegation met with John Caulfield, head of the U.S. Interests Section in Havana, I reminded him that "the definition of insanity is doing the same thing over and over again and expecting a different result."
For more than five decades, the U.S. policy of trying to economically and diplomatically isolate Cuba has not achieved its goal of changing the regime to our liking. Instead, it has economically and diplomatically isolated the U.S. In the most recent vote of the U.N. General Assembly calling for the lifting of the embargo—one of 20 over the years—186 nations voted in favor and two (the United States and Israel) voted against. And the buses, cars, computers, and so much else that Cuba is buying are coming from China, Japan, Korea, and Europe, instead of creating jobs in Michigan, Ohio, and Florida.
CUBAN SENSITIVITY TO the U.S. desire to dictate its future has deep historical roots. Benjamin Franklin talked about annexing Cuba in 1767. Likewise, Thomas Jefferson wanted Cuba as part of the U.S. to protect commercial shipping routes. A long and troubled history resulted, felt today when Cubans, both in government offices and in church sanctuaries, explain that they genuinely want friendship with the United States, but they also desire respect. For the past 50 years, the U.S. has been unable to provide either.
President Obama did initiate some fresh departures from the frozen past. Allowing Cuban Americans to visit their relatives in Cuba, beginning a year ago, was probably the most important. As many as 400,000 are estimated to come this year. But still no U.S. citizen is allowed to visit Cuba as a tourist. Further changes don't have a prayer until Florida casts its electoral votes this November.
When the U.S. was in the midst of the Cold War and Cuba was deeply dependent on the Soviet Union, one could understand the hostile relationship between our two countries. But the world has dramatically changed. Consider the U.S. relationship with Vietnam. As many as 2 million Vietnamese died from the destruction we rained down, and America's dead and wounded left deep scars in our national psyche. Yet today U.S. business, trade, and tourism with Vietnam thrive. Veterans return to heal their wounds. A U.S. embassy, once abandoned by a famous final helicopter flight from its roof, now conducts normal relations. And the Vietnamese political system continues with its one-party rule, in the midst of economic reforms. Only a failure of will, imagination, and political courage prevents this from happening with Cuba.
Cuba and Cuban Americans are experiencing a generational shift. So I return to the cars.
Those remarkable cars from the 1950s still keep running. But they won't last forever. The exiled leaders of the Cuban resistance are like those old cars. They are honored and revered by many, but people know that it's the newer Toyotas and Hyundais that will shape the future of the Cuban-American community. A younger generation doesn't carry the emotional enmity of their elders.
And the same can be said for the generations on the island. Young people in Cuba don't want octogenarians ruling their country. One of President Raul Castro's several reforms was his proposal to the Communist Party Congress last April that all politicians be limited to two five-year terms. In the long run, the generation of the revered but aging cars from the 1950s, and the ugly Russian Ladas that followed, won't be driving Cuba's future.
When the U.S. embargo with Cuba is finally lifted, a surge of fresh energy, creativity, and shared resources will flow across the waters between Miami and Havana. The shared cultural and social experiences in music, art, food, and sports will flourish, fostering common bonds that are both beneath and beyond politics. But this will also create a moment of truth for Cuba's economic development. Ending the "blockade" will remove the temptation to blame all of the island's economic woes on the hostility of its northern neighbor. Cuba's capacity for a vibrant economic life, undergirded by its foundational values of social solidarity, will be put to an honest test.
Certainly, there are old and painful enmities between the Cubans who created their revolution and the Cubans who left, dispossessed, desperate, and destroyed. But history in our own time and memory has witnessed those kinds of wounds being healed. So if the church on both sides of the 90 miles separating our countries can play a role healing this broken relationship, we would be witnessing simply and powerfully to the ministry of reconciliation we know in Jesus Christ.

Wesley Granberg-Michaelson, author of Unexpected Destinations and former general secretary of the Reformed Church in America, visited Cuba this winter with a delegation from the National Council of Churches.