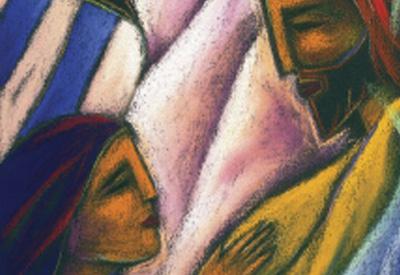 Suffering, tragedy, and illness do not discriminate. They're not afraid to reach out and touch everyone, whether young or old, male or female, gay or straight, black or white, rich or poor, homeless or executive, believer or other.
We notice this indiscriminate nature of suffering when we read of two healings in Mark 5. On the one hand we have Jairus, a powerful somebody. When he spoke, people listened. A leader in the synagogue, an educated person, a homeowner with multiple servants, he was a mover and shaker in his town -- a model citizen. Yet he, a religious leader, couldn't keep his daughter from being close to death.
Sandwiched into the story of his life, we find a nameless woman without introduction or fancy résumé. The only thing we know of her is that she bled nonstop for 12 years, which in those days meant she was considered unclean, defiled, best kept in isolation. Jairus and this woman couldn't have been more different from each other.
And yet they held in common suffering, illness, and tragedy. Hoping that I will not be misunderstood, I want to suggest that there is a strange gift in this -- that the nondiscriminating nature of suffering can sometimes help us to get over our discriminating nature.
Note the behavior of Jairus. A synagogue leader, he must have been meticulous in keeping the purity code, the rules of separation between that which was considered clean and unclean. And yet, we see him kneeling and begging Jesus to return home with him to attend his nearly dead daughter -- even though Jesus had just returned from Gentile territory, and would therefore be considered unclean. A self-respecting synagogue leader would never in a million years ask someone who's just returned from Gentile territory to even come into his home, let alone touch his daughter with those unclean hands. Yet, as Jairus carries the pain of a parent watching his child edge towards death, he couldn't care less about clean or unclean anymore.
Jairus' pain enables him to step over the long-held prejudice hidden beneath his purity code observance. He breaks his cultural laws -- betrays his family tradition, forsakes his religious heritage. Oh, how prejudice can be hidden in religious rituals that look virtuous on the surface! Sometimes, if we want Jesus to come into our home and touch us and our sick family, we may be asked to give up our religious heritage. The great idolatry of religious people is to begin to worship the way we worship, making our religion itself our God.
Isn't it amazing, the power of suffering to unite? Jairus and the nameless woman are now characters of one story. They've never shared anything else, but suffering brings them together. In the country I come from, South Africa, in the heat and heart of apartheid we had separate health facilities based on the color of our skin -- probably because, maybe subconsciously, the rulers of the day thought, "If we let black and white people suffer together in the same wards, they may just discover the truth that they are no different from each other."
Another possible gift of suffering is empowerment. It doesn't always work that way; sometimes suffering makes us bitter and small. But if we look at Mark 5, it seems that this nameless woman may well have been empowered as a result of her suffering. Sometimes, when we hit rock bottom, that moment can be very empowering. We reason, "I'm dying in silence, so I might as well die in public -- I've got nothing left to lose."
She comes out in public, joining a crowd. She is weak, anemic, fragile, frail, but she discovers that she is not powerless. Jairus was backed by the powers that be; this woman is up against the powers -- powers just like Jairus. Yet she comes and demands her time, her place, and her healing.
Now, suffering may not discriminate but, sadly, too often getting access to healing does. Because Jairus was a man with position and power, he was able to walk straight up to Jesus and make his request. It sounds as if Jairus speaks with a sense of entitlement; he wants health care and he wants it now. Not so for the woman. If she wanted to be healed, she would have to steal it by sneaking up behind Jesus, in secret and at risk. She had spent all she had on many physicians and had now reached the limit of her health-care plan, and yet she still continued to bleed.
I remember visiting a woman in a large Johannesburg public hospital. This woman was there with her 7-year-old son, Daniel, whose legs were as thin as my wrists. She told me that this was the fourth hospital she had come to, and they had just diagnosed Daniel with cancer; the other doctors had turned her away. Some had just given her aspirin to give to her son. No doctor would have just given Jairus' daughter aspirin.
All can get sick, but not all have access to healing.
Jesus, however, refuses to discriminate. Jesus gives both Jairus and the nameless woman free and equal access. An argument could be made that, because Jesus was taking up time with this nameless woman, this was the reason he was late in reaching Jairus' house. In other words, to offer free and equal health care for all may just cost the Jairuses of the world. This is something we need to face up to.
But here's the thing: It may be costly to implement, yet I promise you it will be more costly not to.
Today in South Africa, health care no longer discriminates based on skin color: It now discriminates on the basis of class. If you've got money, you have access, and if you don't have money, you don't. This classism is yet to find the conscience of the powers-that-be in my nation -- and it certainly hasn't found the conscience of the United States.
When will we realize that money does not make one person more worthy than another?
Even a "public option" would, in truth, fall way short of the gospel option we see offered to us by Jesus in Mark 5. The gospel option does not exclude foreigners, remembering that there is no such thing as an "illegal" foreigner. This is God's earth -- everyone on this earth is legally allowed to be here. May God have mercy on us!
Now let's slow the text down a little bit and zoom in. Jairus begs Jesus to come to his home; Jesus does, and on his way a nameless woman touches him and immediately she is healed of her disease. What was her disease, that she bled for 12 years? We're not sure, but it could have been the unique bleeding of a woman. And therefore when her bleeding stops, she's healed to be able to give birth to life through her body, which she was never able to do before. You see, when Jesus heals us, he always heals us to be able to give life.
Jesus stops and says, "Who touched me?" Someone in the crowd shouts out, "You lie!" Almost the entire press corps, focusing on the rude man, misses the main point of the story, except for a journalist by the name of Mark. He hangs out with Jesus because he knows what the real issue is: healing.
We read that the woman comes forward, still afraid, and then we read these amazing words -- "she told Jesus the whole truth." Ah, and only after that does Jesus say, "go in peace, and be healed of your disease."
Friends, it seems to me there is a distinction between cure and healing. Early in the text we read that she was cured, she had stopped bleeding, but here we see that there is a depth of healing that can only come once we've told the whole truth about our life. And that is a frightening thing to do. What truth do we still need to tell Jesus or one another so that we may be healed? What truth do we still need to speak as a nation in order to be healed? Coming from South Africa to Mississippi, it pains me to see the state flag still including the Confederate flag within it. Where is the shame?
And then Jesus does this incredible thing -- did you notice it? He turns to this nameless woman and calls her "daughter"; he makes her family. Those whom our health-care systems leave out are members of Jesus' family!
While Jesus is still speaking, people come and inform Jairus that his daughter has died, and Jesus overhears them. Please trust this: Jesus always overhears the bad news that is told to us. He turns to Jairus and says, "Just believe." At Jairus' home, after sending out the mourners, Jesus takes Jairus' daughter by the hand and raises her from "sleep." A miracle! A mystery so full of meaning that reason can't explain. Our gratitude overflows in worship: "Praise God!"
Two miracles in quick succession make sure we have a happy ending. But I must confess, as much as I celebrate this healing, I cannot not think of the fathers and mothers whose daughters were not restored. I think of the parents who had to walk from their house to the grave, placing a small coffin in the ground. Who prayed and prayed and prayed, and watched their daughter, their son, their brother, their lover die.
The only way I can hold this pain is, by God's great grace, to trust that this scripture of the nameless woman (now daughter!) and Jairus' daughter are a sign of the healing that is true for all of us -- like a sample poll that represents everyone.
But my heart goes out to those of us whose wound of grief bleeds and bleeds, never to have that healed feeling. There are some of us sitting on our own tonight, longing for that hand to hold that's no longer there. And the pain of the words "never again" lives in our mind: "Never again will I dance, never again will I talk, never again will I kiss, never again will I touch, and never again will I share with her or him." These are hard words to live with.
I don't know if we ever get over that sort of grief -- at best, we may get through it with grace -- but friends, this is what I do know. If you and I don't work for the day when there is free and equal health care for all, if we do not work for the gospel option, then there will be more people who bleed in grief, and who carry the words "never again" on their heart, and who feel the pain of the irreplaceableness of their loved ones who have died, because they did not have access to health care. This I know for sure.
I pray that God will give us the courage to rise up, in voice and in action, to establish a health-care system that holds all with equal care and compassion. We may feel weak, fragile, and frail, but we are not powerless! When we decide for the gospel option, the power of Jesus will be given to us for the healing of the nations.
Alan Storey (aslowwalk.org) is a Methodist minister from South Africa. This article is based on a sermon preached at Wells United Methodist Church in Jackson, Mississippi.