Sami Awad's vocation is to tear down walls in the Middle East. As executive director of the Holy Land Trust, based in the West Bank town of Bethlehem, Awad works to build bridges between Palestinians and Israelis—and between Christians, Muslims, and Jews—as a necessary path to peace in the region. He was interviewed by Sojourners editor Jim Rice this winter while Awad visited Washington, D.C., to address a gathering of Evangelicals for Middle East Understanding.
Sojourners: What is the role of nonviolence in the liberation struggle and search for peace and security in Palestine and the broader Middle East?
Sami Awad: Nonviolence is the only option that Palestinians should engage in and the only option we have, in terms of resisting occupation. At certain points, I could have seen it as a strategic option, where people look at it and say, is it the right way to engage in or not to engage in? But now, I have come to the conclusion where I see it as the only option that Palestinians should engage in. It's very important for us to realize this and focus all our efforts on nonviolence.
From a strategic point of view, we understand our strength. The strength of the Palestinians is in the people. We don't have weapons. We don't have armies. We don't have training in military warfare. But we do have the power to unite the community, and the struggle for liberation and the struggle to end occupation is something that people can be united around.
What are the foundations for your philosophy of nonviolence? I grew up in a Christian family, which always said that reconciliation and seeking peace is the way we should go. The struggle for me was balancing my upbringing with an occupation that was treating us as Palestinians in a very unjust way. The question "How do you resist this injustice but not engage in violence" was always a challenge for me.
My uncle, Mubarak Awad, established the Palestinian Center for the Study of Nonviolence in the mid-'80s. As a teenager, I started finding myself in that center, where I could really be engaged in standing up and saying no to the occupation and no to injustice, but in ways that also addressed my own faith-based background, which is not to engage in violence toward those who do this to us.
Read the Full Article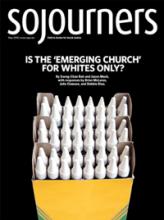 ​You've reached the end of our free magazine preview. For full digital access to Sojourners articles for as little as $3.95, please subscribe now. Your subscription allows us to pay authors fairly for their terrific work!
Already a subscriber?
Login