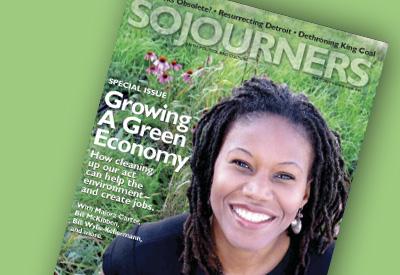 Throughout Pittsburgh are signs of a city that once pulsed with wealth and prosperity as the steel industry boomed in the early 1900s, only to suffer decline with the fall of American steel in the 1970s. Abandoned factories along the waterfront and boarded-up stone chapels stand like ruins, reminding residents of what once was. Today, the city has more than 14,000 vacant lots, scattered mostly in low-income neighborhoods such as Hazelwood and Larimer.
Amid the urban plight, however, a startup called GTECH—Growth Through Energy and Community Health—is giving Pittsburgh new hope. Founded by three graduate students from Carnegie Mellon University in partnership with Steel City Biofuels, GTECH hopes to revolutionize vacant-land management in an unconventional, earth-friendly way: by planting sunflowers in Pittsburgh's empty lots.
"Sunflowers improve soil quality and produce seeds that can be turned into biofuel," says Andrew Butcher, co-founder and CEO of GTECH. "This biofuel can be sold to help offset the cost of vacant land, which is often a prohibitive factor in managing vacant space." After two years of existence, the organization has planted sunflowers in four Pitts­burgh neighborhoods and has started a job-training program to teach low-income locals how to tend and cultivate the fields.
But GTECH's strategy is more than just a business model—it's a vision for a green economy to replace the steel economy of the past. "This is an ideal mechanism to create a platform for green job opportunities," says Butcher. "The heart of this project is the convergence between multiple sectors in the green economy: renewable energy, agriculture, and waste management environmental services."
This is music to Charlotte Brody's ears. As the program director at Green For All, an Oakland, California-based nonprofit intent on building a nationwide green-collar economy, Brody considers GTECH an example of the future of industry. "This is one of those little programs that I think suggests the possibility of what we can do," Brody says. "I'm pretty fond of what's going on in Pittsburgh."
THE MAINSTREAM ENVIRONMENTAL movement in the United States has been a predominantly white, middle-class endeavor, focused on wilderness preservation and governmental regulation. But there has also been a movement against "environmental racism" led by African-American, Latino, Native American, and Asian poor and working-class people.
For example, in 1979, African-American residents of East Houston, Texas, represented by attorney Linda Mc­Keever Bullard, sued Southwestern Waste Management Corp. for "environmental discrimination" for designating black neighborhoods as industrial waste sites. Their victory became a landmark example of low-income minorities fighting against the placement of hazardous facilities in their neighborhoods. Similarly, in 1982, the predominantly African-American community of Warren County, North Carolina, protested a toxic landfill in their neighborhood by blocking trucks carrying chemical waste to a local dump site.
Stepping into this stream of environmental advocacy are the efforts of Van Jones, Green For All's founder and the newly appointed special adviser for green jobs, enterprise, and innovation on the White House Council on Environmental Qua­lity. A Yale Law graduate from Jack­son, Tennessee, Jones founded Green For All in September 2007 to build an environmental movement that includes poor people suffering from environmental racism.
"Unless everyone is included at the decision-making table," Jones says in his book, The Green Collar Economy, "even the best-intentioned proposals miss chances to do good—and may unwittingly even do harm."
An example of the law of unintended consequences is the 1980 Superfund law. Superfund legislation was passed by Congress in response to organizing pressure leveraged by a 25-year-old middle-class white woman, Lois Gibbs, who found that her children's public school was built atop a chemical waste dump in Niagara Falls, New York. The Superfund law taxed petroleum and chemical industries to create a fund for cleaning up hazardous waste sites all over the nation. Unfortunately, a result of all the attention on these hazardous sites was that corporations sought to make them less visible by moving them into poor communities of color.
This kind of racist environmental injustice demands our attention, says Kristin Rothballer, managing director of Green For All. "When I was growing up in the '80s, everyone talked about saving the whales and saving the trees. But what about saving the kids living in West Oakland who are suffering from asthma because of all the pollution in the community?" Rothballer says, pointing out that even today, the people who most benefit from mainstream environmentalism's successes are the rich. "Who can afford to buy hybrid cars and organic produce?" asks Rothballer. "There's been a premium price on things that are green, which has locked a lot of lower-income people out of being able to benefit from the amazing, innovative steps forward that we have taken. In many ways, Green For All is a response to this injustice."
By working hand-in-hand with government and local communities, Green For All hopes to create a green economy strong enough to lift people out of poverty by creating a green-collar workforce of men and women trained with skills such as installing solar panels, tending community gardens, and weatherizing buildings. The idea is not new, but to the folks at Green For All, now is the time to take it to a new level. They see it as the most economically viable option out there—and the approach that makes the most sense.
"We have to both change the way people interact with the environment and change the way people interact with each other and the economy at the same time," says Green For All's Brody. "And we get the joy of being able to say, 'We can solve two problems at the same time.' In fact, they're the same solution and can't be solved unless they're solved together."
SO HOW DOES a nonprofit organization create an entirely new industry? The effort is three-pronged. First, Green For All works at the federal level, advocating policies that would put Americans to work retrofitting and repowering the country.
One of the earliest successes for Green For All was the passage of the Green Jobs Act of 2007, which authorized $125 million per year to create an energy efficiency and renewable energy worker training program. This pilot program trains workers for green jobs in a range of industries, such as retrofitting buildings for energy conservation and sustainability. The legislation became Title X of the Energy Independence and Security Act, which Congress passed and President Bush signed in late 2007, but the funds were not appropriated until 2009, when it was increased to $500 million in President Obama's economic stimulus package. It is now up to the Department of Labor to administer the monies in consultation with the Department of Energy. Green For All is working to ensure that communities across the nation are accessing the funds to help the poor.
"We want to create a much better set of evaluation tools to make sure that the people who need these jobs are at the table helping to create the plans that are going to work for their community," Brody insists. "That's why we're gearing up to be conduits between the legislative language and what people need for that language to make a difference in their communities."
The organization's second objective, then, is to work alongside local municipalities and businesses to create examples of how a green economy can be built through a joint effort of green business enterprise and government-funded training programs for low-income community members with high barriers to employment due to a criminal record, illiteracy, or a lack of basic job-readiness skills.
Vien Truong, senior policy associate at Green For All, believes that joining federal regulations with local business strategies will create the market to support a green economy built upon the labor of trained green-collar workers. "When the market is honed to meet the demands for renewable energy, that's how we're making an impact on the local level," Truong says.
A notable example is the Oakland Green Jobs Corps. Developed by the Ella Baker Center for Human Rights, an Oakland-based nonprofit founded by Van Jones in 1996, the Corps is a training program for young adults that provides "soft skills" such as job readiness, financial management, and environmental awareness, as well as vocational "hard skills" in key sectors such as renewable energy, energy efficiency, and green construction. During the three-month training period, trainees earn $9 an hour for 20 hours a week, after which the trainees are placed in six-month paid internships with local businesses that pay a living wage. The program was launched in October 2008 with 20 trainees, and Green For All hopes it will be duplicated in other cities.
"What we are trying to do is create really good examples of the kind of programs we can create at the federal level, so that cities and counties can be gearing up to take advantage of these federal opportunities," Brody says. By supporting programs such as the Oakland Green Jobs Corps, and ex­trap­olating salient principles that can be shared with other like-minded organizations in other parts of the country, Green For All hopes to be­come a networking agent that links practitioners with one another, lifts up best practices, and leverages successes to build a comprehensive national move­ment.
"Part of our philosophy is that we don't have all the answers at Green For All," says policy associate Stacy Ho. "So what we're trying to do is give technical assistance to build communities of practice and link practitioners together. They are the ones who know what works. If they talk to each other, then they are able to arrive at better solutions."
To facilitate these conversations, Green For All's third objective is to partner with five "green-collar cities"—Atlanta, Pitts­­burgh, Philadelphia, Seat­­tle, and Newark, New Jersey—and work closely with local leaders and grassroots organizations to support programs on a micro level that demonstrate the efficacy of green job training programs. One example is Newark's program to weatherize 30 homes of senior citizens, which lowered energy costs and emissions for the seniors while simultaneously creating green jobs. Another is Pittsburgh's GTECH sunflower project.
"We will travel to these communities and meet with major decision-makers at the local level to spread our vision and message," says Rothballer. "We work closely with these cities to figure out what it really takes to build strong training programs and strong capacities in the communities to hire people out of these programs and retrofit a city."
With the passage of President Obama's economic recovery bill and Van Jones' March appointment to the president's Council on Environmental Qua­lity, Green For All faces an un­precedented opportunity to integrate its strategies into America's future economic growth. Its current main objective is to get local communities involved in accessing and spending recovery dollars toward building a green economy.
In a conference call hosted by Green For All about the president's recovery bill, Jones urged listeners to go directly to city hall, city council meetings, and mayors' offices to ask what funds will be available and to propose green projects that require funding. "It's time for us to go from hope to change, from inspiration to integration," Jones said. "We have to capture these dollars and use them to put people to work. This could be a huge opportunity for our movement."
While Green For All is not religiously affiliated, the staff believes there is a special opportunity for faith communities to utilize the funds of the recovery act. "Faith-based organizations are able to directly influence their membership toward helping address the needs of the communities," says Ho. More important than logistical strength, however, is the faith-based community's calling to honor the inherent connection between faith, justice, and creation care—a connection similar to that which inspires Green For All.
"As we seize this moment to really shift our world, what drives us is a desire to restore community," says Rothballer. "When we think about what it means to take care of people and the planet, the heart and soul of our movement is about how we commune with each other."
Jeannie Choi is an assistant editor of Sojourners.