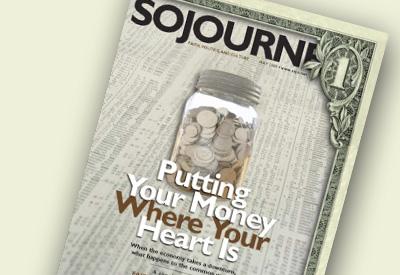 In these early years of the 21st century, investment dollars are hard at work doing a lot more than making money. They're supporting conservation measures, fueling humane labor practices, and rewarding companies for shunning groups with ties to abortion service providers and gay rights activists. From Wall Street to Hong Kong, they're doing all this and much more in the name of God.
Religious mutual funds have exploded over the past decade. Since 1997, assets under management in funds with an explicit faith-based mission have ballooned 35-fold from $500 million to $17.5 billion, according to data from fund tracker Morningstar. Such dramatic growth makes the sector one of the fastest growing in the financial services industry.
A couple of reasons account for the recent growth spurt. In some cases, strong financial returns are attracting new investors just as pollen draws bees. The Amana Income Fund, an Islamic fund that avoids gambling, tobacco, and meat-producing stocks, outperformed all 180 funds in its equity-income category between 2004 and 2007. Investors have piled in, and not always because they were seeking a clean conscience, according to Deputy Portfolio Manager Monem Salam.
Plus, many investors are apparently motivated by more than mammon. The past decade has given rise to new families of funds aimed not only at liberal Protestants but also politically conservative evangelicals and Catholics. Meanwhile, older funds with secular as well as Christian roots now get a hearing, at least sometimes, when they vie to impress their social visions upon corporate cultures. Socially responsible investing (SRI) has morphed from a quirky (and relatively small) niche in the 1980s to a $2 trillion mainstream industry today.
As the landscape has expanded, so also have opportunities for investors to couple nest eggs with personal passions for putting faith into action in highly specialized ways. But seizing these opportunities can be a daunting and confusing task. Would-be investors in this realm need to brave a thicket of similar-sounding investment products that often embrace wildly different goals and tactics. Finding a fit, however, is possible as long as the intrepid understand how to navigate the various traditions—both religious and activist—that drive this marketplace niche.
"You can't just lump all religious funds together because they have a pretty wide variety of standards that they use," says David Kathman, a Morningstar analyst who covers socially responsible investing. "To build a portfolio, they'll exclude certain things, or they'll favor certain other things."
History provides helpful context since SRI traces its roots to religious activism. At least as far back as 1758, Quakers in America refused on moral grounds to derive profits from the slave trade. In the 19th century, they shunned the firearms business with equal vigor. Methodists, too, have long appreciated the link between ethics and investing. Methodism founder John Wesley exhorted followers in a famous sermon to "gain all we can without hurting our neighbor." That ethic has inspired his spiritual descendants to shun investments in alcohol since the 19th century. In 1971, two Methodists launched Pax World Funds, which shunned weapons manufacturers as well as other vices and served as a harbinger of today's SRI mutual fund industry.
This tradition of using moral screens to sift investments reflects a dual quest among investors. They vie both to maintain their own moral purity and to support a parallel purity where they find it in the business world. In theological terms, these investors avoid sinners lest they be sullied by the process of financing sinful enterprise.
"There are sins today that stand out in our society," say the screening guidelines for the Timothy Plan, a conservative evangelically based family of funds, "which we feel as … Christian investors we need to stay away from." Its funds shun companies associated with alcohol, tobacco, gambling, pornography, and "the promotion of homosexuality."
THIS PURITY preservation tradition thrives today among a diverse cross-section of mutual funds. The six-year-old Ave Maria Mutual Funds refuse on Roman Catholic grounds to invest in companies with ties to abortion, pornography, or benefits for unmarried partners. The Noah Fund uses criteria similar to the Timothy Plan.
At the other end of the political spectrum, purity is often preserved among secular SRI funds through a distinct set of screens, such as environmental stewardship or gender diversity within a firm's leadership ranks. Portfolio 21, for instance, invests only in companies that are "integrating environmental sustainability into their overall business strategies." The Women's Equity Fund picks only companies that "advance the social and economic status of women in the workplace."
Over the past decade, however, many funds have embraced a more aggressive approach to purifying the business world. Under the rubric of "shareholder activism," these funds make a point to own shares of companies that need improvement, say, in areas of pollution management, workplace safety, or governance hindered by conflicts of interest. The idea is to win a seat at the table as an institutional shareholder and then leverage pressure, through meetings with directors and executives, to achieve corporate policy changes. In theological terms, it's less about avoiding sinners and more about redeeming them.
This activist tradition began to gain momentum during the 1980s. Denominational shareholders were growing concerned about owning companies with business tied to apartheid South Africa. One by one they divested, as did others in an international coalition that played a key role leading to apartheid's downfall. Lesson one: Shareholders can have a powerful voice for social justice within a company, especially if they speak together. Lesson two: That voice would have been much diminished if, perhaps for moral reasons, they had never owned the stock in the first place.
As a tactic, shareholder activism has surged in recent years. The number of resolutions filed on social issues has steadily climbed by 68 percent since 1999, from 219 to 368 last year, according to research firm RiskMetrics Group. Though resolutions can take years to advance and aren't binding upon boards of directors to adopt, shareholder activists say they help spark productive behind-the-scenes dialogue and policy change. Examples: Under shareholder pressure, both Home Depot and OfficeMax have stopped marketing products derived from endangered forests.
Some faith-based mutual funds take an activist approach even though it means their portfolios include firms with policies they regard as problematic. New Covenant Mutual Funds champion the social agenda of the Presbyterian Church (U.S.A.) and therefore pressure companies with ties to Israel, for instance, to be sensitive to Pales­tinian issues. Investors eager to advance the breadth of Catholic social teachings find kindred spirits at the LKCM Aquinas Funds, which have sanction to lobby companies on human rights, poverty, and other core Catholic issues. Both Aquinas and New Covenant Mutual Funds may divest if negotiations don't yield results.
Socially conservative funds launched over the past two decades, such as Ave Maria and the Timothy Plan, show clear preferences for the purity preservation tradition. But that may have more to do with their age than with any underlying theological rationale, according to Frank Coleman, executive vice president for Christian Brothers Investment Services, an asset manager for Catholic institutions. He expects newer funds to become more activist in approach as they shore up their client bases and build up enough funds to get noticed in corporate board rooms.
Screening out problematic companies "is the easiest and first step to take when you're getting into this business. … It falls into the 'do no harm' approach," Coleman says. "It requires a lot less resources [than activism], and for certain parts of the marketplace, it may be the only thing clients are asking for."
AT THIS POINT, investors searching for a fit need to consider just how much purity in their portfolio they require, but that's just the beginning. Increasingly, they also need to decide whether the term "socially responsible" even suits them. That's because some firms are working to distinguish their values from the mainstream of the 37-year-old SRI industry, which has traditionally championed issues associated with the political left, such as environmental protection, Indigenous rights, and anti-war efforts.
To be sure, religious funds share much common ground that cuts across denominational and ideological lines. Virtually all of them screen out firms whose core businesses include alcohol, tobacco, or gambling on the grounds that those industries profit from humankind's propensity for weakness and destructive tendencies. But after that, they often diverge. For instance, on its Web site the Timothy Plan accuses funds that wear the SRI label of being "just 'fronts' for promoting a 'New Age' agenda." Such concerns have given rise to the alternative terminology of "morally responsible investing" (MRI), which is shorthand for investing according to a pro-life, anti-vice, purity-preserving agenda. Ave Maria Funds embrace the MRI label.
Others prefer the term "values-based investing" (VBI), which refers to the same agenda as MRI. Meanwhile, some evangelicals have put a finer point on their distinctiveness by referring to "biblically responsible investing" (BRI). Once again, the content reflects a socially conservative agenda, but proponents of BRI terminology believe it's important to make clear that the values at issue aren't merely a matter of personal preference or Catholic religious tradition.
"We agree there is a moral aspect to [this strategy], but we're taking it a little further down the chain to say it's not our own morals, or morals that we define," says Rusty Leonard, founder of Stewardship Partners, a private money manager with a socially conservative agenda. "It's the morals that the Bible defines, so we call it biblically responsible investing." He crafts custom portfolios for individual investors with at least $100,000 to invest. They tend to hail, he says, from "denominations that believe the Bible is the inspired word of God, the literal word of God."
These new labels help organize the religious investing landscape, but investors may need to look behind labels in order to find vehicles that line up with their convictions. For instance, a vegetarian Christian who opposes animal slaughter on moral grounds would likely be more comfortable investing in an Islamic Amana fund, which screens out all meat producers, than he or she would be in a BRI fund that doesn't worry about such things. Similarly, Methodists who favor an aggressive foreign policy might be more comfortable with the Timothy Plan, which invests in weapons contractors as a matter of patriotism, than they would be with Pax World Funds despite its Methodist roots (Pax screens out weapons makers). And believers of any stripe who oppose abortion, value environmental protection, and believe that war under all circumstances violates the teachings of Christ would be hard-pressed to find a better fit than among modern-day Anabaptists in Mennonite Mutual Aid (MMA) Prax­is Funds.
What's more, the faithful might find at times that secular funds are suitable for putting their faith into action. This could be the case, for instance, if an investor needs to see several decades of financial performance records in order to feel comfortable. Some of the older secular funds also have reputations that precede them as advocates on labor and environmental issues. Among those with the longest track records are Calvert and Domini Social Funds.
As the landscape evolves, companies are pushing the envelope of what's possible for investors motivated by faith to achieve. Leonard, for example, plans within the coming year or two to start lobbying select companies—even though his firm doesn't own their stock—to back off their support for groups that provide abortion services or promote gay causes. It's a novel hybrid approach that combines purity preservation with outreach to engage and purify targeted organizations. But, Cole­man says, there's a reason why no else is doing this.
"In order to work on [corporate policy issues], you've got to be a shareholder," Coleman says, "be­cause companies aren't going to find time for people who don't own their shares."
Observers expect the financial world to keep innovating to meet the unique financial and social goals of their clients. Niche products show no sign of slowing down. For investors, this heralds an ever-expanding array of choices—and a possibility that one or another investing path might turn out to be a fit.
G. Jeffrey MacDonald is an independent journalist. He writes about religion, ethics, and ideas for a number of national news outlets.
How to Find
Fund that Fits
Ask yourself some questions: What are my financial goals for this money? What would I like my investment to support in terms of social or environmental practices? Do I care whether my fund managers are working from a particular faith tradition?
Do some research. These sites can help: www.socialfunds.com is an industry clearinghouse for news on socially responsible investing. Visit www.socialfunds.com/kit for a free 20-page "Investing in Socially Responsible Mutual Funds" guide. Or click on "mutual funds center" to search religious funds and other categories. The Biblically Responsible Investing Institute, www.briinstitute.com, provides a primer on BRI screening.
Follow through. If a fund looks interesting, visit its Web site. Review performance records (but remember past performance is no guarantee of future results). Read about its screening criteria and activist campaigns. If you want more detail, call the fund's main number, ask for sales, and request a prospectus that includes the fund's investment guidelines.
Invest. Go through a broker or directly through the fund company. —GJM