BUT RECALL THE FORMER DAYS when, after you were enlightened, you endured a hard struggle with sufferings, sometimes being publicly exposed to abuse and affliction, and sometimes being partners with those so treated. For you had compassion on the prisoners, and you joyfully accepted the plundering of your property, since you knew that you yourselves had a better possession and an abiding one. Therefore do not throw away your confidence, which has a great reward ...
Now faith is the assurance of things hoped for, the conviction of things not seen. For by it the men and women of old received divine approval ...
By faith Enoch was taken up so that he should not see death ... By faith Noah, being warned by God concerning events as yet unseen, took heed and constructed an ark for the saving of his household ...
By faith Abraham obeyed when he was called to go out to a place which he was to receive as an inheritance; and he went out, not knowing where he was to go. By faith he sojourned in the land of promise, as in a foreign land, living in tents with Isaac and Jacob, heirs with him of the same promise. For he looked forward to the city which has foundations, whose builder and maker is God. By faith Sarah herself received power to conceive, even when she was past the age, since she considered him faithful who had promised ...
These all died in faith, not having received what was promised, but having seen it and greeted it from afar, and having acknowledged that they were strangers and exiles on the earth. For people who speak thus make it clear that they are seeking a homeland. If they had been thinking of that land from which they had gone out, they would have had opportunity to return. But as it is, they desire a better country, that is, a heavenly one. Therefore God is not ashamed to be called their God, for he has prepared for them a city ...
Read the Full Article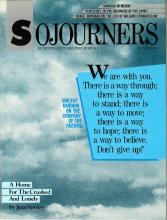 ​You've reached the end of our free magazine preview. For full digital access to Sojourners articles for as little as $3.95, please subscribe now. Your subscription allows us to pay authors fairly for their terrific work!
Already a subscriber?
Login