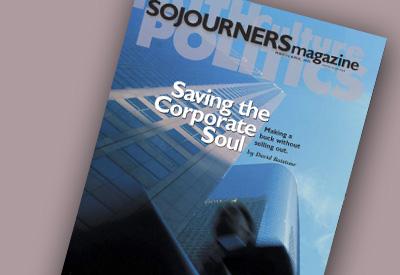 [The Lord] shall judge between many peoples, and shall arbitrate between strong nations far away; they shall beat their swords into plowshares, and their spears into pruning hooks; nation shall not lift up sword against nation, neither shall they learn war any more. —Micah 4:3
"You have heard that it was said, 'You shall love your neighbor and hate your enemy.' But I say to you, Love your enemies and pray for those who persecute you.... Be perfect, therefore, as God in heaven is perfect." —Matthew 5:43-44, 48
We are Christians, clergy and laity, from Roman Catholic, Protestant, Orthodox, and Historic Peace Church communities. After careful consideration and prayer, as citizens who love our country, we have come to painful conclusions.
We believe that U.S. war against Iraq would be unjust and immoral. As a "pre-emptive" attack unprecedented in our history, it would dishonor our nation, disregard morality, and violate international law. Citizens of good will are thrown into a crisis of conscience by our government's threatened initiation of this war.
A potential threat is not sufficient for war. Even if posed by a ruthless dictator, it is not enough that he might possess weapons of mass destruction, and that he might use them against us (or our allies) at some vague time in the future. Saddam Hussein has often been reckless, but he knows that he could not use weapons of mass destruction without bringing down ruin on himself.
This war is not a last resort. Reasonable remedies to our government's and the world's concerns have not been exhausted. Inspections, for example, have been effective in the past and need to be given a reasonable chance once again.
This war lacks legitimate authority. According to the clear wording of our Constitution, the authority to declare war resides only in Congress; and only the U.N. has authority to enforce its resolutions. It is not credible to decry violations of U.N. resolutions by our enemies while discounting those by our friends.
This war is likely to bring terrible, massive casualties to Iraqi civilians, including many children, elderly, and other defenseless people, as well as to American troops. No nation or people can exempt itself, legitimately, from the rule of international law and conventions protecting human rights.
This war runs great risks that are not worth the cost. It threatens to unleash chaos in Iraq, chaos in the Middle East, and chaos around the world. Not least, by alienating so many other nations, it threatens to undermine our legitimate efforts against terrorism.
Finally, this war lacks a right intention. To no small degree, it represents a drive for cheap oil and for increased control over the oil-producing world. It is hubris that will come to grief.
THEREFORE, in so grave a situation, we issue the following appeal:
- We appeal to all Christians: Put your faith in Jesus Christ above your loyalty to the nation, because today faith demands a higher loyalty, and patriotism means dissent.
- We call upon all churches and all individual Christians to refuse their consent to this war. We call them to nonviolent resistance, rejecting actions that violate moral law.
- We urge all U.S. military personnel, especially those who are Christians, to conscientious objection—to refuse to participate in this immoral war.
- We call upon military chaplains who are morally questioning this war to speak boldly and pastorally, conveying the concerns of this appeal to those who seek their guidance.
- We pledge ourselves to support enlisted persons who will pay a high price if they refuse to take part.
- We pledge to find legal, financial, and moral means of support for them, and to take risks ourselves.
- We pledge to initiate training programs around the country in nonviolent means of protest, making our opposition to this war as visible and effective as possible.
- We commit ourselves to a renewed discipline of prayer, fasting, and meditation on God's Word. A dedicated spirituality will be needed by all who are led to faithful obedience.
- We welcome support from all peoples of faith and conscience who wish to uphold us in making this appeal to the churches.
- Finally, we pledge allegiance to our country and to every noble ideal for which it stands. Upholding it where it is right, we must oppose it with deep regret, for its own sake and the sake of the world, where it goes so grievously wrong.
On some positions, cowardice asks the question, is it expedient? And then expedience comes along and asks the question, is it politic? Vanity asks the question, is it popular? Conscience asks the question, is it right? There comes a time when one must take the position that is neither safe nor politic nor popular, but one must do it because conscience [says] it is right.
—Martin Luther King Jr.
Initiating endorsers: Sarah Coakley, William Sloane Coffin Jr., Clifford Green, Stanley Hauerwas, David Hollenbach, Marilyn McEntyre, Peter Paris, Luis Rivera-Pagan, Duane Shank, Katherine Sonderegger, Glen Stassen, Kathryn Tanner, Mark Lewis Taylor, Deborah van Deusen Hunsinger, Miroslav Volf, Jim Wallis, William Werpehowski, Nicholas Wolterstorff, and Bill Wylie-Kellermann.