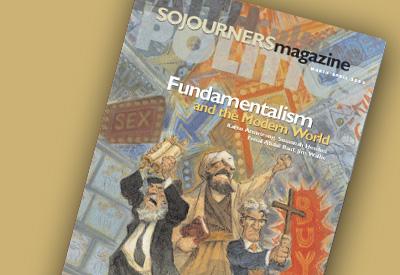 The following people are not the "top young Christians of 2002." Such a ranking would be impossible (and a little out of line with the spirit of the gospel). Rather they are just a few of those named by our staff, friends, board, and contributors when asked, "Who are young Christians that our readers should know about?" Our goal was to survey a sampling of those 30 and under who are active in their faith—and to find what hope and challenge they have to offer.
The really good news? For each one of these women and men of faith and dedication, thousands of other young people worldwide are also serving, creating, leading, making mistakes, organizing, and praying, bearing the spark of God's love and justice.
Lee Huang
29
Founder and director, YES (Youth + Entrepreneurship = Success) business incubator
www.theenterprisecenter.com
West Philadelphia, Pennsylvania
I was not raised in a Christian family. To this day, none of my immediate family are followers of Jesus. I became a Christian in high school and had to work through my integration of faith and vocation without the blessings of my parents.
I came to the Wharton School with an interest in business, and as my faith in God and relationship with Jesus Christ grew, that interest got redirected toward finding a way to use my business skills and interests to serve others. Work can and should be worship, service, and ministry and not just a way to make money to support yourself.
At my church we have many active members who have been in the congregation and in my neighborhood for decades. Their perspective reminds me that 1) things don't happen overnight and 2) God is faithful through many generations.
David Deal
31
Founder and executive director, Community IT Innovators (technology consultants for nonprofits)
www.citidc.com
Washington, D.C.
During a year in Mennonite Voluntary Service, I learned computer networking and programming on the job and saw that a small amount of appropriate technology could really make a difference in how a nonprofit works. This was a way to combine my passion for figuring out how things work with my desire to work for social justice.
I went to Duke on a Naval ROTC scholarship, but during the course of my four years in the Wesley Fellowship I came to believe the military service was incompatible with a life of Christian discipleship. I applied for conscientious objector status, was granted it, and am now paying back the scholarship.
I grew up Southern Baptist, then Methodist. When I came to D.C., I was looking for a Christian community where nonviolence and social justice were assumed to be integral to a life of faith; a community where being a Christian and being an American were not assumed to be one and the same. I found that the Mennonite Church comes as close to this as any church that I have experienced.
Kara S. Carlisle
24
Master of Divinity student and urban ministry intern, Claremont School of Theology; will teach in the New York City public schools after graduation this spring
Claremont, California
At the age of 16, I was in downtown Indianapolis with a friend and met a young man whose life was spent in the streets. He made his living selling drugs and found his community among gang members. He was convinced that he had been "damned to hell" long before he was born. I spent that evening trying to assure him of God's grace and love—a message he struggled to believe. Driving home, I felt betrayed by my sheltered Sunday school lessons whose simplistic answers failed to address the complexities of life on Saturdays. This encounter was an integral catalyst toward my focused studies in both theology and the city.
I was raised in the Church of God (Anderson, IN). Since college, I have served at a PCUSA church in Koreatown, South Central Los Angeles, and at a Nazarene church in Pasadena, California. I am in the process of licensing and ordination through the Church of God. I find myself struggling along with peers who were raised within a particular church tradition but now find themselves less committed to a particular denomination and increasingly ecumenical.
Carlos Aguilar (aka bookworm brown)
26
Philosopher, educator, writer, and hip-hop artist
mp3.com/bookwormbrown
Bassett, California
Hip-hop culture has educated me. I talk and walk with and to the inherited cadence of those hip-hop artists/activists that came before me, and gladly take on the responsibility to forward the art (and community) from here. Good art is good art; but on a more practical note, good art changes lives.
My formal education, in history and philosophy/ethics/theology, allowed me to investigate the ideas and actions that form our present condition. I intend to pursue doctoral work in the near future. My educational pursuit is, in some sense, my attempt at trying to deconstruct some of the false binary assumptions of our culture. As if one couldn't be both brown and educated; Christian and informed; emotional and intellectual. I'm forced to live with these imagined tensions.
Ideologically, I find myself more closely connected to some Catholic traditions, while my experience has been thoroughly evangelical. I'm somewhere in between. Shoot, maybe I'm a postmodern Anglican.
Rachel Dickerson
25
Artist and director, ARTSPACE after-school program
Washington, D.C.
I was born and raised in D.C. I grew up in the house my parents still live in. I was 7 when we first started worshiping at New Community Church. It was an abandoned building and the neighborhood was not like it is now.
Art is one way to bring healing to sickness and brokeness in the world. Marilyn McDonald, a long-time member of New Community, asked me before I graduated from Guilford College if I would like to head up an art program. The program is in the basement of New Community and sees children from Pre-K to 12th grade. Once a week a group of adults come for their own art class. We call the program ARTSPACE.
We also go into the schools to find the best resources for the children. I realize that not all my ideas work, but I want everyone in this neighborhood to become familiar and try working with different materials to create art, no matter how much they think they can't or how bad it looks.
Stacey Simpson Duke
30
Co-pastor, First Baptist Church and campus minister, University of Michigan (she shares both roles with her husband)
Ann Arbor, Michigan
I resisted ordained church ministry for a long time because of my distaste for institutionalism, and because of my disillusionment with Southern Baptist institutions in particular. I also thought that my theology and values were not "mainstream" enough to fit into church ministry. I came to understand that I could accept my call and still be who I am—unruly red hair, skepticism, butterfly tattoo, lack of a Y chromosome, and all. To my knowledge, I was the youngest woman (at 25) in Southern Baptist life to be ordained into a church pastorate and one of only two female Baptist pastors in the state of Georgia. The church needs people who don't fit conventional ideals.
When it comes to the Southern Baptist Convention and other bastions of fundamentalism (where the ordination of women is seen as sinful), I have shaken the dust off my feet. I instead have sought out churches that are supportive, good news kinds of places (Alliance of Baptists, American Baptist).
Michael Joseph
26
Witness for Peace international team member
www.witnessforpeace.org
Bogotá, Colombia
The experience of growing up in a poverty-ridden city in Brazil, the child of Southern Baptist missionaries, is undoubtedly the root of my social conscience. I still consider myself a Baptist, though on the opposite end of the spectrum from the Southern Baptist Convention. My faith and my work have found a wonderful marriage in Witness for Peace. Working in an environment as complicated, and at times as dangerous, as Colombia, would be unthinkable without my faith.
I would like to tell people from last generation's movements "thanks"—and that we're continuing to try to follow the path that they blazed before us. I would love to be mentored by Gandhi in how to "be peace," in how to find the satyagraha, or "soul force" that he so clearly exuded. I'd love to be mentored by King in how to stay faithful to the mission before you, even in the midst of huge personal risks (as well as get a few tips on public speaking). I'd also love to sit down with Dorothy Day, Ammon Hennacy, and Peter Maurin and have a little chat about personalism, a life of resistance, and Christian anarchism.
William King Moss III (aka Billy)
24
High school mathematics teacher at Brentwood High School (his hometown school)
Brentwood, New York
In the 11th grade I came to the conclusion that God created me to teach in order to give it back to those in need. Also, I have very strong beliefs about personal enlightenment and empowerment; teaching is perfect for both enlightening and empowering people.
I was raised Catholic and certainly identify with Catholic ideology now. However, because I am also half pentecostal (my father's mother is a pentecostal pastor), I find more exuberant worship and open prayer desirable. So I most often attend churches that are nondenominational "Bible churches."
I have to say that the church (institutionally) has not been that helpful. As a young professional I find it difficult to get "plugged in" to a church. I often find myself lost at sea. But the church (of believers) has been very helpful: The people looking out for me at work. The friends and family who love me and give me advice. The people that God has blessed me with to help me along the way. I thank God for this church.
Rebecca Jae Saldaña
24
Organizer, most recently for PCUN (Pineros y Campesinos Unidos del Nororeste/Northwest Treeplanters and Farmworkers United)
www.pcun.org
Woodburn, Oregon
Working as an organizer for a small independent farmworker union challenged me to put my Christian faith, my beliefs in nonviolence, and my hope in the kingdom into practice not just on Sunday, but daily. The union allowed me to live out my priestly call more fully than within the church.
I was raised in a post-Vatican II Catholic church by a mother who was raised Mennonite. (Of course, I didn't know that at the time. I thought folk music and protesting U.S. bombing of Iraq was what all Catholics did.) I identify as a Catholic Christian who draws from our deep prophetic Judeo-Christian tradition. I identify as a human being, committed to struggling with our call to nonviolence, communalism, and simplicity, and I am inspired by our brothers and sisters of Central America and the Christian base communities. As a Chicana, I identify with La Guadalupana who stands in solidarity with the poor and the oppressed.
One of my biggest challenges the past two years has been how to embody values of sacrifice for the cause and at the same time a way of life that inspires others to join. Currently, union organizer lifestyles, just like priesthood, depend upon a philosophy of "sacrifice all for others." It sets these individuals on a separate plane, creating an unnatural abyss between the organizer and the people for whom one works. I feel there can be another way—one that is more feminine, sustainable, spiritual, and family- and human-centered.
Jocelyn Penner
27
Human rights advocate and law student
Notre Dame University
www.ijm.org
South Bend, Indiana
As I began to piece together Jesus' concept of being "neighborly" (The Good Samaritan) and God's love of justice, I didn't see a loophole giving me the right to look away from oppression and injustice. Inside this reality of my faith, I have been blessed with a love for people and places of the world that afford me the right to place human rights in the area of "my calling." As do many who feed the poor or take care of the sick in the name of Jesus, I want to stand against oppression in this same name.
A catalyst was my work at the International Justice Mission. IJM pursues the goal of human rights through the tangible rescue of the suffering individual. IJM acts through the methods of legal representation, maintaining a client relationship with each victim until the abuse is resolved. Child slavery, forced prostitution, illegal detention, and police malfeasance are a few examples of exploitative behavior that IJM challenges. The stories, pictures, thank-yous, and smiles of former victims replay in my mind as a new life is given as a gift to those who have suffered.
Adam Russell Taylor
26
Executive director, Global Justice and associate minister, Union Baptist Church
www.stopglobalaids.org
Cambridge, Massachusetts
Why AIDS activism? In too many nations and communities, AIDS has become the leprosy of our time due to the stigma, discrimination, and denial that surrounds the disease. AIDS represents the greatest single threat to human life the world has ever seen (every year more than 10 times as many people in sub-Saharan Africa die from it than from armed conflict), yet the world has practically turned its back on this crisis. AIDS also presents an opportunity for us as activists to address underlying issues such as poverty, inequality, and human rights.
In terms of AIDS, the church has too often been a part of the problem and not the solution, though I think this is rapidly changing. I think churches are still struggling to address AIDS at home as well as abroad. But their prophetic voice and service capacity are needed now more than ever.
Mara Louise Vanderslice
26
Outreach coordinator, Jubilee USA Network
www.jubileeusa.org
Washington, D.C.
My travels to live in Bogotá, Colombia, while I was in college were pivotal. One evening I was sitting in my host family's darkened kitchen after a long day working with women who ran a day care center in one of the poorest neighborhoods. I had seen a man shot dead in a cafe one night, a friend from the university chased by secret police in a human rights march, and children living on the streets with no home or guardians. That day I learned that the ditch of untreated sewage, which I had tripped into alongside the road, had been the cause of a young boy's death when he fell in and got infected through a cut on his foot.
That evening I found myself steeped in the high tide of God's love and call on my life. I couldn't say no. I was engulfed with the demand that I work to change a world that allows the things I had seen to continue.
I was raised as a Unitarian Universalist; I'm really grateful for the openness that tradition gave me. When I later learned about Jesus and studied the scriptures in college, I could feel that I came to know myself as a Christian through my own study and prayer. I am now active in the United Church of Christ and plan to go into ministry some time.
The List Goes On...
Across the country and around the world, young people are at the heart—and often provide the soul—of some of the most important peace and justice efforts. Here are a few more examples:
Maria Cockroft-Kidd, 27, is an educator, trainer, and conflict mediator, currently serving as the lead conflict mediator-educator for the Chicago Teachers Center in Chicago. She is also an adjunct faculty member at Northeastern Illinois University. She helped develop curriculum for the Hague Appeal for Peace.
Felicia Dawson, 30, is director of community building with the Bethel New Life community development corporation in Chicago. She helps develop programs to create strategies for change and to give distressed individuals on the streets life-altering, positive alternatives.
Shady Hakim, 26, is a program associate at Bartimaeus Cooperative Ministries, where he assists in communications, research, and various program responsibilities. As a Christian Peacemaker Team reservist, he served for a total of three months with the Hebron team in the occupied West Bank. He continues to be active in international peace and justice efforts from his home in Los Angeles.
Hannah Loring-Davis, 22, is one of the "second generation" folks (her parents are co-founders of the Open Door Community in Atlanta) who has continued to live out her faith in creative ways. She recently took a job with The Other Side magazine in Philadelphia. At Guilford College she was a founding editor of The Student Activist. Her academic interests in Religious and African Studies are constantly of use to her as she works to build coalition and connection among radical Christians.
Ishmael-Renard Mitchell, 25, is a minister and cultural critic who travels the country speaking on issues of hip-hop, race, religion, and class to churches, high schools, and colleges throughout the nation. He is currently working on a book with Rev. Osegyfo Sekou on the life of rapper Tupac Shakur. He teaches at Hyde Leadership Institute in Washington, D.C., and serves at St. Mary's Baptist Church.
Tim Rose, 29, a United Church of Christ missionary in Beirut, Lebanon, works with the World Student Christian Federation on Christian-Muslim dialogue. He's served for six years in overseas ministry, including stints in China, and is working to break down cultural and religious barriers in the Middle East.