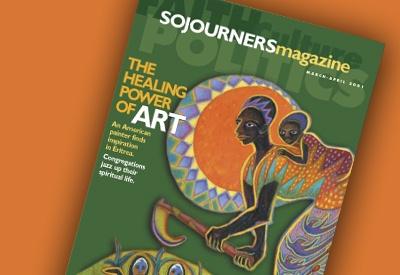 Now 75, Margaret Billmeyer is a lifelong member of St. Luke Lutheran Church in Brooklyn, New York. She has always lived in the neighborhood, and she's seen many changes as different ethnic groups move in, most recently from the Bahamas and the Virgin Islands. Billmeyer finds all this change invigorating.
But she had her doubts when St. Luke's pastor, Rev. John Graepel, and a young member of the congregation, Jon Lorenzen, suggested doing a jazz vespers service on Sunday afternoons.
According to Pastor Graepel, St. Luke's predominantly African-American membership does not respond enthusiastically to more traditional Lutheran liturgy and artistic expression (such as Bach chorales). Nor, says Graepel, "are parishioners particularly inclined toward the kind of 'new music' that characterizes many churches today." They are, however, knowledgeable about and appreciative of jazz.
St. Luke's neighborhood is one of multiethnic artistic ferment, fed by the presence of the Pratt Institute of Art and Design. Graepel and Lorenzen, a Pratt graduate and musician, wanted to reach out to the community (students as well as more permanent residents) with the vespers service. Margaret Billmeyer wasn't even sure exactly what jazz was, and she was afraid it might not be very worshipful. But she was ready to join with more enthusiastic parishioners and give it a try.
Now she is one of the program's most ardent supporters. She and a friend go to Sunday morning services, share a leisurely lunch they bring from home, and afterwards attend the vespers. According to Billmeyer, "The music is very, very wonderful." Her favorite selections are jazz improvisations on recognizable hymns, but she likes it all.
St. Luke is part of a growing trend among U.S. congregations: incorporating a variety of arts, especially nonverbal forms, to encourage the expression of faith. Congregations use every conceivable form of art in their worship or community activities. While music is the most popular, drama and dance are also surprisingly common (see "And the Survey Says," p. 28). This is true across the religious spectrum-mainline Protestants, evangelicals, Catholics, Jews, and others.
This information comes from the National Congregations Study (NCS), the most comprehensive look at the behavior and attitudes of American congregations to date. Carried out by Mark Chaves, a professor of sociology at the University of Arizona, the study was part of the 1998 General Social Survey conducted regularly by the National Opinion Research Center at the University of Chicago. Never before had the survey included questions about congregations.
Consistent with their understanding of themselves as people of the Word, Christians have historically communicated the gospel message through words, first spoken and then written. But from the very beginning, Christians used other means of artistic expression as well, such as sketches on the walls of Roman catacombs. Now, images in various media such as drawings, paintings, sculpture, woodcarvings, and stained glass are a common means many believers use to impart or respond to a religious message.
The dynamic relationship between religion and the arts works the other way around too. School, a local theater group, or a community concert series might seem the most likely venues for people to receive their initial exposure to the arts. But the National Congregations Study indicates that the congregation is where many religious people receive such an introduction.
Congregations develop interest in the arts for various reasons. As signifiers of members' traditions or ethnic heritage in an increasingly diverse church, the arts are a dynamic catalyst through which people learn about each other. Another common route to engagement in the arts is the presence of professional or amateur artists in a congregation. Their influence and enthusiasm often spawn congregational discussion groups, performance programs, or arts guilds. Churches are also one of the few places where low-budget artists may find space for rehearsals or performances. Or a congregation may recognize that the arts will serve a particular need for a specific group within the church or beyond.
A Gallery of Examples
Several such factors contributed to the creation of the Children's Center for Arts and Learning, a project of St. Andrew's Episcopal Church in inner-city Denver. The rector, Rev. Connie Delzell, envisioned a church-sponsored arts program for the neighborhood's at-risk children.
Delzell's commitment grew partially from experience with her own daughter, Heather, who was dyslexic and had found in the visual arts a profound form of liberation. This discovery had "kept Heather in school" as a child, Delzell says. Now 32, Heather Delzell is a painter and works part-time as program director at the center.
St. Andrew's members became convinced that arts exposure would have several benefits for the children: after-school fun, new ways of expressing themselves, and a chance to learn new skills and develop self-confidence. Eight years ago some 45 church volunteers began the program by tutoring individual youngsters. Grant money then funded some professional artists as part-time teachers.
Now the center offers visual arts, dance, theater, and music as well as the history of these arts. All of the children are involved in all of the arts. The idea is not simply to learn a skill-drawing, for example-but to find in the arts a whole new world of experience and creativity. Currently 100 children attend the after-school program and there is a long waiting list. In the summer, a six-week, half-day program enrolls 200.
Sometimes arts programs provide a way for suburban and urban churches to connect. At Plymouth Congregational Church in Edina, Minnesota, a suburb of Minneapolis, the arts flourish under the direction of well-known musician and choir director Philip Brunelle. Plymouth sponsors a variety of choirs that include a majority of nonmembers from throughout the metropolitan area. Brunelle has also developed a program in which several congregations pool financial resources to commission new church music.
As part of its Fine Arts Program, Bryn Mawr Presbyterian Church, in Pennsylvania, regularly sends several dozen members to Philadelphia-area retirement homes to present recitals, poetry readings, and dramatic productions. The church also sponsors "Young in Arts," music and arts education for children from birth through age 5.
Arts programs are often a multi-congregation project. The Iowa Conference of the United Church of Christ sponsors a yearly arts competition. Each year's winner presents the next year's awardee with a gift symbolizing its own type of arts program. So one year a congregation that had won for designing stained glass windows presented a small window to a congregation that won for writing and performing original dramas.
An ecumenical Seattle-based group called Church Music Northwest has expanded and changed its name to the Worship and Performing Arts Convention, offering workshops in drama, choreography, and other performing arts. Participants get together to plan varied worship services.
No Limits on Creativity
Congregational arts activities run the gamut from movie discussion groups to poetry workshops, photography or video projects, and the communal production of paintings, banners, liturgical vestments, or other creations. At Oak Park (Illinois) Mennonite Church, each Lent the congregation creates a sand sculpture, encouraging individuals to add their own expressions of visual and tactile prayer in shaping the final product.
Some congregations convey identity through their building's architecture or design, in either construction or renovation. A dramatic example is Ebenezer Baptist Church in Atlanta, with its striking sanctuary shaped like an African hut and stained glass windows incorporating scenes of African-American life.
The Catholic Cathedral of Saints Peter and Paul in Indianapolis wanted to embody a new, participative worship style. The congregation replaced stationary pews with "Danish modern" wooden chairs that could be positioned in any arrangement. The altar was moved closer to worshippers, several sculptures were removed and new ones added, and other changes pursued to create an intimate atmosphere.
The architecture and interior design at St. Gregory Nyssen Episcopal Church in San Francisco pays homage to the various cultures that have influenced the city. For instance, the baptismal font is outdoors in a Japanese rock garden. The church is filled with the works of local artists that reflect their own ethnic backgrounds, such as the Byzantine-style mosaic created by two émigré Russian artists.
A Mutual Ministry of Culture
Are these stories important other than to the congregations involved? Yes.
First, they indicate myriad possibilities for a congregation to enlarge its understanding of itself and its faith. Notes Jon Lorenzen, St. Luke's jazz vespers coordinator, the "nonverbal arts allow more expression of emotion." The vespers program is so important to Lorenzen (an airline engineer and designer) that he finances it himself since St. Luke lacks the resources.
Beyond that, sociologists and others studying the NCS feel that it demonstrates American religion's contribution to the nation's "cultural capital"-the store of knowledge and mastery of symbols and forms of expression that have broad cultural meaning. Throughout history some of the greatest art has been religious art. But the idea that the same could be true today, or that religion can help people understand and appreciate culture in general, is not widespread.
The NCS does indicate that churches vary regarding how far outside the congregation an arts program may lead members. In congregations that define themselves as "moderate" or "liberal," the arts often serve as a bridge to the secular art world, inspiring visits to museums, public concerts, dance, or theater performances. Congregations that define themselves as "conservative" are likely to retain an internal focus in their arts programs.
Both groups are making important statements. Art is good for religion, but religion is also good for art and for culture in general. The former thought generates most congregational interest and involvement in the arts, expanding participants' horizons in new ways. The latter highlights an unexpected contribution from religion to contemporary American society at large.
Few congregational arts participants realize the broader import of what they are doing. Margaret Billmeyer's growing interest in worship through jazz is a very personal expression of faith, as is Heather Delzell's excitement about teaching painting to young children who have trouble with words. These churchgoers are unaware of becoming sociological statistics or contributing to "cultural capital." They are simply doing what religious people have always done: finding new ways to express the multi-faceted and ultimately mysterious nature of faith.
Linda-Marie Delloff is senior writer for the Alban Institute, a congregational support organization based in Bethesda, Maryland. She is also an arts and books columnist for The Lutheran.