I will tell you something about stories...
They aren't just entertainment. Don't be fooled.
They are all we have, you see, all we have to fight off illness and death...
Their evil is mighty but it can't stand up to our stories.
So they try to destroy the stories, let the stories be confused or forgotten...
Because we would be defenseless then...
— Leslie Marmon Silko, Ceremony
It is an open question whether the Bible's status in Western civilization has improved much since the last millennium's turning. Now, as then, it continues to provide grist for popular eschatological fantasy, self-serving rulers still too often cite it for political gain, and it remains overly captive to the interpretive authority of the clerical and academic elite.
Two important things have changed since 1000 C.E., however. On one hand, the advent of the printing press and the slow triumph of the vernacular in the church have meant that the Bible is widely accessible. On the other, since the Enlightenment the forces of modernity have steadily displaced the Bible to the cultural margins.
In North America, some Christians lament this latter fact, while others accept it as preferable. The Bible is still the most widely translated piece of literature around the world, yet gathers dust on the shelves of most modern Western homes. It continues to be both overexposed and misunderstood, fetishized by some and maligned by others, invoked in the culture wars and ignored in everyday life.
Despite all this, the old stories of scripture have survived every attempt to dismiss, banish, deconstruct, or enshrine them. And they continue to demonstrate the power to comfort the afflicted, to afflict the comfortable, and to fire the imaginations of poor people around the world. Why? Perhaps it is because sacred narratives are as indigenous to human societies as language itself. They help order, interpret, and change the world.
Read the Full Article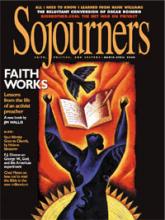 ​You've reached the end of our free magazine preview. For full digital access to Sojourners articles for as little as $3.95, please subscribe now. Your subscription allows us to pay authors fairly for their terrific work!
Already a subscriber?
Login