"DRAMATIC, POLITICAL, incendiary." They seem like words you'd see splashed across the dust jacket of Fire and Fury, the controversial account of the Trump White House that generated a firestorm of presidential tweets when it was released earlier this year. But in this issue, Bible scholar Reta Halteman Finger uses those words to describe an older form of political drama: the book of Revelation.
Despite Revelation's reputation as a harbinger of doom, Finger explains that the final book in the New Testament needs to be understood as an example of apocalyptic resistance literature, a genre of writing originally "intended to bring hope during times of political uncertainty or persecution." This hope isn't rooted in imperial acts of violence; it's rooted in the victory of the Lamb, slaughtered but resurrected.
Lately we've been hearing a lot about how we are living in "unprecedented" times. And when President Trump so easily threatens nuclear attacks and uses vile language to disparage other countries, it seems possible that our nation has indeed slunk into a dangerous new era.
Yet as the Bible reminds us, we are certainly not the first nation to grapple with a leader whose only regard is for himself. In our cover story, Rev. Dr. William Barber II tells the tale of King Nebuchadnezzar and the three Hebrew boys—Shadrach, Meshach, and Abednego—who refused to worship him. According to Barber, it's a tale about a "narcissistic maniac" who "put gold on his tower" and "promised that he, and only he, could make Babylon great again."
Barber writes: "They could not accept the religion of the king, the religion of greed, the religion of racism, the religion of hate. They knew that there are times you must stand your ground because bowing down is not an option."
The challenges of 2018 may be unique, yet—as Christians enter the season of Lent—we pray, fast, give alms, and do justice. That, as always, is what the Lord requires.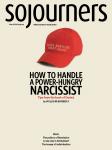 This appears in the March 2018 issue of Sojourners
Got something to say about what you're reading? We value your feedback!