There's always so much I love and learn from in Sojourners. I often feel immense gratitude and appreciation for the thoughtful, thought-provoking pieces. However, there's something I missed in the January issue: Min-Ah Cho's excellent "Living the Word" reflections. I loved reading her commentaries and analyses, which rang true in ways that inspired me to discover a new and more meaningful call to both Bible reading and activism.
Elizabeth Claman
Richmond, California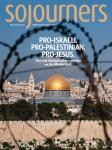 This appears in the March 2015 issue of Sojourners
Got something to say about what you're reading? We value your feedback!