Thank you for David Gushee's thoughts about sexuality in January 2015's "Tackling the Hard Questions" and "Disputable Matters." His articles are refreshingly honest and humble, even while speaking truth. I appreciate the references to authors writing about the conversation between pastoral reality and scriptural interpretation. Both need to be taken seriously, and these articles do that. I feel more empowered in my own context to share this with colleagues and leaders.
Melanie Weldon-Soiset
Shanghai, China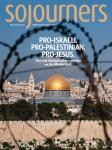 This appears in the March 2015 issue of Sojourners
Got something to say about what you're reading? We value your feedback!