Your incredible December 2013 cover photo says everything: Love is always present, offering hope in the midst of haunting, painful, indescribable loss. The cover was the prelude to thoughtful articles that made this your finest issue yet, with each article speaking truth while offering hope. Thank you.
Marilyn Boyce
Swansboro, North Carolina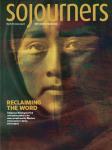 This appears in the March 2014 issue of Sojourners
Got something to say about what you're reading? We value your feedback!