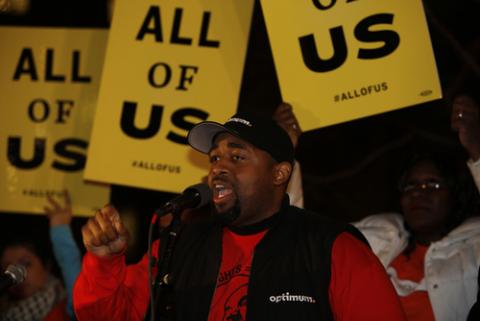 ON NOV. 5, 2013, the people of SeaTac, Wash., enacted the highest minimum wage in the country, $15 an hour, more than double the federal minimum wage of $7.25 an hour.
On Black Friday, the biggest shopping day of the year, Wal-Mart workers at more than 1,500 store locations conducted protests and informational pickets. Fast-food workers in more than 100 cities protested in front of McDonalds, KFC, and Taco Bell stores, calling for wage increases.
Across the U.S., a grassroots movement is blossoming to address the extreme inequality of wealth and wages. Led by low-wage workers and bolstered by faith community leaders, this movement is shining a spotlight on the glaring disparity of wages, wealth, and opportunity.
The wealthiest 1 percent of households, those with annual incomes over $555,000, now receives more than 21 percent of all income. Meanwhile, millions of low-wage workers subsist on the federal minimum wage, which is $15,080 a year for a full-time worker. As a result, many low-wage workers depend on charity and public subsidies such as food stamps and Medicaid to survive.
If the minimum wage had kept up with inflation since 1968, it would now be $10.74, enough to boost a family of three over the federal poverty line, according to the Economic Policy Institute. If the minimum wage had increased at the pace of worker productivity, it would be $18.72 an hour today.
Federal legislation has been introduced to raise the minimum wage over three years to $10.10. Polls indicate broad public support for this proposal. Seventy percent of people in the U.S. said they supported raising the federal minimum wage, according to a CBS News poll in December 2013. But this proposal faces bleak prospects in our gridlocked Congress.
This political paralysis has pushed organizing efforts to the state and local level, where living wage and minimum wage campaigns have won real results. Four states passed laws in 2013 hiking the minimum wage, while in nine states it automatically increased with a legislated cost-of-living adjustment. Twenty-one states now have minimum wages higher than the federal minimum wage. In 2014, there will be campaigns to raise minimum wages in at least 11 states, according to the National Employment Law Project. These include ballot initiatives in four states.
The primary opponents to minimum wage hikes include restaurant associations and some chambers of commerce. But not all business associations are opposed to increasing wages. The Business for a Fair Minimum Wage campaign has enlisted companies such as Costco, Eileen Fisher, ABC Home, and thousands of small businesses in state and federal minimum wage campaigns.
"Employers who pretend they can't pay a minimum wage equivalent to what their counterparts paid in the 1960s should be ashamed of themselves," said Jon Cooper, the owner of the New York-based Spectronics Corporation, at a Capitol Hill press conference. "Fair wages are part of the formula for success at my company."
Opponents of raising the minimum wage express concern about job losses. "When you raise the price of employment, guess what happens? You get less of it," said House Speaker John Boehner. Extensive research, however, reveals that minimum wage increases do not cause job losses and have wide benefits for businesses and the economy.
In the coming year, low-wage workers will need engaged allies in faith communities. Congregations and faith activists have been collecting signatures for ballot initiatives, bearing witness at protests, testifying at legislative hearings, and organizing educational forums. Members of the Brockton (Mass.) Interfaith Community collected hundreds of signatures after finding that 30 percent of workers in the area earn $11 an hour or less and that a change would bring $13 million in wage increases to the community.
Others have reflected on their own compensation practices for congregation employees and contract services. Partnering with groups such as Interfaith Worker Justice, Jobs with Justice, OUR Wal-Mart, and Working America, we can make a powerful stand against growing inequality.
Chuck Collins is a senior scholar at the Institute for Policy Studies and director of the Program on Inequality and the Common Good (www.inequality.org). He is author of The Moral Measure of the Economy (Orbis) and 99 to 1: How Wealth Inequality is Wrecking the World and What We Can Do About It (Berrett Koehler).
Image: Fast Food Forward, a coalition seeking improved condition for workers, sponsored a rally in Foley Square, New York, a katz / Shutterstock.com