Across the nation, people are organizing in support of increased compensation for minimum wage workers. According to Chuck Collins in "A Minimum of Justice" (Sojourners, March 2014), low-wage workers are leading this grassroots movement to reduce economic inequality.
As the federal minimum wage stagnates at $7.25 an hour, many states have taken the lead to raise wages on their own. Check out the map below to view the 21 states that now have minimum wages higher than the federal minimum wage. Where does your state stand?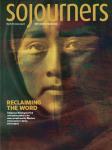 This appears in the March 2014 issue of Sojourners
Got something to say about what you're reading? We value your feedback!