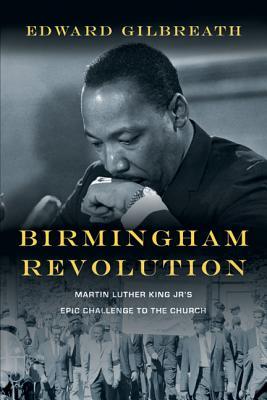 AS AN EVANGELICAL pastor of a multiethnic church in New York City, I often find myself at the intersection of lively discussions about race. These conversations almost inevitably lead to a familiar question: What does the church do now? Maybe stated another way, "How do we work toward the dream of the beloved community?" This is why I find Edward Gilbreath's Birmingham Revolution: Martin Luther King Jr.'s Epic Challenge to the Church to be a timely and necessary read.
While many books have been written on Dr. King and civil rights, Birmingham Revolution places King's faith at the foreground of the writing. This is an important distinctive as King has often been co-opted, by conservative and liberal agendas alike. Yet history cannot deny that prayerful action, and a gospel that took seriously the social dimensions of human life, were at the very heart of King's theology.
Birmingham Revolution hones in on the year 1963—a time when the Southern Christian Leadership Conference took the civil rights efforts into the bowels of structural racism. Brown vs. Board of Education had provided an important Supreme Court victory in 1954, but many forms of local resistance to desegregation prevailed in the South.
To compound the drama, many advocates in Alabama, both black and white, believed further progress should happen through legal means. They had a misplaced confidence that local structures would uphold federal law, despite the continued presence of the KKK and other such groups. Gilbreath explains Birmingham's defining moment not only in confronting segregation, but also in challenging the subtler, unwittingly complicit voice of the moderate.
Gilbreath highlights this complexity and points to the many people who helped propel the movement forward. For example, Rev. Fred Shuttlesworth, the fiery action-oriented preacher from Alabama, was the perfect complement to the "analytical and circumspect" style of King. Gilbreath touches on the unified efforts of other movement leaders such as Dorothy Cotton, Ella Baker, and James Lawson.
Referencing historian Stewart Burns, Gilbreath posits that King's letter from the Birmingham jail was perhaps a mirror into King's evolution from his own "moderate" past. Perhaps King could identify with the eight moderate clergy who had opposed his actions, yet he rejected their understanding of history.
Gilbreath sees King's letter from the Birmingham jail as a radical claim against incrementalism and an argument for the full humanity of African Americans—as well as that of oppressors—in light of a history where it had been long denied. And while the book would benefit from more detailed engagement with some excerpts of King's letter, Gilbreath provides a robust view of Birmingham's vital historical role in spurring civil rights; the Civil Rights Act was passed just one year after the Birmingham campaign.
Gilbreath's analysis of Birmingham then and now allows the reader to revisit King's letter with a more informed hermeneutic—much in the same way one would read Paul's epistle to the church in Philippi after a New Testament anthropology class.
Clergy can receive Birmingham Revolution as a personal challenge to avoid caricaturizing King from the pulpit. Our lens will be widened by reading about King's weariness and anger toward the end—a flawed hero who perceived a lack of racial consciousness among many in our country. Just read the chapter that references "An Angry Dr. King" or the reflection on the episode of Aaron McGruder's The Boondocks that offers a "what if" King still lived today.
I recommend reading Birmingham Revolution before engaging the familiar "I have a dream" each January. Adding dimension to the historic civil rights movement helps us take seriously the pitfalls and promise of the hard work of racial reconciliation today. 
José Humphreys is pastor of Metro Hope Church in New York City and a member of the Latino Leadership Circle.