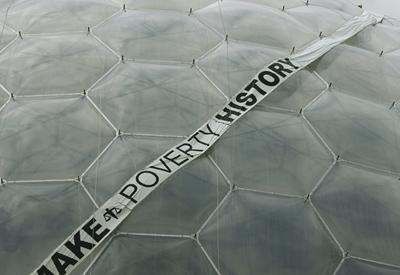 OVER THE LAST three decades, reclaiming the biblical concept of Jubilee has proven a powerful rallying point for campaigners demanding that the debts of the world's poorest nations be cancelled. People of faith have been inspired to find that an Old Testament principle of debt cancellation (see Leviticus 25) could have such contemporary relevance. As a commentary in the British newspaper The Observer, normally skeptical towards Christianity, said in 1999, "So who said religion was dead and there was no God? ... it is no longer [economists] Morris, Keynes, and Beveridge who inspire and change the world. It's Leviticus."
The cancellation of debt was no new idea, even to the modern world. Generous 1953 debt release helped Germany become a responsible player in a postwar Europe. Later Indonesia, seen as a bulwark against communism, was allowed to pay its debt to the group of rich creditor nations, the Paris Club, interest-free, over 30 years. From the early 1980s, U.K. campaigners had been arguing that poor countries should also get debt cancellation. Yet the response from the Paris Club was half-hearted. Plan after plan—the Brady Plan, the Baker Plan, the Naples Terms, the London Terms, the Houston Terms—was little more than a placebo.
Meanwhile, interest rates soared as a result of the U.S. and U.K.'s monetary policies, while the prices poor countries received for commodities they produced continued to plummet. The debt owed by developing countries more than doubled during the late 1980s—until, for every dollar given in aid, three dollars were being returned in debt payments.
Throughout the 1990s the pressure mounted. In 1996, the World Bank and IMF launched a new initiative—the Heavily Indebted Poor Countries (HIPC) scheme, which aimed to write off certain countries' debt to the World Bank and the IMF to "achieve debt sustainability." But the program, especially as originally announced, was limited in scope. The following year, the Jubilee 2000 Coalition brought together campaigners from faith-based and humanitarian organizations, aiming to achieve substantial debt reduction by the end of the millennium.
The call to "break the chains" was visually eloquent. When the leaders of the rich G8 countries met in May 1998, 70,000 people formed a human chain in Birmingham, England. Journalists interviewed celebrities such as Bono, thinkers from the global South, and justice-seekers from the U.S. and Europe. The British prime minister left the G8 gathering early to meet protest leaders.
The tipping point had come: Jubilee 2000 was acknowledged as a justice movement that mobilized an enormous popular response. Jubilee formed human chains in Madras and Madrid, Osaka and Oslo, Durban and Denver. On what would become the world's largest petition ever, 24 million signatures poured in from 166 countries.
BY THE END of 2000, rich nations had promised to write off billions of dollars of debt owed by poor countries. A decade later, Stephen Rand, a leading figure in the movement, reflected on Jubilee's success: "Promises have been kept, with $88 billion of debt cancelled ... There are children in school, teachers employed, immunizations given, antiretroviral drugs made available, water and sanitation improved." One of the world's greatest areas of injustice was finally being tackled—the relentless flow of resources from poor to rich.
The World Bank report of September 2006 on HIPC found that, in countries receiving debt relief, poverty reduction initiatives between 1999 and 2005 rose nearly 30 percent—from an average of 7 percent of the national economy to more than 9 percent. Increased spending on health and education brought immediate benefits. Tanzania did away with school fees, built more schools, and hired additional teachers. Uganda's $1 billion debt cancellation meant that the number of children in school doubled. Mozambique's $67 million relief was diverted to hospitals and housing. Burkina Faso slashed the price of life-saving medicines and increased access to safe drinking water.
As Jubilee 2000 came to an end, the Jubilee Debt Campaign picked up the work. It formed the Make Poverty History coalition, which targeted the 2005 G8 summit in Scotland. More positive responses from the world leaders led to further transfers of money back into the coffers of poor nations, with accompanying benefits for infrastructure, health, and education. An IMF report in November 2011 showed that in heavily indebted poor countries, spending on social services was now, on average, five times the amount of debt-service payments.
Jubilee was probably the first really global campaign to achieve a populist impact. In an era before the advent of Facebook or Twitter, Jubilee showed it could marshal millions of people worldwide, present them with crucial arguments and draw them toward a single focus—the cancellation of debt. The strategies and methods it built up are now a standard for effective global engagement, referenced in management and development textbooks.
Jubilee's extraordinary efforts empowered those whose voices had been muted or ignored and helped revitalize some of the world's poorest economies. Skeptics initially shrugged off the campaign because they felt the economics of international debt were too complex for people at the grassroots level. They were proven wrong. Once people's passions had been stirred, they threw themselves into grasping the issues and made them their own. Government officials were taken aback at the level of serious engagement and technical argument that poured into their mailboxes from "ordinary" people.
Jubilee also ensured that debt release stayed firmly on the international agenda. When the earthquake struck Haiti in 2010, campaigners were ready to lobby parliamentarians and international governments for relief of Haiti's debt—but there was no need. Within 24 hours of the international crisis, political leaders themselves were insisting that debts must be cancelled to kick-start the country's economy and help it begin to rebuild.
THE JUBILEE MOVEMENT has given us insights into debt crises that have proved prophetic in our current First World debt turmoil. Its old warnings—about the way irresponsible lending, spiraling debt, and economic crisis affect the poor—have again hit home. Once more, the poor pick up the tab, facing house repossession, unemployment, hardship, and financial struggle, while the rich find ways of protecting themselves and the bankers get their bonuses.
Although the international financial crisis has distracted people from the debt crisis in the global South, that crisis is by no means over. Injustice, exploitation, and imbalances of power still characterize relationships between rich and poor nations. Many more of the world's poorest realms are still in need of debt cancellation. Campaigners have found how easy it is to lose ground already gained, especially when promises are not implemented, loopholes not closed, and the pressure of advocacy not maintained.
New threats and challenges have required the Jubilee movement to adapt and take fresh initiatives. One challenge is the need for international processes that will end damaging "conditionality." While it's reasonable to require accountability and financial clarity from an indebted country in exchange for debt relief, the conditions imposed by HIPC arguably go way beyond this into attempted micromanagement of impoverished countries' economies by the IMF and World Bank. Very often, this means the IMF requires monetary policies that reduce—even eliminate—the amount of debt relief that can be spent on social services. Tanzania is often quoted as an example, where dozens of conditions were imposed, including raising the country's value-added tax and adopting a drastic privatization policy.
Another challenge is the need to monitor future lending; the fear is that countries may build up more debt to replace that which has been cancelled. China and other growing economies are already giving out loans for projects.
A third area campaigners are challenging is illegitimate debt, a term that covers loans secured through corruption or that were given to rulers who used them for self-enrichment. The word "illegitimate" ought also to be applied to the controversial deals made by the U.K.'s Export Credits Guarantee Department, which has backed the Al-Yamamah arms deal to Saudi Arabia, Hawk jets to Indonesia, and the Baku-Tbilisi-Ceyhan oil pipeline in the Caucasus. Some of these deals ignore corruption, human rights abuses, conflict, and climate- change problems, and when the deals go wrong, they become Third World debts. The U.K. Jubilee movement is campaigning against them. It requires a mammoth collective Jubilee initiative to bring the problem of illegitimate debt to public awareness and to demand that, as an initial move, individual governments and the international community bring in legislation to curtail specific examples of this kind of debt.
IN RECENT YEARS, Jubilee campaigners have also had to recognize the power and ruthlessness of "vulture funds." When donor countries and institutions such as the IMF and World Bank, accepting the moral call of Jubilee, cancelled around $90 billion in bilateral and multilateral debt to heavily indebted poor countries, this was a voluntary initiative, not binding on private creditors. This left some countries exposed to debt speculators: Vulture funds buy old debts of poor countries for pennies on the dollar, wait until the country starts to recover (because its big creditors have cancelled debts), then sue that country for a vastly inflated sum. The IMF estimates that vulture funds are claiming or have already won over $1.5 billion from HIPC countries such as Ethiopia, Sudan, Uganda, Zambia, and the Republic of Congo. The challenge for Jubilee is to raise such an effective global outcry that law firms in the U.S. and Europe will be reluctant to represent vulture-fund claims in court and governments will close the legal loopholes.
There has been some success. A company owned by Michael Sheehan, a former consultant to Morgan Stanley, paid just over $3 million for an old Zambian debt dating back to the 1970s, then sued Zambia for $55 million in the U.K. High Court in 2007. The vulture fund was awarded $15.5 million by the British judge, who expressed moral disquiet at the claim—but in 2010, a campaign by Jubilee and associated groups led the government to pass a ground-breaking law that makes it impossible for vulture funds to win inflated claims through the British courts.
Yet the loophole remains in other countries, even allowing these firms to go to court against companies trading with their target country in order to divert payments to the vulture fund. F.G Hemisphere, a company run by American Peter Grossman, tried, unsuccessfully, to seize Congo's embassy in Washington as a down payment on a debt! He was claiming $100 million for an old debt, which originated under the regime of dictator Mobutu Sese Seko and which Grossman bought for a reported $3.3 million. Grossman took his claim around the world's courtrooms, from Hong Kong to the U.S., unmoved by the argument that the Congo could better spend $100 million on clean water, rebuilding war-ravaged towns, and lowering the maternal mortality rate. To bring legality in line with morality is a massive task for the Jubilee movement. If vulture funds are to be prevented from undermining the huge gains of debt relief, public opinion throughout the European Union and the U.S. must be mobilized to persuade governments to pass legislation.
The Jubilee movement played a vital, significant part in the fight for global justice—but it cannot be relegated to history. It must be there for the long haul, utilizing today's social networking culture and confidence in popular democracy. For wherever there is human sin, there will be abuse of power, exploitation, and injustice. Countering that will require new spiritual energy, a great wave of support, and the power to persevere.
Elaine Storkey is president of Tearfund, a U.K.-based Christian international relief and development organization.