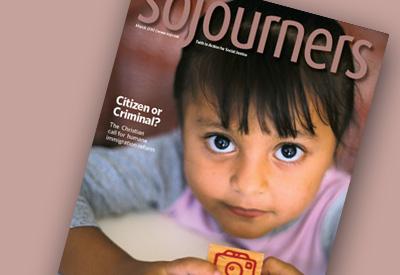 Why we need comprehensive, humane immigration reform--now.
by Allison Johnson
The United States is a nation fueled by immigrant ingenuity and labor, yet our nation's citizenship laws have fluctuated from open and generous to restrictive and ethnocentric. After two failed attempts at reform in the last decade, our nation has been living with the consequences of a broken immigration system.
There are currently 12 million undocumented immigrants living in the shadows of our society, in fear of deportation and separation from their families. On the one hand we have increased border militarization, but on the other the government has routinely ignored the entry and existence of unauthorized workers in order to benefit from cheap labor. As many immigration activists say, it is as if we have a sign at the border saying "Keep Out" and a sign in the workplace crying "Help Wanted."
For workers without proper documentation, there is virtually no way for them to legalize, although many of them long for the opportunity and privilege of citizenship. Large-scale workplace immigration raids, increased hate crimes against Latinos, and indefinite family separation are all results of a lack of real reform, making the fundamental question surrounding the immigration debate not if we should fix the system, but rather how we should go about it.
The faith community has consistently advocated for immigration laws to better reflect the heart of God, which calls us to love and care for the stranger in our midst (Deuteronomy 10:17-19). For example, a resolution passed by the National Association of Evangelicals in support of immigration reform says, "policies must be evaluated to reflect that immigrants are made in the image of God and demonstrate biblical grace to the foreigner." In February 2009, more than 167 interfaith prayer vigils were held across the U.S., petitioning for the protection and humane treatment of immigrant families. Latino evangelical churches, joined by members of Congress, have held rallies, attended by thousands of people, that highlight the plight of "mixed status" families (comprised of both legal and undocumented residents) fighting to stay together in the face of deportation.
Through Sojourners' Christians for Comprehensive Immigration Reform campaign, we have been one of the leading voices in shifting this debate away from hateful rhetoric and pointing to areas of consensus where Christians can unite. We seek immigration reform that upholds the family as the core unit of society by placing families at the top of the political agenda. We insist on a pathway to citizenship for the 12 million immigrants who are already here, with reasonable requirements for legalization. Finally, we believe any legislation's enforcement requirements must be enacted with respect to the dignity of the human person.
Immigration has always shaped our nation and our communities. As we move forward into a period of legislative debate, let us remember that we are, first and foremost, talking about people whose lives will be profoundly impacted by changes to our immigration system. Let our conversations about this challenging issue be guided by love and respect. And, as Christians, let's remember that our citizenship and primary identification is of the kingdom of heaven.
Allison Johnson is the campaign coordinator of Christians for Comprehensive Immigration Reform, a campaign of Sojourners.
-----
Seekers of Refuge: The Christian imperative for immigration reform.
by Angela Maria Kelley and Sally Steenland
Distressed immigrants and their families sought refuge at St. Bridget's Catholic Church in Postville, Iowa, in 2008, after hundreds of immigrant workers at a meat processing plant were rounded up and held at an exhibit hall for cattle. A year earlier in New Bedford, Mass., the basement of Our Lady of Guadalupe Catholic Church echoed with cries from the frightened wives and children of hundreds of immigrants who were arrested by agents at a military vest factory. After spending hours at the church counseling them, Sen. Edward Kennedy of Massachusetts wrote: "These workers may lack documents, but they do not lack dignity, and they do not lack friends."
Indeed, for all of us, the church or temple is a sanctuary where people seek refuge, practice charity, and find the courage to forgive. The kinship of family and the dignity of all humans are cherished.
Now, more than at any other time in our recent history, the faith community is playing a vital role in a national policy debate that will test how deeply each of us holds these principled values. Leaders of diverse faiths have called upon Congress to reform the nation's outdated immigration laws which currently break up families and neighborhoods and treat workers unfairly. Their involvement is crucial because faith leaders have the moral authority to urge that the often caustic immigration issue be handled with civility and respect for fellow human beings.
"These leaders understand that because immigrants are, first and foremost, human beings made in God's image—many of whom came here to feed their families—it is critical that civility guides our rhetoric whenever we discuss immigration," said Sen. Charles Schumer, chair of the Senate Subcommittee on Immigration, Refugees, and Border Security.
Upholding human civility in the immigration debate will not be easy. The broken immigration system has allowed fear and hostility to be stirred up against immigrants. Further, the temptation to scapegoat immigrants seems to have worsened during this economic crisis, as immigration restrictionists have wrongly blamed employed non-citizens for native U.S. workers getting laid off.
Bringing the undocumented immigrants out from the underground economy will spur growth through increased tax receipts from workers and unscrupulous employers. Proposed immigration law changes would also bring about enforcement policies that include safeguards to protect the human dignity of those arrested. They would improve legal immigration channels for employment and for families seeking to be reunited.
"America's social problems—unemployment, poverty, crime, substance abuse, family breakup—were not caused by immigrants," said Leith Anderson, president of the National Association of Evangelicals, at a Senate subcommittee hearing last October. "The solution is not to exclude immigrants, but to intelligently integrate them." Anderson added this reminder: "They are us."
Perhaps the biggest challenge for the nation is whether we can find within us the courage to forgive immigrants who came into the country illegally, or those who stayed after their visa expired, but who are now willing to undergo vigorous eligibility requirements, such as payment of back taxes, to earn legal status.
From biblical times to the present, religious communities—regardless of denomination—have embraced the presence of immigrants. By calling for comprehensive immigration reform, faith leaders are presenting the church and the nation with an opportunity to speak out against a broken system that is morally wrong.
Angela Maria Kelley is vice president for immigration policy and advocacy and Sally Steenland is senior policy adviser to the faith and progressive policy initiative at the Center for American Progress.
-----
'It's a New Day': Latino evangelicals help pave the path to citizenship.
by Gabriel Salguero
A 2007 headline from Pew's Forum on Religion and Public Life proclaimed, "¡Here Come 'Los Evangélicos'!" The article heralded the Latino boom in the United States and the growing Latino presence in the electorate.
Furthermore, the growing number of Latino "mega-iglesias" in key swing states—such as El Rey Jesus, a congregation in Miami with close to 10,000 members, and Centro Cristiano Restauración in Orlando, Florida, with almost 5,000—have been more vocal on issues of public policy. As a result, Latino evangelicals are growing to exert considerable political influence in the United States, and the main political issue that Latino evangelicals are rallying around is immigration reform. Ohio pastor Max Rodas sums it up clearly: "The immigration reform debate, coupled with younger leadership and explosive demographic growth, was a perfect storm for Latino evangelicals."
What exactly are Latino evangelicals saying about immigration reform? They have declared the immigration system broken and immoral. First, they have denounced the way the immigration system hurts families. "If we are truly about family values, how can we argue for a system that separates parents from their citizen children?" asks Rev. Joshua Rodriguez, pastor of The Cityline Church in Jersey City, New Jersey.
Second, evangelical Latino leaders couch this issue in terms of a biblical mandate to "welcome and love the stranger." "How can we say we love the stranger and not provide viable ways for them to become citizens?" asks Rev. Luis Cortés Jr., CEO of Esperanza USA, a network of Latino Christians.
These leaders are rising up to call for the laws to be reformed so that immigrants in the shadows can earn citizenship. "Many people have told undocumented immigrants to get to the back of the line, but the truth is that there is no line," says Rev. Isaías Mercado, pastor of The Carpenter's House in Chicago. These leaders are not asking for people to break the law, but rather for a reform to a broken law. Like Mercado, many Latino evangelicals argue that this is a moral issue that speaks to the very conscience of our nation. Mercado adds, "We need humane and comprehensive immigration reform that gives people dignity and honors the U.S. tradition of welcoming the stranger. As Christians we can do no less."
Today, young evangelical Latino leaders continue to mobilize for immigration reform, uniting the growing Latino church community around this issue of social and moral justice. Their mobilization and growth has not gone unnoticed. At the height of the debate in Congress, many non-Latino faith leaders looked to Latino evangelicals for leadership. In 2009, organizations such as Esperanza USA, the National Hispanic Christian Leadership Conference, and the Confraternidad de Lideres Conciliares (an association of Latino Pentecostal bishops) joined Rep. Luis V. Gutiérrez of Illinois for "Familias Unidas," a national tour to document the harm caused by the broken immigration system and hold prayer vigils and community meetings. Increasingly, Latino Christian leaders and organizations are sought to give comment on the immigration debate on CNN, Univision, and other international media networks. The immigration debate gives many Americans their first opportunity to hear from these exceptional leaders.
Possibly the most important outcome of the emergence of Latino evangelicals is that government officials, non-Latino evangelicals, and America at large have discovered that Latino evangelicals have something to say. Indeed, Latinos are not just speaking out on immigration reform, but the genocide in Darfur, economic and educational inequity, health-care reform, and a host of public policy and social issues.
"It is a new day," says Dr. Nino González, pastor of Iglesia El Calvario in Orlando, "when Latinos will contribute to the national dialogue in rich ways." Ready or not, "Here Come 'Los Evangélicos'!"
Gabriel Salguero is pastor of the Lamb's Church of the Nazarene in New York City, a Ph.D. candidate at Union Theological Seminary, and director of the Hispanic Leadership Program at Princeton Theological Seminary in Princeton, New Jersey. He is also a Sojourners board member.
-----
From Strangers to Friends: Where is the opportunity for forgiveness?
by Bob Ekblad
Last week my wife called me about a close friend from Mexico named Ignacio whose 21-year-old son, Jose, was in jail, charged with DUI and possession of a controlled substance. As a result of the arrest, Jose was subject to a Border Patrol hold. If convicted, Jose will serve his time and then be deported to Mexico, a country where he has never lived, separated from his wife, 3-year-old daughter, and parents.
What could we do to keep Jose from being deported? Since he is married to a U.S. citizen, he may be able to apply for a waiver, depending on the seriousness of his conviction. However, through the Illegal Immigration Reform and Immigrant Responsibility Act of 1996, people can be stripped of their residency status or barred from ever becoming a legal resident by committing a crime involving drugs or "moral turpitude," which includes nearly every offense. At the same time, the ability of immigration officers and judges to offer forgiveness to the truly deserving has been severely limited.
The law puts tremendous discretion in the hands of prosecutors. Immigrants too often must rely for their defense on public defender systems, which are overwhelmed, underfunded, and often unable to resolve criminal charges through more constructive avenues such as drug treatment, community service, and training, which could allow immigrants to pay their debt to society and reintegrate as productive members. In contemporary America, justice too often requires hard cash.
Ignacio and his wife, Maria, like most immigrant workers, don't have cash to pay for a private attorney for their son—who really needs drug and alcohol treatment, not jail time. They migrated to Washington state from Nayarit, Mexico, 15 years ago, when Jose was 7 years old. Like many undocumented immigrants, Ignacio and Maria struggled at the bottom of American society, taking on minimum-wage jobs in construction, slaughterhouses, meat-packing plants, landscaping, and field work.
Until ordinary Americans become aware of the desperate plight of immigrant workers, and the laws and economic forces that encourage them to come here and then force them to remain in the shadows, justice for the immigrants will never come. But as we get to know immigrant workers as friends, we can put healthy pressure on prosecutors, judges, and lawmakers to enforce laws in ways that favor all people and communities.
Last night I met with Jose during a bilingual Bible study in Skagit County Jail. "We're doing everything we can," I assured him. "Está bien, gracias," he said, smiling, as they led him back to his cell.
Bob Ekblad is the executive director of the People's Seminary and Tierra Nueva, an ecumenical ministry in Burlington, Washington, for immigrants, migrant workers, and inmates in Skagit County Jail.
-----
Building a Civilization of Love: Catholic social teaching and immigration reform.
by Daniel G. Groody
At the heart of the Catholic Church's social teaching is a vision of God who migrated to the human race to save a people alienated from God. In response to the God who first loved us, it sees itself as a pilgrim people and the body of Christ who journey through this world as spiritual migrants. As it moves toward a promised homeland, it seeks to walk in solidarity with all those who are vulnerable in their earthly sojourn, working together for the unity of the human family and a more just and peaceful world.
Today the church finds itself not only at geographical borders, but at the borders between civil law and natural law, human rights and sovereign rights, national security and human insecurity, and citizenship and discipleship. In the faces of more than 200 million people on the move globally today, however, it sees a mirror of itself and the image of Christ, urging it to advocate for three important dimensions of immigration reform: 1) the dignity of the human person; 2) the international common good; and 3) a globalization of solidarity.
Despite the physical difficulties of their journey, many migrants say that the hardest parts are the indignities they experience when people treat them as dogs, as if they were the lowest form of life on earth. Often their worst fear is that they are no one to anyone.
Catholic social teaching shows us that immigration reform must begin with an understanding of what it means to be made in God's image and likeness. In contrast to a world that often typecasts immigrants as aliens and invaders, if not terrorists or criminals, Catholic social teaching seeks to look first at the human face of the migrant. It is the cornerstone of a just and humane society to see that they are not merely workers but people (Genesis 1:26), not simply strangers but members of God's household, not just foreigners but children of God (Ephesians 2:19).
Catholic social teaching acknowledges that a state has a right and even a duty to protect its borders, but it does not see this as an unrestricted or absolute right. People also have a right to migrate, especially when conditions in their homeland make it impossible to live dignified lives. Thus, Catholic social teaching challenges nationalistic, legalistic, or materialistic idolatries that exclude others without any social, moral, or divine reference point, or any regard for the exigencies of distributive, contributive, and restorative justice. The Catholic bishops of the United States believe that "any limitation on international migration must be undertaken only after careful consideration of the demands of international solidarity. These considerations include development, trade and investment programs, education and training, and even distribution policies designed to narrow the wide gaps between the rich and the poor." As such, migration must not be viewed as a problem in itself but a symptom of deeper global imbalances that need attention.
"Migration," as Pope Benedict XVI notes, "is an opportunity to emphasize the unity of the human family and the values of acceptance, hospitality, and love of neighbor." He adds, "in an increasingly globalized society, the common good and the effort to obtain it [involve] the whole human family… [and] the community of peoples and nations." In proclaiming the kingdom of God, we seek to promote the dignity of all people in order to achieve a globalization of solidarity that builds, in the end, a civilization of love.
Daniel G. Groody,
CSC, (www.nd. edu/~dgroody) is an assistant professor of theology at the University of Notre Dame.
-----
Who Is My Neighbor?: Why the American church must repent of ethnocentrism.
by José F. Morales Jr.
I often hear within my denomination and among other church bodies that the church in America is dying. But behind this kind of statement is the assumption that the only church that really counts is the white American church, and the immigrant churches and churches of color—which are growing at rapid rates—don't qualify as the "real" church.
We can't entirely blame the church for thinking in such ethnocentric, supremacist ways. The white American church is simply and uncritically mirroring the greater American sentiment that people of color, immigrants, and migrants are at best footnotes to the great American essay, and at worst, typos that need to be deleted. However, it is the role of the church to be a prophetic voice, and to resist following the social norms of cultural hegemony. This is why we need a united church where migrants, immigrants, people of color, and white people can work together to free the church from its captivity to white American hegemony and work for comprehensive immigration reform.
How then is the church expected to speak out against "white only" sentiments? How do we exorcise these supremacist demons from our church? Before reform comes repentance; therefore, the church must repent from its narrow, ethnocentric vision, repent for painting the church with one hue, and repent from thinking that the church decides who is "in" and who is "out." Only after this kind of repentance can the church achieve true reform.
When the lawyer in Luke 10 asks, "What must I do to inherit eternal life?" Christ explains that the lawyer must both repent and reform by loving God and loving his neighbor. Then the lawyer, like all good lawyers, looks for a loophole and asks, "Who is my neighbor?" Jesus defines "neighbor" for the lawyer by using the story of the Good Samaritan. The Samaritan was dwelling on the fringes of society, much like the "illegal immigrants" in our society today. Christ uses the Samaritan, an "untouchable" member of society, to teach his followers how to gain true salvation—by loving God and loving his neighbor. It was the untouchable Samaritan who touched the wounded man, the unnoticeable Samaritan who took note of a suffering fellow human being. Jesus concludes his story with a call for reform. "Go and do likewise," Christ says.
Most folks don't realize how powerfully shocking this story was back then, or how this story should shock us today. This story tells us that we people of color, we migrant peoples, are in fact here to care for the white American church. The life-denying xenophobia of the church has made it into the wounded man on the side of the road. The church's ethnocentric proclivities have severely wounded the church, and now it simply needs a Good Samaritan, an untouchable, an immigrant, to care for it. The church needs the growing immigrant churches and churches of color to breathe new life into the American church at large.
In this light, it can be argued that the church must rise up in support of the immigrant and immigration reform in order to provide healing for a church and nation in need of repentance and reform. Diversity within the church will not only be liberating for a nation trapped in its own white skin, but it will also serve as a crucial spiritual discipline for the white American church. Immigration reform allows the church to pray and worship in a new way, to write a new story for this nation without footnotes or typos—a new essay that tells all of our stories, from the wealthiest woman on Wall Street to the poorest migrant farmer working tirelessly to achieve his own American story.
José F. Morales Jr. is a freelance writer, a frequent keynoter, a nightclub DJ, and an adjunct professor at McComick Theological Seminary in Chicago. He is a member of the Christian Church (Disciples of Christ).
-----
Waiting for the American Dream
by Sandra Hernandez
My husband, Francisco, and I immigrated from El Salvador when we were still in high school. We fled during the civil war and started a new life in the United States. We were very happy raising our children and working. When I became an American citizen in 1998, I really believed that the American dream could become a reality for us. We kept working and saving money. We bought a house and continued to save so that we could do the papers for Francisco to become a permanent resident and citizen. I wish we never had tried.
We paid an immigration lawyer to prepare all of the papers, and decided to follow his advice when he said Francisco should return to El Salvador and take the papers to the consulate. Francisco has been stuck in El Salvador since 2006.
My children are growing up without their dad. I worry every day that our marriage and our happy home will never be what it was. My children have suffered from depression and our health has suffered also. Even happy occasions are sad because we know Francisco is wishing he were here.
All I ask is for my husband to be allowed to return home to his children. I don't want another family to suffer what we have suffered. I pray every day for immigration reform.
Sandra Hernandez, Greensboro, North Carolina
-----
Refugee No More
by Cheuang Kavan
Come January 2010, I will have lived in Decorah, Iowa, for 25 years. When I was 11 years old, my family escaped from Laos. We became refugees and stayed in refugee camps in Thailand and the Philippines.
Why did we flee from Laos? To escape the same communism my father had fought in his youth. Under communism, people were forced to work in collective farms, but the crops that were raised went to Russia and China in exchange for weapons and war planes, while the majority of the people were left starving.
In 1984, Laos finally allowed the United States and other countries to offer refugees a new beginning. One of the ways they decide where to resettle a refugee is where that refugee has relatives. My aunt and uncle were living here in the United States. They had come to Decorah as refugees in the late '70s. So in March 1984, my family had an interview with officials from the U.S. and passed the interview, and on Jan. 10, 1985, a date that I will always remember, my family came to the United States. As I sat down to rest on a sofa in the living room of my aunt's house, I thought to myself, "I don't have to be a refugee anymore."
I will always remember the long and difficult journey that my family had to go through to get here. I will always be thankful for the opportunity to come and live in this great country.
Cheuang Kavan, Decorah, Iowa
-----
We Are All Immigrants
by Marilyn Anderson
I never doubted that I was a descendant of immigrants. Shortly after World War II, students were asked to fill out forms listing their nationality. I laboriously spelled out "Norwegian" until a teacher tapped me on the shoulder and told me it was more correct to write "American."
One of my ancestors came to northeast Iowa in 1854, on account of a number of issues facing Norway at the time: overpopulation, lack of employment, poor living conditions, near starvation for some families, and no foreseeable prospects for elevating their circumstances. I'm a sixth-generation Norwegian-American.
I'm proud to be descended from Norwegian immigrants, and proud to join hands with Iowa's new immigrants. If we suffer, we need to know we are not alone, and if we flourish, we need to know that others need our help.
Marilyn Anderson, Decorah, Iowa