Lent is a time for "following." The narrative about Jesus' suffering and death provides a way in which we are able, in an act of disciplined imagination, to situate (or resituate) our lives in the story of Jesus. We become aware that the story of Jesus requires and permits a new version of our own story of life and faith.
Lent is a time for fresh decision-making about reliance upon the God of the gospel. Such decision-making in Lent is commonly called "repentance." It's a time to reflect on the way in which God gives new life that is welcome when we recognize how our old way of life mostly leaves us weary and unsatisfied.
Lent is a time to face the reality that there is no easy or "convenient" passage from our previous life to a new, joyous life in the gospel. The move is by the pattern and sequence of Jesus' own life, an embrace of suffering that comes with obedience, a suffering which comes inevitably when our lives are at odds with dominant social values.
Lent is a time for life with God. While Jesus' suffering and death are quite public events in the Roman Empire, his prayers—echoing the psalms—evidence that his primary focus was on life with God. In Lent we may draw away from public life enough to give energy to this defining relationship with the God who hears and answers, who summons, forgives, and saves.
Walter Brueggemann, a Sojourners contributing editor, is professor emeritus at Columbia Theological Seminary in Decatur, Georgia.
[March 7]
What is Better?
Isaiah 55:1-9; Psalm 63:1-8; 1 Corinthians 10:1-13; Luke 13:1-9
Lent is a time for making decisions about God's good news and our life in the world. The decisions pose the question: "What is better?" In Psalm 63, we get an answer, "God's steadfast love is better than life." The psalm evokes a plethora of images: God's fidelity is like water in a weary land; a feast of rich food; a shadow amid the hot sun; a strong hand that keeps one from falling. The psalm invites reflection on God's reliability, for which there is no adequate substitute in our busy world of consumerism.
Corinthians is more concrete. Here the alternative is to "desire evil." The phrase gives Paul a chance to review ancient history as an "example." That memory includes the golden calf (Exodus 32; 1 Corinthians 10:7-8) and murmuring in the wilderness (Numbers 21:4-6; 1 Corinthians 10:9). The "desire of evil" is an alternative of self-sufficiency, of shaping our "gods" according to our convenience. To "desire evil" in our contemporary society is to imagine that with enough power, goods, and control one does not need the gift of fidelity.
Isaiah's poem sets the choice that God's people are always making—free water, milk, and bread, or the rat-race of self sufficiency. "Seek the Lord" is an invitation to abandon self-sufficiency for life in the gospel. Luke, with its two odd case studies, is preoccupied with "repentance" and the call to "bear fruit." The hard part is choosing to live differently. That is always the important part, now as it was then. Life in the rat-race makes us "prey for jackals" (Psalm 63:10) without time to bless and thank God (Psalm 63:6).
[ March 14 ]
Disgrace Transformed
Joshua 5:9-12; Psalm 32; 2 Corinthians 5:16-21; Luke 15:1-3, 11-32
Lent is a time to ponder and receive the new life that God wants to give. All of these readings are about new creation that is both personal and public. The familiar story of the Prodigal Son concerns the gracious welcome home of a wayward, exploitative son, so that the family can sing and dance and eat in joy (Luke 15:22-24). The son must be willing, but it all depends on the father's readiness to reach beyond propriety to limitless self-giving.
That story, whereby Jesus justifies keeping company with the "unacceptable," is paralleled in the narrative of Israel's entry into the land of promise. The new land of bounty is a gift from God, not unlike the big party given by the father. Such a gift of new land (new creation!) removes the "disgrace" of being slaves in Egypt (Joshua 5:9). The "disgrace" of enslaved Israel is similar to the disgrace of the enslaved son. In both cases, a generous God transforms life.
Psalm 32 is a meditation on the wonder of forgiveness. Without forgiveness there is loss of strength and psychosomatic symptom (32:3-4); after forgiveness, there is gladness and joy (verse 11).
Imagine in Lent that personal disgrace may be transformed! In our national community, the disgrace of slavery, racial, ethnic, and gender brutality, and the violence of war may be transformed into viable life in community. It all turns from God's readiness, the very readiness exhibited in Jesus' life among the socially unwelcome, now welcomed, like the prodigal child, home at last.
[ March 21 ]
Investing in Life
Isaiah 43:16-21; Psalm 126; Philippians 3:4-14; John 12:1-8
Lent is a time to participate in the suffering and death of Christ, in order that we may be ready for the Easter gift of new life. Participation in that suffering consists in a life of trusting obedience boldly lived in contradiction to the way the world is organized. Lenten discipline is a practice of our own life as the willing giving-up of self in obedience in order to receive a new self from God.
Paul's lyrical admonition, based on his own journey to Christ, is to share in the suffering (by ready obedience) in anticipation of the new power of Easter resurrection. Life with Christ is thus a two-step move that we make again and again, self-giving and receiving of new self, loss and then gain.
John's gospel anticipates Jesus' death. The woman treats his soon-to-die body as though it were already dead. Framing the story with reference to Lazarus (now raised from the dead) prepares us for the "life and death" questions that always swirl around Jesus. The woman uses her expensive perfume to anoint him and thereby "invests" in the death of Jesus. Her "investment" is a narrative portrayal of the "sharing in his sufferings" that Paul commends.
Isaiah's poetry knows that the journey home is through the desert, the place without resources. The poet also knows that God makes a way out of no way. Thus the path through the arid place teems with rivers; all the animals gather around the water … the gift of life found in an unexpected place.
Lent comes before Easter, suffering before new life. We travel the whole way with Jesus, in whose death we invest our most precious possessions.
[ March 28 ]
Deliver and Save
Isaiah 50:4-9; Psalm 31:9-16; Philippians 2:5-11; Luke 22:14-23:56
Passion Sunday tells the story of Jesus' suffering and death. Psalm 31 reflects the story of Jesus' suffering, but at the same time is a story we may tell about our own lives.
The psalmist recites for God, with verve and candor, the trouble to be faced (31: 9-13). As is usual in laments, the poem first details suffering at the hands of adversaries. Second, it expresses confidence in God, fully expectant that God is able to intervene in the trouble (14-15). Third, the psalmist petitions vigorously: "deliver, let your face shine, save" (verses 15-16). The two big verbs—deliver and save—point to God's steadfast love as the remedy to all trouble.
No doubt the sequence of candor, confidence, and petition is the recurring practice of our faith. Nor is there doubt that this is an effective way of telling the story of Jesus' own suffering and death:
Candor: "My God, my God, why have you forsaken me" (Matthew 27:46; Mark 15:34) describes for God the abandonment experienced in the suffering.
Confidence: "Father, into thy hands I commend my spirit" (Luke 23:46), says the One "who became obedient unto death, even death on a cross" (Philippians 2:8).
Petition: "Father, forgive them, for they know not what they do" (Luke 23:34). Note that Jesus prays for others, not himself.
That's the story of Jesus classically formulated in the hymn of Philippians 2:5-11. This is also the way we, in our faithful living, refer our lives back to God who hears prayer, overrides trouble, keeps promises. The psalm surely tells us about Jesus; but Jesus never comes alone, but always with his faithful companions who participate in "the cost and joy of discipleship."
This is an excerpt from "Preaching the Word," Sojourners' exclusive resource for sermon preparation, which is 40% off during Lent. Get a subscription here.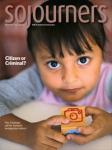 This appears in the March 2010 issue of Sojourners
Got something to say about what you're reading? We value your feedback!