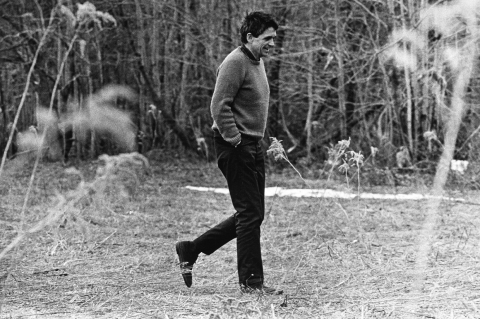 Here is a list of books written by and about Daniel Berrigan. This list is by no means exhaustive. If you would like to submit an addition to this list, please comment below and contribute an addition.
1. Daniel Berrigan: Essential Writings (Orbis), selected with an introduction by John Dear
2. No Gods But One (Eerdmans), by Daniel Berrigan
3. Come Alive!: The Spirited Art of Sister Corita (Four Corners Books), by Julie Ault, Daniel Berrigan, and Sister Corita Kent
4. Love in Action: Writings on Nonviolent Social Change (Parallax Press), by Thich Nhat Hanh and a forward by Daniel Berrigan.
5. The Trial of the Catonsville Nine (Fordham University Press), by Daniel Berrigan, Robin Andersen, and James Marsh.
6. The Kings and Their Gods: The Pathology of Power (Eerdmans), by Daniel Berrigan
7. The Raft is Not the Shore: Conversations Toward a Buddhist/Christian Awareness (Orbis), by Thich Nhat Hanh and Daniel Berrigan
8. Wisdom: The Feminine Face of God (Sheed & Ward), by Daniel Berrigan
9. Disarmed and Dangerous: The Radical Lives and Times of Daniel and Philip Berrigan (Basic Books), by Murray Polner and Jim O'Grady
10. Testimony: The Word Made Flesh (Orbis), by Daniel Berrigan with a foreward by John Dear
11. Tulips in the Prison Yard: Selected Poems of Daniel Berrigan (Dedalus Press), by Daniel Berrigan with an introduction by Patrick O'Brien
12. Isaiah: Spirit of Courage, Gift of Tears (Augsburg Fortress Publishers), by Daniel Berrigan
13. And the Risen Bread: Selected and New Poems 1957-97 (Fordham University Press), by Daniel Berrigan
14. To Dwell in Peace: An Autobiography (Wipf & Stock Publishers), by Daniel Berrigan
15. Love, Love at the End (Collier Macmillan Ltd.), by Daniel Berrigan
16. Witness of the Berrigans (Doubleday), by Stephen Halpert
17. Exodus: Let My People Go (Cascade Books), by Daniel Berrigan with a foreward by Ched Myers
18. Time Without Number: Selected Poems (Macmillan, NY), by Daniel Berrigan
19. Uncommon Prayer: 42 Psalms (Seabury), by Daniel Berrigan
20. Jeremiah (Fortress Press), by Daniel Berrigan
21. Ezekiel: Vision in the Dust (Orbis), by Daniel Berrigan