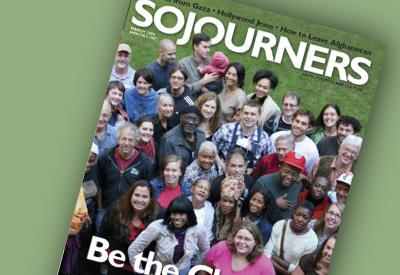 IN MARCH 1977, an explosion destroyed a chemical factory and released a toxin-laden cloud in the small town of Columbia, Mississippi. In the aftermath, thousands of drums of chemical waste—which would later be found to contain more toxins, including the ingredients for Agent Orange—were buried on the factory site and at local landfills. Leaking into the groundwater, the chemicals began to cause cancer, miscarriages, and other diseases in the poor, largely African-American community nearby; serious problems remained after a Super­fund cleanup in the late 1980s.
Enter Charlotte Keys, an evangelist, Columbia native, and founder of Jesus People Against Pollu­tion, a group dedicated to environmental justice for the people of Columbia. She talked with Sojour­ners assistant editor Elizabeth Palmberg about her town's journey, the larger environmental movement, and how she keeps the faith when times are tough.
Elizabeth Palmberg: Tell us how Jesus People Against Pollution was born.
Charlotte Keys: We started the organization in January 1992; it was born out of frustrations with an environmental injustice crisis. Reichhold Chemical Company, owned by Dainippon in Japan, had moved into our community in 1975. In March 1977, we had a major explosion that wrecked the facility in the heart of our little town. We saw a big cloud come over the area, and we had no idea of the extent of health damages wrought from it.
In 1984, the Environmental Protection Agency came to our community. People were calling in and complaining about stuff oozing out of the ground; the dirt on the ground would literally catch fire. They decided in October '86 to put it on the Superfund hazardous waste sites list.
After '86, they start bringing in different lawyers here and there to get groups of individuals and represent them. And yet the people still had no knowledge as to the extent of damage. We were victimized throughout the whole process—with the political piece, with the industrial piece, with the legal, judicial piece.
That is why we formed the organization Jesus People Against Pollution. We knew that if we did not call upon the Lord for help, there would be no way the world would know we have this type of problem and that other communities would have to go through this.
What are your goals?

I am continuing to push for housing and lifetime access to the kind of health-care services that the community needs. We're not going to stop until our community living around that site is relocated—they only addressed the 81-acre [factory] site, not the off-site migration [of toxins]. It was only a cyclone fence separating the community from the Superfund site even at the time of the cleanup.
Just a chain-link fence?

You got it, sweetie.
Can you describe the lawsuits that began after the Superfund listing?

They made a mess of everything—so many different law firms in here that they screwed the people big time. It was a lot [of] white male lawyers that did not have the best interest of the citizens of Columbia, Mississippi, at heart. I really hated that we were not knowledgeable about what was really going on, and that our politicians had, some of them, made bad decisions.
A real organized effort would be where industry, community, politicians, spiritual leaders, and agencies come under one roof to try to work on solutions to problems. This is the way these things need to be handled, rather than trying to take everything into the court of law. The court does not always work in the best interest of suffering communities.
But that did not happen here, because everything was so segmented and "divided and conquered," so to speak. You deal with issues of racial injustice, class injustice, or gender injustice.
Were there settlements from the lawsuits?
They paid as little as $169 to the people. They made the people feel that their life was as small as $169. Reichhold did pay about $63 million in this process. My understanding is that more than $30 million or so went to cleanup. They said $30 million went in lawsuits, but who got the money? Evidently, it was political and business leaders and lawyers. The community itself saw very little.
It's really frustrating, because you're being poisoned through the land, the air, the water, and the food. People used to have gardens in our neighborhoods—they can't even do that anymore. But I just continue to pray, daily, and ask God for help to correct the matter.
How has your work resonated outside of Columbia?
Jesus People Against Pollution be­came well-known for helping to educate others. It helped to start the environmental justice movement—both of those terms came strictly from the Bible. In the book of Pro­verbs, the Bible tells us to do justice—it doesn't say to just talk about it.
Damu Smith from Greenpeace brought me to Wash­ington, D.C., first. He was headed to Columbus, Missis­sippi, and the Lord turned the car around and sent him to Columbia, and that's how he found this community, working in isolation—me and two other ladies, Yvonne Powell and Shirley Irving.
The Lord turned Damu Smith's car around?
Yes, he acknowledged that it was the Lord's doing, because he was headed to Columbus—they have an Air Force base up there with a lot of problems. So, we knew it was the Lord that was highlighting this situation and putting it on the map.
When communities work in isolation, that gives industry and political circles—and sometimes even legal ones—the ability to shut things down, keep a lid on it, and that's how communities get served a lot of injustices, because of lack of knowledge. The Bible says we perish for the lack of knowledge.
How does your faith motivate you personally and Jesus People Against Pollution as a group?
With­out the Lord, we have nothing and we can do nothing. I am a born-again believer. We have a lot of people in the community who believe in the Lord Jesus, and that has made a world of difference in how we have been able faithfully to continue the work—because faith without works is dead.
Love produces action. So if I tell you I love you, I've got to produce some action. When I see something wrong that is going to be detrimental to your health and livelihood, I am to stand up against the injustices and also make you aware of what is happening in your surroundings.
That's what God did for me. I was just feeling that our community was in excellent shape, and everybody was loving one another and caring for one another, only to find out that the greed of humanity has provoked a monstrous type of environmental genocide upon people because of race, class, and gender. And, even, sometimes, they get to the religious aspect. They discriminate with that as well, and that's a way of dividing and conquering people.
But, with the Lord, his way is love. He came for us to have life and that more abundantly. It is not for people to think that folks need to go to heaven to enjoy life—you can enjoy abundant living right here, if we know how to treat and help one another.
What are Jesus People Against Pollution meetings like?
We had regular meetings every month, when the issue was really hot and heavy. We had community meetings all over—at libraries, the city hall, every county facility that we could. But there has been a slowing down of a lot of things. I've lost members to death. You have cancer, you have respiratory diseases. You have diabetes, Alzheim­er's, women with a lot of miscarriages, and pregnancies with a lot of birth defects. I've had a miscarriage myself. And you have all of these bad headaches that you can't seem to shake—migraines. You have a lot of abnormal bleeding problems.
It has broken down a lot of what we were able to do, but a few of us are yet here, working. We started out 500 members strong in the organization. Now, you can get around 40 or 50 of us to gather for major stuff. We are working faithfully yet.
What gives you hope?
Jesus Christ. I know that he loves us, and definitely, he's going to see about us. It just takes time. When you study the Bible, you read about how long it took justice to prevail for the children of Israel. They were in bondage over 430 years before the Lord brought deliverance.
God being who he is, the same today, yesterday, and forever more—he's a deliverer. He was a deliverer then. He's a deliverer now. We just have to keep the faith.