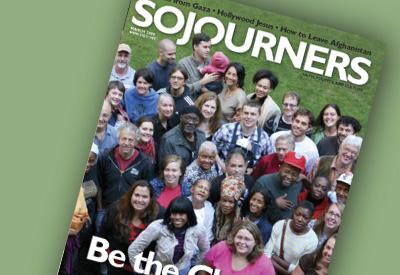 The Jesus movement included everyone from tax collectors to sex workers; it truly was a movement of diversity. In today's world, I am encouraged to see a movement of Christians who want to "preach good news to the poor." But all too often, well-meaning progressive Christians from privileged backgrounds attempt to speak for or bring God to the poor. This is a mistake: The poor can speak for themselves, and God is already present in their communities.
As someone who experienced poverty while growing up in an inner-city community in Brooklyn, I know there is a great deal of strength among the poor; it takes enormous tenacity and resourcefulness to survive in an underserved community. I have experienced well-meaning Christians from more privileged backgrounds who feel called to serve poor people, but instead end up negating their autonomy and enacting charity, as opposed to justice.
I have also been blessed over the past few years to be part of organizations that follow a justice model for ending poverty—groups such as Union Theological Seminary's Poverty Initiative, which is dedicated to "building a movement, led by the poor, to end poverty." It includes both poor people and those who are not from poor backgrounds at every level of leadership, from speaking and writing to on-the-ground organizing. Based on my experience, here are some practical ways to build a multiracial, multiclass, progressive Christian movement.
1. Make a habit of supporting indigenous leaders. If you are called to relocate to serve a different community, first seek out existing local leaders in that community. No one can be "given" a voice; instead, those of privilege must step aside so that everyone's voice is heard. In the Poverty Initiative, when we take students from Union Theological Seminary on immersion trips to poor communities in Appalachia or elsewhere, we do not come to lead, but to listen to leaders of indigenous organizations.
You can look for leaders in churches or community centers, or ask to find the popular teenager on the block or the elder who knows everyone and everything in the neighborhood. If you are a leader who comes from the community you want to serve, seek allies to support you.
2. Socially locate yourself. In my work with the Poverty Initiative, we make it a practice before every Bible study, training, or sermon to socially locate ourselves: We talk about our experiences with poverty or privilege and what has brought us to this work. These times of testimony are powerful and encourage others who are marginalized to find their voices and join the movement.
Starting with our social location shows others that all types of people can do activism—whether they are rich, poor, African American, white, male, female, new converts, or seasoned saints (as we call them in the African-American church). Within the Poverty Initiative's work, this practice has given a voice to white poverty, an issue ignored by many anti-poverty movements.
3. Share the spotlight. One of my mentors, Poverty Initiative co-founder Willie Baptist, is dedicated to raising up generations who can take on the issue of poverty and has influenced countless prophetic Christian leaders. One way he does this is to co-lead workshops and Bible studies, rather than speaking alone. The Poverty Initiative operates as a collective, with many leaders—everyone can use their God-given talents.
What has defeated many movements of the past is the focus on one gifted leader; once the main leader is gone, the movement is over. In the progressive Christian movement, the main leader we should focus on is Christ—everyone else is an equally important part of the body.
4. Don't be ashamed of the gospel. The only thing that can get people through difficult circumstances is God—not you. As someone from one of the poorest ghettoes of Brooklyn, I can attest that though social movements and programs are needed, Jesus Christ has provided the joy that was and is my strength. Progressive Christians cannot throw out the baby of the gospel with the bathwater of Religious Right rhetoric.
I know that an overemphasis on the afterlife has prevented some Christians from moving on social issues, but progressive Christians do not have to abandon the part of the gospel that commands us to be "born again." The "good news" is not just an end to poverty, but the opportunity for rebirth in Christ and an intimate relationship with him. Of course, those wanting to serve people in disadvantaged circumstances should avoid the mistake of attempting to "bring God to a community." God is already there. But we must avoid operating out of a totally secular paradigm, because, if we are part of a progressive Christian movement, our relationship with Christ should serve as the impetus for all that we do.
5. Find strong, detail-oriented critics who will judge your actions, not just your intentions; listen to criticism without panic or anger. "Iron sharpens iron" (Proverbs 27:17) and "faithful are the wounds of a friend" (Proverbs 27:6). As an evangelical, I remember the use of accountability partners to assist people in their Christian walk. Some may scoff at this youth-group term, but, as progressive Christians, we need to have people around us who can gently critique our actions to ensure that we are not operating in racism, classism, sexism, or some other "ism" that will hinder the movement.
Solicit an indigenous leader to be your accountability partner, join a Christian community dedicated to justice, or start a local faith and justice group. In my life, I'm held accountable by New York Faith & Justice, the Poverty Initiative, and my circle of Christian friends from all races, classes, and sexual orientations. Though accountability is not easy and at times can be just plain annoying, it keeps you focused on what is truly important.
6. Build community and long-term relationships with social bonding, fun, and en­couragement. As people dedicated to social justice, we must remember self-care and fun. I'm part of a group of women at Union Theological Seminary who take time to share a meal, laugh, and talk together in what we call "special communions." These times give us a chance to let off steam while remembering that Jesus is the reason for our justice work. Have fun, and you will find that "the joy of the Lord is your strength" (Nehemiah 8:10).
7. Know that you will always struggle and have room for improvement. Do not beat yourself up if you find it difficult to do this work of justice—no one has reached the mark except Christ himself! Everyone can seek to better build alliances and friendships across race and class lines. Where we are weak, Christ can make us strong; his light shines brightest through the cracks of broken vessels.
As you seek to build a kingdom movement, take comfort in the words of Paul, who, as a terrorist turned apostle, gives us all hope. To paraphrase Philippians 3: "Not that we have already obtained this or have already reached the goal; but press on to make it your own, because Christ Jesus has made you his own. Beloved, I do not consider that I have made it my own, but this one thing I encourage you to do: forgetting what lies behind and straining forward to what lies ahead, press on toward the goal for the prize of the heavenly call of God in Christ Jesus."
Onleilove Alston was a 2008 Beatitudes Society Fellow at Sojourners. She serves on the Servant Leadership Team of NY Faith & Justice and organizes with the Poverty Initiative (www.povertyinitiative.org). For more information on starting a faith and justice organization, visit www.nyfaithandjustice.org.