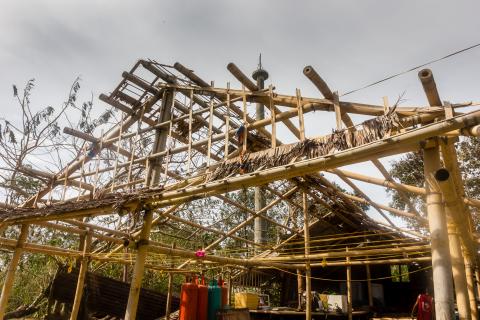 IN THE EARLY evening of Nov. 8, 2013, Arnel Montero convinced his mother, wife, and three children to evacuate to a two-story concrete house above the coastal area of Barangay 70, a fishing village in Tacloban City, on the island of Leyte in Central Philippines. He expected the worst, with the news reporting the arrival of super-typhoon Haiyan the following morning, and thought the house would be a safe place where his family could take shelter while he remained in their shanty by the coast.
Even though Haiyan's fury hit the islands at speeds surpassing 200 miles per hour, the strong winds alone would not have created such a major tragedy. But Haiyan precipitated a storm surge that led to grave loss of life and massive devastation. Barangay 70 is located near the city's main pier, and the tidal waters pushed cargo boats toward the coast, smashing shanties and buildings, including the concrete house where Arnel's family sought shelter. Arnel managed to save himself, but the rest of his family perished.
The National Disaster Risk Reduction and Management Council, as of mid-March 2014, reported 6,268 deaths, although the actual number could be double that. In Barangay 70 alone, there were close to 300 people who died. An estimated 12.2 million Filipinos were affected by the disaster that hit eight provinces in the Visayas islands region; close to 2 million houses were either washed out or partially destroyed.
The national and local government's response to the massive need for relief operations was slow. Political bickering, incompetent local governments, and the sheer inefficiency of the administration of President Benigno Aquino all contributed to major delays in bringing food, potable water, clothing, medicine, and temporary shelter to the survivors. Weeks after Haiyan struck, interior villages still had not received aid. It was not until early January 2014 that government relief agencies managed to set up the systematic distribution of relief goods.
A few other countries and international aid agencies managed to deliver aid. One of the earliest to pour in massive assistance was the Tzu Chi Foundation (Buddhist Compassion Relief), the largest NGO of the Chinese-speaking world. Additional agencies addressed housing, availability of water, and improving sanitation and hygiene conditions, coordinating efforts among themselves and state agencies.
Many faith-motivated organizations also provided assistance, channeling it to national church organizations. These organizations provided immediate relief goods, set up rehabilitation projects, and assisted survivors in trauma-healing and stress debriefing. Some organizations assisted people in repairing their houses, putting up new ones, setting up medical centers, and providing materials that could help them in their livelihood—from seeds to hand-tractors, fishing boats to small-scale enterprises.
In contrast to state and aid agencies' work in "cadaver management" (the collection, identification, and burial of bodies in mass graves), church workers did their best to assist families in providing comfort in their moments of grief, conducting dignified burial rites, and praying for the repose of the souls of their loved ones.
But even with the assistance that has reached the Haiyan survivors, recovery and rebuilding remain slow. It will take years before people can rebuild their lives. And the government's efforts to provide permanent housing and livelihood are not expected to increase dramatically in the next year, despite promises reported in the media. Five months after Haiyan, there was still no comprehensive, adequately funded plan for such a recovery program.
There are many lessons to be learned from climate-related calamities such as those brought by Haiyan's wrath—not just by Filipinos, but by citizens throughout our embattled planet. We all need to take to heart the impact of climate change and work toward climate justice. We need to be better prepared for the occurrence of climactic disasters and learn to work better together, and develop the political will to be in solidarity with survivors like Arnel.
Recently, Arnel rebuilt a shanty in Barangay 70. He lives alone and misses his family, especially when evening comes. At times he gets drunk to forget his sorrows. But there are days when one sees him vigorously engaged in his work as Barangay Kagawad (village councilor). He remains hopeful that things could, one day, get better for him and the people of his village. 
Karl Gaspar, CSsR, a Redemptorist brother, is coordinator of the Redemptorist Center for Social and Ecological Concern in the Philippines. From December 2013 to April 2014, he was part of a team based in Tacloban City—ground zero of Haiyan—responding to the needs of typhoon survivors.
Image: A building stripped of its roof from Typhoon Haiyan, Richard Whitcombe / Shutterstock.com