Elizabeth Palmberg, Sojourners' associate editor, has a personal motto: "Cherish each moment, even the ones that suck." Elizabeth—or Zab—has been writing with wit and insight for Sojourners since 2001. In October 2013, Zab was diagnosed with the return of her leukemia.
From analyzing fiction and reporting on Indigenous Colombian leaders to filming how to bake bread, Zab has blessed Sojourners with her words. Check out a sample of her work below, and read more about Zab in "Cherish Each Moment — Even the Sucky Ones" (Sojourners, June 2014).
ARTICLES
BLOGS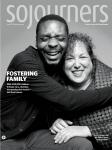 This appears in the June 2014 issue of Sojourners
Got something to say about what you're reading? We value your feedback!