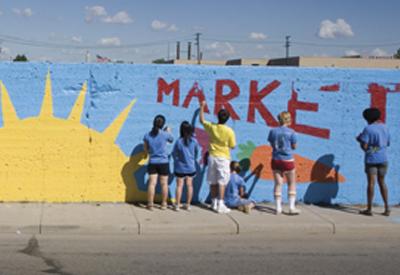 ECONOMIC DEVELOPMENT advocate Angela Glover Blackwell makes no bones about why PolicyLink, the nonprofit she leads, held its 2,500-person Equity Summit in Detroit last November: "Detroit represented the problem and the hope."
It's the problem because it's "a classic example of what happens when you don't keep up with the needs of a changing population." It's the hope because it's a hub of fresh energy—from government, foundations, community groups, and business—aiming to "build a future based on the people who are going to be the future."
When Blackwell talks about that future, she means one founded on the people who live in Detroit now, "not some imaginary people who aren't here—and not based on trying to attract people who have decided they don't want to be here." Over the last half century, fewer and fewer white people have decided to live in Detroit. This trend started in the mid-20th century as more and more people of color did live there, and continued over the last three decades as many people of color also started to move away. In the 2010 census, Detroit registered at just over 700,000 people, down from 1.2 million in 1980. Those that remain face a stark economic situation: 34.5 percent live below the poverty level, Blackwell points out, compared to 15 percent nationally.
For many, Detroit is not just the epitome of the Rust Belt, but of a black-and-white narrative that is so rote as to seem invisible, or invincible: Whites flee an urban area, African Americans in poverty remain (more than 80 percent of Detroit's 2010 population was African American). But for Blackwell, the story and statistics are never just black and white. She points out that, in Detroit, poverty includes not just 37 percent of African Americans, but also "32.5 percent of Latinos, 33 percent of whites—because so many white people who live in Detroit have been left behind—and 47 percent of Asians; that represents a concentration of the Hmong population."
In fact, in Detroit and nationwide, a racialized narrative that prompts the U.S. to "throw away its cities" is hurting everyone. Blackwell points out: "If you're a white family wanting to use public education in an urban area, you're likely to be disappointed because we have abandoned those areas because of our racial divide. If you're a young, urban white professional wanting to use public transportation, you're likely to be disappointed—our disinvestment in urban transportation systems has placed all wanting to use them at a disadvantage."
The country can't afford to keep abandoning communities like this, she emphasizes. As the U.S. faces economic challenges such as "a vulnerable middle class and how to be competitive in a global economy," it can't hope to move forward if it ignores the demographic reality that "by the end of this decade, the majority of those under 18 will be children of color—black, Latino, Asian, Native American. The future depends on what happens with those children. Equity, in addition to being a moral imperative, has become an economic one."
BY "EQUITY," Blackwell means doing what it takes to change the undeniable, unacceptable fact that, in the U.S., "where you live has become a proxy for opportunity. Where you live determines whether you have a good school; whether you live near jobs or public transportation that can connect you to jobs; and, if you're lucky enough to own a home, whether you have any value that you can extract from that home" to withstand a health crisis or start a business.
People don't "have to have racial hatred in their hearts to be complicit in allowing people to be stuck in communities of concentrated poverty," Blackwell points out. Rather, the problem is a legacy of the U.S. history of residential segregation: "As the racial barrier was removed, people who were black and middle class could move out, but so many people who were poor could not—because of continuing discrimination, because of the poverty that was associated with poor education, job preparation, and access to jobs.
"If we have continued as a nation to build gated communities, taking political power, job opportunities, and infrastructure investments to the suburbs and leaving cities with very little, we're perpetuating the legacy of racism," Blackwell says plainly. "But people don't have to beat themselves up about that legacy: They can just acknowledge it and know that we need to correct it; not only because it was a moral injustice, but because if we don't, the future for the nation is not strong."
Equity, Blackwell says, "goes beyond the conversation of equal opportunity and asks: What do we want for all and what will it take for all to get there?" History shows that it's possible to "have an equitable recovery that allows all to benefit," she continues, citing the example of California in the 1950s. Starting with a post-World War II population marked by a 25 percent poverty rate, both Republican and Democrat state administrations invested in health and education from kindergarten on up, "building the best community college and higher education system that the nation has ever seen. By 1962 Newsweek declared it 'the nation's number one state.' That was an equity investment. We can do it in Detroit."
ONE Critical AREA for investment is infrastructure, Blackwell says, a point especially relevant to a Rust Belt city such as Detroit: "We need to think about what the next industries are. How does Detroit lead in the "green" industry the way that it led in the automobile industry? Detroit, in its heyday, had an infrastructure that could not be rivaled. It really knew how to move cars around the world, and it had a public transportation system, streetcars up and down Woodward Avenue, that everybody could depend on to get to jobs. Over the years, Detroit allowed that to crumble. Detroit, and too many places like Detroit, will not be able to come back if they don't invest in their infrastructure—and in their people at the same time." If the city invests in "a pipeline so that low-income people of color can get jobs" building infrastructure, Blackwell says, there's an "amazing opportunity for double bottom-line results."
Part of the investment Blackwell is talking about comes from the federal government, such as the TIGER (Transportation Investment Generating Economic Recovery) grant money Detroit has won from the Department of Transportation. But one of Blackwell's main points is that "to achieve results, many people have to coordinate their work" together—governments, charities, and community groups.
One key player, Blackwell says, is the philanthropic sector; she cites involvement of foundations, such as Ford, Kresge, Kellogg, and Skillman, as a reason for hope in Detroit. Another important part of the mix is community groups. As an example of how they are working together with federal involvement, Blackwell cites several promising investments in jobs in Detroit, including Michigan's Earn and Learn program, which combines continuing education and 30 weeks of subsidized part-time employment, and which is slated to place 1,000 people in full-time jobs, many in retrofitting buildings, by the end of next year. "For a young person in Detroit, it breaks your heart to see abandoned neighborhoods and able-bodied, ambitious men, who would like to do more for their families, spend days on the corner," Blackwell says. "Having a program that says you can do better—the pride, the hope that brings is just fantastic."
Public-private partnerships are also central to one of Blackwell's main examples of racial equity, the national Promise Neighborhoods program. Modeled on New York City's widely praised Harlem Children's Zone, Promise Neighborhoods aims to offer a comprehensive suite of supports to children most in need of them. "It's common sense," Blackwell says. "If you want children to thrive, they have to begin school ready to learn, the schools have to be good, and the children need to have mentors and adults who are looking out for them.
"Now we're seeing Promise Neigh-borhoods begin to pop up and thrive all across the country. The federal government is making planning and implementation money available, but it is matched by private philanthropy and the energy of people in communities who understand their neighborhoods." Blackwell mentions a two-neighborhood Promise Neighborhoods coalition in Detroit that has won a federal grant to develop its plan and compete for funding to make that plan a reality. The program's website shows that the two Detroit neighborhoods—Osborn, which is predominantly African American, and Clark Park, whose population is mostly Latino—have assembled project partners including community groups, the Detroit Public Schools, teachers unions, and the Skillman Foundation.
A KEY PART of the inequity that Detroit and the U.S. must take on, Blackwell says, is how the economic and physical layout of communities helps make or break our health. She gives the example of affluent Berkeley Hills, California, whose residents on average live 15 years longer than people in West Oakland, less than five miles away: "This is a function of racial inequality in America."
While the state of Michigan's overall obesity rate is a problematic 30.5 percent, Blackwell says, the number is "much, much higher within the black and Latino community. Think what it's like for a mother to go to the doctor with her child and the doctor says the child needs to eat a healthier diet and get lots of exercise—and then she returns to a community in which there are no farmers markets, no full-service grocery stores, only corner stores that sell liquor, potato chips, and soda."
Blackwell cites a Pennsylvania state initiative that has catalyzed 5,000 jobs and neighborhood fresh food availability for nearly half a million people, and which PolicyLink has helped scale up to a federal Healthy Food Finance Program "that has millions of dollars already on the streets, getting more grocery stores across the nation." Blackwell works to put homegrown veggies into the mix; on the day I interviewed her, PolicyLink was hosting a 1,500-participant webinar on urban agriculture. Also essential to healthy communities, Blackwell says, are safe places to exercise and an end to the practice of putting highways by poor communities, which exacerbates asthma.
Ultimately, whether Detroit and the country at large pursue racial equity and invest in communities are matters that go far beyond the well-being of individuals—the survival of our cities, and even our nation, is at stake. Warning that neither a community nor a nation divided against itself can stand, Blackwell is concerned that an aging white population might disinvest in the future: "In this nation, 80 percent of those over 65 are white and 46.5 percent of those under 18 are of color, but some places have a bigger racial age divide than others. Two of the widest divides are in Arizona and Nevada." She's pointed out that, not coincidentally, Arizona ranks very low in public education spending and very high in anti-immigrant sentiment.
"We have to make sure that we're creating pathways to prosperity for all Americans, not just some," she says. And she won't take no for an answer: "We are coming out of a period in which too many people had given up on being able to pull out of poverty. That phrase coined by Ronald Reagan, 'we fought a war on poverty and poverty won,' caught hold, even though it was not true." In reality, says Blackwell, when "we fought a war on poverty, we learned a lot about what works, and we quit before we were able to implement everything that we knew could work."
Blackwell has little patience for defeatism: "People say, 'We can't do this; we have a deficit.' The United States of America is not a poor country, and it needs to stop acting like one. We have the richest people in the world living here. We need to make choices."
If Angela Glover Blackwell teaches anything, it's that there are many choices and many paths toward building a better future. But if we want strong communities, economies, and even people, settling for inequity is not an option.
Elizabeth Palmberg is an associate editor of Sojourners.