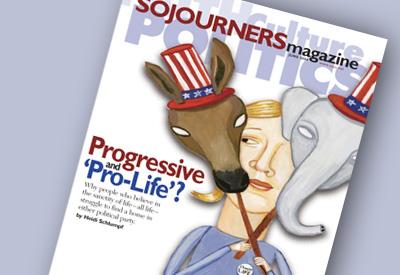 For most, the warmth of spring eventually comes to swallow winter. But for the 842,000 children presently living in government-run orphanages in Russia, reports Children's HopeChest, an evangelical organization doing multifaceted work with orphans, a piercing cold permeates their futures in the form of a social, spiritual, and emotional freeze—regardless of season. From the time they enter an orphanage until they "graduate" into a society that has few, if any, productive placements for them, the motherless and fatherless in Russia struggle against staggering odds for legitimacy, hope, and freedom.
Without a viable adoption or foster-care system, the orphanages are the default destination for the Russian children who, at a rate of 113,000 a year, are abandoned by their parents due to alcoholism, poverty, or other stresses.
In 1998, Human Rights Watch reported that Russian policy toward orphaned children violated as many as 20 of the 41 articles in the U.N.'s "Convention on the Rights of the Child." Descriptions of brutal practices like tethering children to their beds and sadistic, staff-condoned violence against younger children by their older peers created a damning portrait of cruelty, neglect, and oppression during these children's institutionalized years.
Life isn't easier when the children leave the institutions, usually between the ages of 16 and 18. The CoMission for Children at Risk reports that 60 percent of all girls leaving orphanages fall into prostitution, 70 percent of boys end up on the streets or in jail, and 15 percent of orphans commit suicide within the first two years of being on their own. Through these startling reports, one begins to see the emergence of a new gulag system in Russia—a system holding more than half a million children in captivity.
When western evangelicals flooded into Russia during the early 1990s following the dramatic collapse of the Soviet Union, few if any of them were focused on the plight of orphans. These were times of mass evangelism, abundant Bible and tract distribution, and near euphoria on the part of preachers, teachers, and evangelists. The widespread notion that the freshly opened window for the gospel would soon close fueled a sense of urgency, creating a hit-and-run style of ministry that left the heads of many Russian citizens spinning.
"Many stories circulate in Russia about American Christians who come to town, hold evangelistic rallies, take pictures, and leave," says George Steiner, founder of Children's HopeChest. "Unfortunately, many ministries that came to Russia in 1991 and 1992 are no longer there. Some departed for good reasons, but others simply did not commit to stay through difficult days. We need to be a people committed to following through on our promises. Trust-building is never ending."
While distributing Bibles to children in the early '90s, the trajectory of Steiner's mission shifted when he witnessed the deplorable conditions of orphanages. Steiner noticed that because of frigid temperatures, inadequate heating, and poor insulation, one could see the children's breath inside the buildings.
As he learned more about these children's usual fates, Steiner felt the disturbing paradox that, even as the hall of the Great Kremlin Palace in Moscow was rented out for evangelistic crusades, abandoned children languished in prison-like conditions throughout Russia. Haunted by these images, he started Children's HopeChest to fight the entrenched systemic hurdles facing Russian orphans. The organization now reaches more than 10,000 orphans in Russia, Romania, and Ukraine. In Russia alone, their efforts include 12 different programs that reach children in the regions of Vladimir, Kostroma, and Ivanovo.
As they approach their first year of school, orphans are routinely corralled before panels of doctors, psychologists, and educators and labeled normal or abnormal. For the unlucky children who find themselves diagnosed as abnormal—around 70,000 a year, according to Moscow-based Right of the Child—they will wear the title oligophrenic, or "small brained," a stigma that for the rest of their lives will deny them a choice of career and the right to drive or vote.
Furthermore, many children with correctable physical impairments, such as a weak eye or a stutter, are sequestered in orphanages as "imbeciles," although officials claim 100 percent accuracy in their diagnoses. This has been countered by findings of independent investigations that estimate that as many as 70 percent of children diagnosed oligophrenic were actually average or above average in ability.
To be labeled "orphan," to say nothing of oligophrenic, is in reality little more than a prison sentence that robs children of a future. Regardless of an orphan's diagnosis, many of them fail to make the transition from institutionalized living to the rigors of normal life once they reach adulthood. Without viable alternatives or real guidance, the estimated 15,000 orphans who "graduate" each year frequently fall victim to prostitution and drugs. It is perhaps not surprising that the first people to come along offering security and freedom—oftentimes pimps and drug dealers—find easy prey in a demographic that has been abandoned, mistreated, and abused by a steady stream of people, including their own parents.
For Christians working in Russia, nothing but a relevant, radical gospel will begin to address the needs of abandoned children. A key verse for many of them is James 1:27, which sums up the main essence of a "pure and undefiled" religion as the visiting of orphans and widows in distress.
"I find it very interesting that that's the only place in the Bible that it says very clearly 'pure and undefiled religion equals this,'" says Tom Davis, director of Children's HopeChest. "You could say that an impure religion is one that doesn't focus on that." It's "amazing" to Davis that Christians don't do more of such service and accompaniment.
Davis is following the path Children's HopeChest founder Steiner championed years before. Conservatively educated and working as a youth pastor, he discovered his faith being revolutionized on a trip to Russia in 1997. Surrounded by a group of orphans who clung to him with intense need, he began to feel God loving the children directly through him. Davis suddenly understood himself as connected to a larger gospel, to a kingdom whose king, above all else, is deeply in love with the poor and the outcast. Davis says his ideas on living out the "whole" gospel were forever galvanized.
"It's easy to have an evangelism crusade," says Davis, his tone sober as he sits at an orphanage lunch table. "The hard thing is getting in the boat with people, getting our hands and our knees dirty with them. When you look at the life of Jesus, he spent his time touching the leper and having the children come to him. It's that unbelievable touch ministry that made Jesus who he was. That's what he calls us to do."
Davis' work through Children's HopeChest reflects a gospel committed to relevancy and justice. The organization's holistic approach to ministry places the spiritual, physical, and emotional needs of children on equal footing. To accomplish this, they have become firmly planted in Russia's thick bureaucracy, with more than 70 nationals on staff. Working within the framework of the Ministry of Education—the branch of government responsible for orphans—they have created a small army of caring people who work strategically with the needs of orphans.
A tiny U.S.-based staff employs Russian social workers, dentists, medical professionals, psychologists, coffeehouse managers, educational specialists, and almost 30 young "disciplers" who travel regularly to orphanages. Together, they have developed a variety of new initiatives that offer orphans hope and a real future.
Models of ministry include connecting churches from the West with orphans through sponsorship and church-led summer camps. Churches sign on for a three- to five-year commitment, during which members visit, pray, and provide support for a specific orphanage. These relationships improve greatly the living conditions of children. At some orphanages, adequate heating and blankets become available for the first time. At others, children hear their first Bible story or receive their first personal gift. Reciprocally, involved church members are greatly affected by an expanded vision of what it means to cultivate an outcast-centered gospel.
A fitting illustration of this reciprocal process is found in the testimony of John Smith, senior pastor of Concord United Methodist Church in Beaver Falls, Pennsylvania. More than 10 percent of his 600-member congregation has been personally involved in ministry to orphans through Children's HopeChest. "Those who go come back more sensitive to the needs in our own community, more appreciative of our resources and opportunities, and more committed to being Christ's ambassadors," Smith says. "My experience is that though I've taken some non-Christians to Russia, I haven't brought any back."
"Ministry Centers" were birthed as another strategic effort to help orphans adjust to life after graduation from orphanages. At ministry centers older orphans find safe places to come for free medical care, access to legal help, and ongoing relationship with committed staff members. Children can learn basic computer skills, talk to a counselor, and play a game of pool all in the same day. The centers are among the few programs designed to steer orphans away from the precipice they face when leaving their orphanages—a time that proves to be one of the most volatile of their lives.
Children's HopeChest has also developed "family centers" to provide children with a homelike living environment and trained Christian house parents. Because Russia has virtually no viable adoption or foster-care system, this program provides one of the few available alternatives to orphanages. In a family center, children for the first time begin to learn basic living skills such as cooking, maneuvering through the bus system, and being responsible for one's own possessions. In many cases, a family center is the closest thing to real family that an orphan has ever experienced.
Although lacking the "fireworks" and drama of an evangelistic crusade, these ministries represent real opportunities for orphans, where before there were only dead ends. They are also indicative of a movement. Conservative estimates by the CoMission for Children at Risk place the number of Western Christian organizations working with orphans in Russia at well over 300—a number that doesn't include the work of indigenous groups or the many non-Christian agencies working with children. From humanitarian aid to adoption services to orphanage sponsorship, many Christians in Russia are seeking to put into practice nothing short of the "whole" gospel—a gospel through which the everyday lives of orphans are brightened and filled with hope.
"I think that if you were to walk into a place like this," says Tom Davis, gesturing to a dilapidated building that houses more than 200 orphans, "and tell them Jesus loves them, but [then you] never came back, what would you really be saying?" Davis believes the gospel mandates coming back, improving the lives of these young people, and doing something to change their situation. "Because," he says, "Jesus loves them enough to redeem their souls and to redeem them out of their circumstances. We don't see the two as separate in any way."
Josh Andersen was a freelance writer who had recently visited Russia on a trip sponsored by Children's HopeChest when this article appeared.