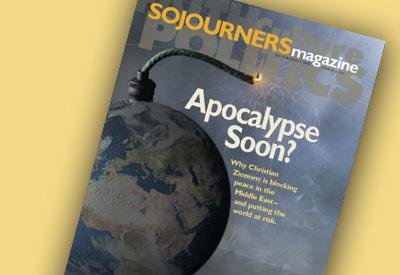 In the southeastern corner of Arizona, Cochise County rides the Mexican border. And there's a burr under its saddle.
Armed civilian groups are patrolling the international boundary, scouting the rolling grasslands and rough hills for people who have entered the United States illegally, and in many cases detaining them until the U.S. Border Patrol arrives to take them into custody. The leaders of these militias say they are compensating for inadequate government enforcement of misguided immigration policies that allow undocumented workers, drug smugglers, and possibly terrorists to "swarm" across the border, damaging private property, harming the environment, and intimidating rural residents.
Human-rights organizations charge that these militias terrorize people they assume to be undocumented immigrants, violate state laws limiting militia activities and civilian arrests, escalate the potential for violence, and maintain links to racist hate groups.
"People were already being harassed by the Border Patrol, and now things have gotten even worse," says Jennifer Allen of the Tucson-based Border Action Network. Mexican Americans born and raised in the United States, she says, "used to go out hunting or hiking, but they've been dragged out of their tents and harassed to such a degree that they don't go out of the city anymore. And now these vigilantes are out there with the attitude that if you're brown and out in the desert, you must be an undocumented migrant. So even the residents are in danger because the vigilante groups are bringing people in that are racist and hunting for anyone with brown skin."
Border Action Network asserts that some militia members have openly consorted with out-of-state representatives of racist groups. One public meeting in May 2000 was attended not only by such local militia backers as Roger Barnett and Glenn Spencer, but also by two representatives from David Duke's National Organization for European American Rights and members of an Arkansas Klan group.
QUESTIONS OF RACISM aside, militia members are reacting to, and contributing to, an already dangerous situation. In the past couple of years, smugglers have become increasingly desperate, aggressive, and in many cases violent. Groups of illegal immigrants have been fired upon—and people killed—by drive-by assailants who have never been apprehended. Law-enforcement agencies theorize that the killers are rival smugglers, while human-rights activists speculate that the attackers could be U.S. vigilantes.
John Fife, pastor of Tucson's Southside Presbyterian Church and a leader of the sanctuary movement in the 1980s, has decried the killings, no matter who is responsible for them, as "the culmination of a history of dehumanization and racism and militarism on this border that has gone on for a long time. Too long." Such faith-based groups as Humane Borders and Samaritan Patrol have given humanitarian aid to border crossers in trouble, but they are ill-equipped to contend with such violence—and the potential for more.
Border Action Network, while acknowledging that the border situation has become dangerous and untenable for crossers and residents alike, has been calling, with limited success, for state and federal authorities to take the militias out of play.
Much of the militia activity is centered in Cochise County, which by frontier standards is relatively populous. Here, private ranches cover hundreds of acres crisscrossed by roads. There's more private land along the border in the other Western states, but most of the organized militia operations so far have taken place in southeastern Arizona. The major exception is Ranch Rescue, based in Texas with chapters in New Mexico, Arizona, and California. According to its spokesperson Jack Foote, Ranch Rescue has deployed about 200 volunteers in a variety of "operations" over the past two and a half years.
Two other high-profile militias operate exclusively in Arizona. Tombstone-based Civil Homeland Defense was formed by small-newspaper publisher Chris Simcox to counter "the threat of terrorism and out-of-control border crime" by tracking and reporting suspicious groups in the desert. (Although Mexican police in March arrested two Iraqis and an American of Iraqi descent planning to enter the United States from a Tijuana bus terminal, there is no clear evidence that terrorists have penetrated this country via Mexico.) Simcox estimates that 170 people volunteered for Civil Homeland Defense during the first four months of this year.
UNLIKE THE TWO other groups, the Sierra Vista-based American Border Patrol does not detain undocumented immigrants, according to founder Glenn Spencer; instead, it uses high-tech equipment to post images of undocumented crossers on its Web site.
Texas rancher Jack Foote founded Ranch Rescue in June 2000, inspired in part by the exploits of Cochise County rancher Roger Barnett, who patrols his 22,000-acre Cross Rail Ranch with his brothers, his dog, and his Colt .45 and M-16, forcibly detaining people he suspects to be undocumented immigrants and turning them in to the Border Patrol.
"I've ridden along with Roger on his ranch," says Foote. "These criminal trespassers—that's what they are, criminals—have torn up his infrastructure for his cattle ranch, they've torn down his fences, broken his water pumps, killed his cattle, and trashed his grazing areas."
While not disputing the damage done by large groups of people walking cross-country, Border Action Network notes that much of the land on which ranchers operate is actually state trust land, and the very narrow definition of "trespassing" in the statute covering such property does not include people simply walking there.
Foote says he formed Ranch Rescue to provide a volunteer force for repairing damaged property—and, when invited, to make sure private property remains private. "What we do is stand alongside those border landowners as their invited guests on their private property, and, shoulder to shoulder, we look at our federal and state officials and say, 'Either you will keep these criminals off this private property, or we will.'"
Jennifer Allen of Border Action Network disputes the extent to which the locals welcome Ranch Rescue. "Folks who live here feel they're being misrepresented by these very few but outspoken vigilantes," she insists. "People are afraid of the repercussions of speaking out against them, but they are very concerned about the vigilante groups."
Foote acknowledges that Ranch Rescue volunteers carry firearms with the permission of the landowner. Volunteers are required to dress in khaki clothing, and many of them wear patches commemorating the "operations" in which they've participated. This gives them a quasi-military look, and Border Action Network has called upon the Arizona attorney general to investigate Ranch Rescue and other groups for impersonating law enforcement or military officers.
That isn't the only charge the group has leveled against the militias. In April, Border Action Network delivered to the attorney general a petition signed by nearly 2,000 border residents calling for an end to vigilante activity. Among the group's recommendations:
Investigate the groups for violations of Arizona's anti-militia statute. The state prohibits individuals, partnerships, and corporations from maintaining "troops under arms," except for businesses hiring armed guards.
Investigate possible violations of Arizona's civilian arrest statute.
Investigate possible violations of state land permits, since the ranches on which the militia groups operate are largely leased state-trust land and the militias would therefore need either a state recreation permit or a permit from the Arizona State Land Department to work there.
Investigate a possible violation of state charities laws by American Border Patrol, which sent out a fund-raising letter after gaining tax-exempt status from the Internal Revenue Service but before registering with the Arizona Secretary of State.
Appoint a special investigator and prosecutor to focus on possible civil and criminal complaints against border vigilante groups.
Activists charge that some law-enforcement agencies are complicit in the militias' activities. According to the Border Action Network's "Hate or Heroism" report, "Ranch Rescue says its members include former Border Patrol agents, military personnel, law enforcement officers, and members of Soldier of Fortune magazine. This may explain why Ranch Rescue operates with impunity."
Isabel Garcia, of the Human Rights Coalition, says, "What's really disturbing to us is the complicity of Larry Dever, the Cochise County sheriff. He's been a featured speaker at every one of these racist meetings they've had. He's done nothing to stem their violations, and we're not convinced that there may not be some involvement by the U.S. Border Patrol. The ex-Tucson sector chief, Ron Sanders, and [a former California-based] sector chief, Bill King, have been to American Border Patrol meetings. Ron Sanders still has folks within the ranks that are very loyal to him." Frank Amarillas, a spokesperson for the U.S. Border Patrol in Tucson, says there is no connection between his agency and American Border Patrol.
Garcia's charge of racism rankles the militia organizers, but the rhetoric of Foote and particularly Spencer could hardly be called sensitive. "The United States and Mexico are two entirely different nations," Spencer declares. "The United States has as its founders people who came here for intellectual reasons, freedom of religion. Mexico was founded by a group of people who came to plunder, the conquistadors.... We have a clash of civilizations: the pilgrims versus the conquistadors, the civilization based on Newton's Principia Mathematica and the great philosophers of Europe versus the blood-and-sand character of Mexico, which is based on Aztec warriors and the conquistadors. We are asked to absorb millions of people from this culture; we are unable to assimilate them, so they are asking for their culture to be maintained here in ours. This is a direct threat to the Age of Reason, to the ascent of man, and will end in a massive conflict. It has to be stopped."
The message of such language is clear to University of Arizona professor Edward J. Williams. "I think the main motivation for the most contemporary manifestation of these vigilante groups is racism," he says, "allowing for the fact that there is a strain of legitimate concern based on the trashing of the property of the ranchers and some small degree of burglaries and robberies. But that's not the major issue, certainly not with these more recent groups."
The Border Action Network report acknowledges that Simcox's Civil Homeland Defense "does not appear to be associated with national anti-immigrant or white supremacist groups," but also notes that "Simcox denies that he is racist, but in the same breath likens immigrants to a throng of insects," and the report finds links between racist organizations and Ranch Rescue and especially American Border Patrol.
"The American Border Patrol's Glenn Spencer, for example, can be traced to the Council of Conservative Citizens and to neo-Nazi organizations such as the National Alliance," the report states.
"Glenn Spencer founded a white-nationalist, anti-immigrant organization in California in 1992 with the help of a hefty grant from John Tanton's funding organization, US Inc.," the report says. "Spencer's nonprofit, American Patrol/ Voices of Citizens Together, which agitated for English-only legislation, supported Proposition 187 in California, and broadcasts virulent anti-Mexican/ anti-immigrant messages on the radio and the Web, is listed as a hate group by the Southern Poverty Law Center."
Perhaps the local attitude was best expressed by a Forest Service worker patrolling for fires and other "unusual activity" near the border one wet morning in February. He spends his workdays, in part, contending with the environmental damage done by large groups tramping through the wilderness, then he goes home to live among neighbors who volunteer for militia work.
"I can appreciate some of the problems the ranchers and those people are having," he said. "But those guys running around out there with guns are scary. Real scary."
James Reel is a free-lance writer living in Tucson, Arizona.
---
Human Rights Organizations
Action for compassion
The Border Action Network (www.borderaction.org)
Humane Borders (www.humaneborders.org)
BorderLinks (www.borderlinks.org)
The Human Rights Coalition (www.derechoshumanosaz.net)
Civilian Militias
"Troops under arms"
The American Border Patrol (www.americanborderpatrol.com)
Civil Homeland Defense (www.civilhomelanddefense.us)
Ranch Rescue (www.ranchrescue.com)