Thanks for your evocative interview with Ani DiFranco ("Anything But the Grrrl," by Rocky Kidd, May-June 2002)! The photograph of Ani is a bit like an icon, hauntingly intriguing and drawing one in; perhaps it is because of Ani's striking resemblance to Da Vinci's Mona Lisa. The "gritty" interview with Ani revealed an authenticity born out of sharing her innate gifts, utter integrity, clarity of purpose, responsiveness to social justice, and marching to the beat of her own inner drummer.
Dipping into the deep well within, Ani's music and life are like offerings of life-giving water to thirsty souls. Ani, may your music continue to flow!
Nan C. Merrill
Jericho, Vermont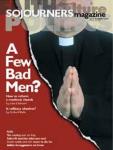 This appears in the July-August 2002 issue of Sojourners
Got something to say about what you're reading? We value your feedback!