Many thanks for Richard Parker's insightful telling of the story of globalization, "From Conquistadors to Corporations" (May-June 2002). His broadly historical perspective on our present situation is much needed.
I was troubled, however, to read that the story ends with a call to return to the Social Gospel era in which great "confidence" led Americans to associate "Christian moral teachings with scientific advance and social and political reform." In the wake of Thomas Kuhn et al., I would have hoped that the "confidence" that associates scientific progress with Christian ethics could be recognized as the hubris that it is. Let us look to 33 A.D. and boldly confess Jesus' way of humility that ushered in the only true political reform that this world has ever known—the Kingdom of God among us. As we look ahead, we ought to carefully consider how the Kingdom is manifested through our life together as resident aliens in the kingdoms of this world.
Jonathan Hartgrove
St. Davids, Pennsylvania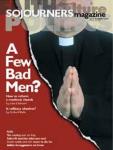 This appears in the July-August 2002 issue of Sojourners
Got something to say about what you're reading? We value your feedback!