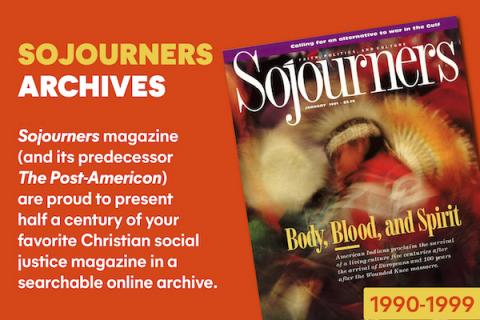 A new aspect of this war is its immediacy to people around the globe. Many people receive news about events in Yugoslavia not via CNN, but through thousands of e-mail messages from friends and colleagues on the front lines. Here, a sampler of notes from people of faith immersed in the Balkans war.
What Pain Must God Feel
From an American missionary in Nis, Serbia.
Friday, March 26, 8:41 a.m. From the time the sun goes down there is nothing but fear and terror, sirens and the horrible anticipation of the bombs. I know what's happened in Kosovo, I know it's wrong, but to bomb the villages, towns, homes, of people who have in many cases been the ones protesting these very problems—this is not the answer.
Friday, March 26, 7:45 p.m. The landlady where I live said, "Come quickly—the neighbors want to burn your car!" I ran outside and faced about 10 angry young men who live just a few houses down. I know them. I said, "Vlada, why?" He said, "Because your government is killing our people—I hate Americans!"
The whole church has dispersed—everyone is with their families in their basements. I realized that for me to stay was actually endangering the lives of the very people I was there for. So I packed the van with a few belongings and as the sirens were signaling another attack, I fled. I hugged and kissed my landlords goodbye; there were tears all around. As I drove through the city, huge convoys of military personnel were preparing for the night's activities. What pain must God feel over this; for the Albanians, for the Serbs, for his world that refuses to turn to him but pursues violence because of enslavement to unresolved anger and hate. Where were the missionaries? Where was the church 10 years ago when we still had time?
A Media War
From a Serbian husband and wife pastoral team.
Friday, April 16. Some of you have asked if we are aware of the suffering on the Albanian side. You have gotten the impression that our emphasis is on the suffering on the Serbian side. As Christians, we do not favor only Serbian people, nor do we have sympathy and emotions only for their troubles and pains. Rather we feel that we are to raise our voice on the behalf of those whose wounds and tears are less obvious and rarely presented in the public media in Western countries. In the same way, we feel the responsibility to present the suffering on the Albanian side to our nation, since there is not much mention of their tragedy on our TV and other media.
This is a media war as well. Secular media have the tremendous power to create public opinion. One can be easily "demonized" (as in the case of Serbian people), while others can be glorified as "saints" and "deliverers" (as in the case of NATO). Our Christian role is to be a "prophetic voice" both to our nation and the rest of the world. Sometimes that means to speak the truth that is not popular or pleasant.
Inconceivable atrocities
From an American wife and husband missionary team in Tirana, Albania.
Time unknown. Said I would write after our Easter service, but I feel that this cannot wait. We are in an urgent crisis, the likes of which has not been seen in Europe since the end of World War II. Albania is being flooded with refugees from Kosovo. As of late last night, some 120,000 have crossed our northern border. Some 7,000 arrived in Tirana during the day yesterday. They are also being taken to other cities throughout Albania.
Another missionary in Albania said recently, "Pray for the genocide to stop. Please do not be misled, this is real genocide. There is no other term for it. The stories we are hearing from the refugees are horrific. I cannot conceive of such atrocities—and they have experienced them. I was told that on the road to Albania the fleeing refugees were confronted with more than 100 decapitated heads of other Kosovars on the side of the road. I just saw a few Kosovars interviewed on Albanian TV. They were women and children, all sobbing without control. Their husbands and fathers had been taken away and they were forced from their homes (which were burned as they left) at gunpoint."
Please, whether or not you agree with the U.S.-NATO effort, please set aside the arguments for now and pray. Seek to help us find ways to help these suffering people.
On the Border
From an American woman who does conflict mediation work in Skopje, Macedonia.
Thursday, April 15. I watched as a mother tried to comfort her crying toddler while a doctor bandaged up the child's cut thumb. Not too uncommon a scene, except that the doctor was working by the light of a cigarette lighter held by the child's father. This child would return to a cold tent to sleep on the ground, kept off the mud by a plastic tarp and some military blankets. This is in the refugee camp Radusa, built by the Macedonian government to house refugees during the Bosnian war. Now 2,000 Kosovar refugees are housed there in tents put up in neat rows on the terraced hillside.
This past weekend was Orthodox Easter, giving me Monday off from my usual job. I took the 24-hour shift with a doctor at a border crossing north of the town of Tetovo. The crossing was pretty high up, with picturesque villages of large whitewashed houses with red roofs on both sides. The bustle of people, tractors, and animals moving in and out of the villages on the Macedonian side was totally absent on the other side. The Kosovo villages were completely deserted, except for one house that appeared to be occupied by the Serbian police border guards.
We're Trying to Hear God
From a man in southern Serbia.
Monday, March 29. Leskovac was bombed again at 5 a.m. There is damage on some houses, but people are okay. We fear for the lives of people in the Kosovo region and other places. Some believers from distant mountainous villages phoned asking for certain tablets. Due to the lack of petrol, many can't get to the doctor or to the pharmacies. We couldn't help in any way, except to offer prayers. Do pray for them. Pray for the Gypsy folk: Most are seasonal workers, and now that everything is disrupted they have no way of earning money.
We're in electronic contact with many churches from the evangelical family: with Pentecostals, Baptists, Church of God, independents, and with Christians from abroad. In this we see that the Lord brings together his family regardless of race or church. Thank you for sending us portions of scriptures. The church in our land finds it hard to accept that this is all happening to us. We're trying to hear God, but it's hard with all the sirens and roaring of the planes.