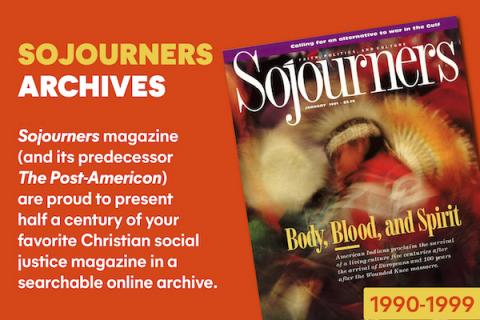 On Palm Sunday, March 31, 1996, Sister Dianna Ortiz stood in Lafayette Park, across from the White House, and for the first time spoke in public of the most difficult parts of her torture.
Today, I begin my silent vigil for truth in front of the White House—not a silence of complicity, but a silence of commemoration for those who have been tortured, assassinated, or disappeared in Guatemala in the last 30 years. Our own United States government has been closely linked to the Guatemalan death squads, and has a great amount of detailed information about those of us who have survived as well as those who have perished. We need and demand this information so that we can heal our wounds, bury our dead, and carry on with our lives.
Many of you know my story. I was in San Miguel Acatán, teaching Mayan children to read and write and to understand the Bible in respect to their culture. For a long time I received death threats. Then on November 2, 1989, I was abducted from the back yard of the Posada de Belén retreat center in Antigua by members of the Guatemalan security forces. They took me to a clandestine prison where I was tortured and raped repeatedly. My back and chest were burned more than 111 times with cigarettes. I was lowered into an open pit packed with human bodies—bodies of children, women, and men, some decapitated, some lying face up and caked with blood, some dead, some alive—and all swarming with rats.
After hours of torture, I was returned to the room where the interrogation initially occurred. In this room I met Alejandro, a tall man of light complexion. As my torturers began to rape me again, they said to him, "Hey Alejandro, come and have some fun." They referred to him as their "boss." Alejandro cursed in unmistakable American English and ordered them to stop, since I was a North American nun and my disappearance had become public.
Like a knight in shining armor, Alejandro seemingly came to my rescue. He helped me on with my clothes, then escorted me to a gray Suzuki jeep. In poor, heavily accented Spanish, he told me that he was taking me to the U.S. Embassy to talk to a friend who would help me leave the country.
For the duration of the trip, I spoke to him in English, which he understood perfectly. Alejandro professed that he was concerned about the people of Guatemala and consequently was working to liberate them from communism. He kept telling me in his broken Spanish that he was sorry about what happened to me. He claimed it was an honest mistake. He spoke to me about forgiving my torturers. I asked him what would happen to the other people I saw tortured. At this point, he switched to distinct, American English. He told me not to concern myself with them and to forget what happened. He made it clear that he had been given the videotape and photographs that would incriminate me of crimes I had been forced to participate in. This was an obvious threat.
The memories of what I experienced that November day haunt me even now. I can smell the decomposing bodies, disposed of in an open pit. I can see the blood gushing out of the woman's body as I thrust a small machete into her. For you see, I was handed a machete. Thinking it would be used against me, and at that point in my torture wanting to die, I did not resist. But my torturers put their hands onto the handle, on top of mine. And I had no choice. I was forced to use it against another human being. What I remember is blood gushing—spurting like a water fountain—and my screams lost in the cries of the woman.
In spite of the memories of humiliation, I stand with the people of Guatemala. I demand the right to heal and to know the truth. I demand the right to a resurrection.