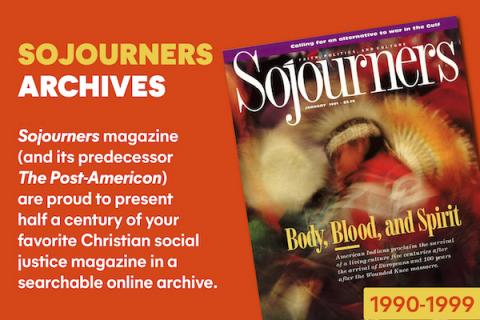 "The Spirit of the Lord is upon me, because he has anointed me to bring good news to the poor...to proclaim the year of the Lord's favor"(Luke 4:18-19)
The "year of the Lord's favor,"the Jubilee year, was marked by justice and mercy. Jubilee Partners, a community in Comer, Georgia, born in 1979 out of Clarence Jordan's Koinonia Partners, has been practicing such works since its founding.
Jubilee Partners has hosted 2,000 refugees from a dozen countries; resisted the violence of nuclear weapons, war taxes, and the Gulf war; and sought to be makers of peace in Nicaragua, El Salvador, and between races close to home. The forthcoming With Our Own Eyes by Don Mosley, with Joyce Hollyday (Herald Press, 1996), from which this article is adapted, tells some of the extraordinary things that can happen when ordinary people live as if their faith really mattered. - The Editors
It was early 1981. We had word that six Laotian and Hmong families would be arriving soon, but no one knew exactly when. We were holding our breaths; we didn't have enough room for all of them yet.
While the last of the Cuban refugees that we had hosted waited for their sponsorships to be confirmed, they pitched in to help us prepare for the Southeast Asians. At just the right time, the national office of the Disciples of Christ sent a crew of 17 volunteer construction workers. For three weeks in January we all worked at top speed. Together we finished two buildings and got a good start on our new school.
Calls from the refugee resettlement offices of several denominations assured us that we were going to need all the space we could provide. Refugees were collecting at huge camps all around Southeast Asia faster than they could be transferred to host countries, even at the accelerated rate that President Jimmy Carter had ordered. Rosalynn Carter had gone to Thailand herself and visited the camps to help bring more public attention to the crisis.
When the confirmation came that the first Laotian families were on their way to the Atlanta airport, we were ready. By this time the six Cuban men still with us considered themselves fully part of the Jubilee staff. They wanted to go to the airport as part of the welcoming party, but space in the vans was limited. We told them when to expect us back and suggested that they think of ways to make the Laotians feel welcome. "Bueno, no problem," they said.
As we drove toward Atlanta that evening, we met a storm with heavy rain. The refugees' flight was delayed two hours. Finally they arrived, tired after 36 hours of travel from Thailand to California, then to Georgia, but still smiling and gracious. We still had a two-hour drive to reach Jubilee Partners.
As we left Atlanta and drove into the dark countryside, we tried to explain more clearly to the new arrivals what Jubilee was all about. It was evident that they understood little of the explanation, but they communicated their trust with constant smiles. We told them about the Cubans waiting to greet them, although they probably had never even heard of Cuba.
Their cross-cultural training was about to begin in earnest. At midnight we turned the last corner and stopped before one of the cabins at the Welcome Center. Six exuberant Cubans came spilling out the front door shouting "Welcome!" at the startled Laotians. The men had waited patiently, even though we were hours late, but at some point they decided that a few beers would help the time pass. The alcohol expanded their innate hospitality; now they all but carried the bewildered Laotians into their cabins.
The same rain that delayed the flight also left the yard covered with sticky mud. Each time a smiling Laotian entered a building, shoes were left at the front door. Each time a smiling Cuban followed, a new trail of mud was left across the floor.
Over the next few days we marveled at the way the goodwill of each group seemed to overcome the barriers of our three contrasting cultures. The children were the best at this, and the Laotian boys and girls spent hours each day playing with their big Cuban friends while parents looked on. When the time came for the last Cubans to depart, there were Laotian as well as North American tears.
SOON WE LOST COUNT of the number of trips we made to the huge Atlanta airport to pick up more families arriving from Southeast Asia. It never ceased to be a privilege, however. Whether Laotian, Vietnamese, Chinese, Hmong, or Cambodian, these people were special. The simple fact that they had made it this far was proof that they were skilled at survival and adaptation.
Slowly we began to grasp what a huge cultural leap they were making. We were meeting them at the end of their first experience of air travel, from halfway around the world. Many had little, if any, exposure to amenities such as flush toilets and telephones. Yet they calmly followed us up and down escalators, along moving sidewalks, and through underground trains that moved from one concourse to another guided by computers instead of human drivers.
When one Laotian family discovered the fat field mice in the Jubilee forest, the refugees were thrilled. Here was a delicacy they had feared they would never enjoy again. Soon the forest was full of little shovel holes around the bases of trees, signs of energetic hunters. One day excitement swept the Welcome Center as word spread of a "very big mouse" that had fallen into an empty trash barrel. Ed Weir went to the barrel and looked into the face of an angry, hissing opossum. Reluctantly, we had to put the rest of the wildlife off limits to the hunters.
A reflection of Mother Teresa's came to us often as we worked with these beautiful people—they truly gave us much more than we could give them. We realized how wrong we had been at the outset to see ourselves as the ones with all the resources and the refugees as the ones with all the needs. Time and again we were deeply moved by their acts of gratitude and generosity.
WE INVITED THE Asian refugees to join us in our worship services. The great majority always chose to do so, even if they were not Christians themselves. We hoped our lives would make Christianity attractive, but we put no pressure on anyone to convert. We found that many of the refugees were eager to learn more about Christian faith, requesting Bibles in their language and attending weekly Bible study led by my wife, Carolyn, and others.
In these settings, too, we often learned humility. I will always remember one informal worship service in which each of us was given a sheet of paper and a pencil. We were then asked to spend five minutes drawing something for which we were thankful. It was October, so I quickly drew a leaf to illustrate my appreciation for the colorful foliage in the Jubilee woods.
When we were asked to share our pictures with the others around the table, I explained my little sketch. Then I waited to see what the woman across the table had drawn. Slowly she turned the paper over for me to see. There was a crude drawing of one man shooting another, while a woman and two children ran away. With tears in her eyes, she explained, "When we try escape from Laos to Thailand, a soldier catch us. He say he will kill all of us. My husband say, 'No! Kill me and let wife and children go.' The soldier kill my husband and let us run away. I thank God for my good husband."
Our first Cambodian refugees were the Vong and Ly families. Among them was Chou Ly, a young widow, with her parents, siblings, and small son, Sovath. When the Khmer Rouge communists took over Cambodia, Chou's husband, an army officer, was taken away and never seen again.
The Khmer Rouge seized the Ly family's home and forced them into the countryside. There Chou was forced to work long days in the rice paddies. For months at a time, she was separated from Sovath. "It was hard for both of us," she says of that time. "He was just 2. He forgot me somehow. And every time I came to see him and to visit my family, he thought I was a stranger."
IN DECEMBER 1979, Chou's family fled to a refugee camp in Thailand. "It was empty ground," she says of the camp. "No tents. They gave us a piece of plastic to make a roof as a shade from the sun. Each family got one bucket to put water in. There were 29,000 people, and not enough water for everybody. Once a week they gave us food."
Through Church World Service, the Ly and Vong families left the camp and headed toward Jubilee. As their plane was making its way from California, Robbie Buller and Ed, two members of the community, were on a precarious journey of their own.
About sundown, Robbie and Ed set out for the airport in our old, broken-down school bus. The fuel gauge was broken, and they misjudged how much gasoline they had. Halfway to Atlanta, Ed had to get out and push the bus while Robbie steered it into a service station—fortunately close by and downhill.
When they reached the airport, they rushed in and found their passengers. Chou Ly was among them. She remembered the evening vividly.
"When we were in the hotel in San Francisco the first night we got off the plane, we opened the paper to look where we're going. We're going to Georgia. Jubilee Partners. We wondered where this was. We had no idea."
Church World Service had arranged for a Cambodian interpreter to meet the plane as well. Chou continued, "He just said, 'You will get on the bus and ride from here for two hours, go to a small town called Comer, and the house where your family will live will be in the woods. But do not worry—no tigers!' It was a brief orientation."
Everyone went out and took seats on the bus. Robbie closed the door and stepped on the starter. Nothing. The interpreter stood on the curb, still waving goodbye to the Cambodians. After some minutes of checking battery connections and beating on things, Ed sheepishly asked him to explain to the new arrivals that they would have to get off the bus and push to get it started. Chou laughed. "He just shook his head and said, 'OK, everybody out. Can you help us push the bus?' He didn't laugh.
"We were so tired; we came directly from Thailand to California. But we pushed the bus." If there were any complaints, they were spoken discreetly in Khmer. A few minutes later, the expedition was finally on its way to Jubilee.
"When we were pulling into Jubilee, it was getting dark. Then the bus stopped again. It didn't make it up the last hill. So we got off the bus, got in an old pickup truck, and they took us to the Welcome Center."
WE EXPOSED ALL of the refugees to a wide variety of experiences selected to give them a better understanding of life in the United States. Field trips were always adventures compounded by the uncertainties of travel on our old yellow bus. We toured modern farms, sat in courtrooms to watch trials, climbed Atlanta's Stone Mountain, picnicked beside waterfalls in the north Georgia mountains, and visited local trade schools and colleges.
Early one morning we cooked breakfast for homeless people at the first such meal ever served by our friends at the Open Door Community in inner-city Atlanta. As dozens of ragged and hungry people filed through the line, the Cambodian refugees served them hot food, their eyes wide with wonder. At their first opportunity, two of the women drew me aside and one said, "We do not understand this. Who are these poor people? Are they really Americans, so poor in this rich country?"
At Christmas, Ryan and Karen Karis and Robbie passed out stockings filled with fruit, candy, and small gifts. The children received them with shining eyes and broad smiles. In their short lives, spent mostly in overcrowded refugee camps, they had enjoyed precious little of such "luxuries." As the Jubilee folks turned to walk back to their houses, a little girl followed them. She was soon joined by others. Then all the children began to empty their stockings and insist on sharing the contents with the givers. How could anyone help falling in love with such children?
Yet we began to find it increasingly difficult to persuade churches to sponsor the families. Under the Reagan administration, the refugee quota was quickly slashed to a fraction of what it had been during Carter's presidency. Instead of protesting, however, churches across the country withdrew their welcome to refugees.
I began to travel more frequently to appeal personally to people in the churches, trying to help them understand the needs of the refugees and our responsibility as Christians. I pointed out that, according to official estimates, the average per capita income in the United States was just about one hundred times greater than in Cambodia.
This comparison became more striking for us when we thought of the 100 Cambodian men, women, and children we had hosted at Jubilee. I sometimes asked congregations to imagine saying to these Cambodians that, while the average Christian in the United States has an income equal to all 100 of their combined incomes, "economic pressure" in the United States was the main excuse for lack of sponsorships. Should we be surprised if the refugees found that hard to comprehend?
Slowly, over time, we found sponsors for all our Southeast Asian families. Chou Ly's family moved near Atlanta. But before long Chou returned to Jubilee Partners as a volunteer. "It took me a long time to adjust to this culture and feel comfortable," Chou says. She adds with a smile, "And now I have to learn Jubilee culture—not even American culture!"
AS I WAS PONDERING what a privilege it was to have been touched by these lives, the telephone rang. The familiar voice of an old friend boomed through the receiver. It was Dr. Harry Haines, chair of Church World Service. He was calling to say that he would like to visit Jubilee Partners to see for himself what our "Hebrews 11 faith" had brought about.
When Harry arrived, he was accompanied by several United Methodist leaders of north Georgia. We gave them the grand tour of all the new buildings, introduced them to the refugees then in residence, and had a lively reception and discussion in the Koinonia House.
That night some of us from Jubilee went to the Athens First United Methodist Church for a regional meeting at which Harry was the featured speaker. The church was filled to capacity, with more than 700 people present. Toward the end of his sermon, Harry suddenly asked the congregation, "How many chapters are there in the book of Acts?"
After a few moments, a general consensus was reached that Acts has 28 chapters.
"Well," Harry announced with vigor, "I have good news for you. Twenty miles from here, at a place called Jubilee Partners, the 29th chapter of Acts is being written!"
As we drove back to Jubilee after the service, we realized that— despite our unease with the praise—in fact we all agreed with what he had said. Who could experience what we had seen and heard over the past months and not feel that God was indeed working among us? We were not the source of what was happening, but we were certainly privileged to have box seats at an amazing show—and to be actors in it as well.
It was good to be reminded that we Christians of the 20th century should think of ourselves as participants in the work that was started by the early church—which was by no means intended to end when Luke finished his account. The exciting story is continuing to be written—not just at Jubilee, but all over the world where people make the claim that "Jesus is Lord," then set out to demonstrate that fact by their actions.
DON MOSLEY is co-founder of Jubilee Partners. JOYCE HOLLYDAY, who Don describes as "less than a ghost writer but more than an editor" of the book, is an author and a Sojourners contributing editor.