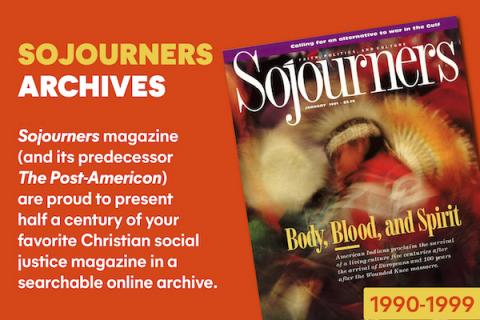 FROM THE MOMENT I decided to journey to Auschwitz, my life changed completely. I have traveled all over the world, but whenever I thought about going to Auschwitz during the month before my departure, my heart jumped into my mouth. Irrationally, I prepared for death, writing a will and putting my affairs in order. My logical side said I was crazy. But as I thought about it, it dawned on me that for two million men, women, and children, "going to Auschwitz" was indeed a death sentence.
Packing was nearly unbearable. As I arranged my warm clothing, images appeared of scarecrows dressed in flannel pajamas standing for hours in the subzero climate. My body started to break out into odd aches and pains as if my subconscious was screaming for a way out.
I realized I was embarking on a pilgrimage. Auschwitz, for all its horror as the true hell on earth, is actually a sacred site; my five days there would be a Jewish version of the Stations of the Cross.
For one week in December 1994, 200 Christians, Jews, and Buddhists came from around the world to commemorate the Holocaust at the Convocation at Auschwitz. My catalyst for going was hearing that the last night of Hanukkah would be celebrated at the Auschwitz main gate, with its mocking inscription Arbeit Macht Frei (Work Makes One Free). This gate, along with the selection ramp and the gas chambers and crematories, are the indelible icons of the Holocaust, placing Auschwitz in another realm beyond the other Nazi camps, indeed beyond any other atrocity committed by humanity.
Auschwitz is the Germanized name for Oswiecim, located about 50 miles southwest of Krakow, the ancient capital of Poland. I took the train there, following the rails of those who were shipped by boxcar. Starved, freezing, and scared out of their wits, they were going to a place known only in whispers. As we neared the Oswiecim station, everyone in my compartment hushed and lost themselves in feelings impossible to express. As the cab driver took me to the German Reconciliation Youth Hostel, he told me there is one Jew living in Oswiecim today.
The Auschwitz State Museum is like no other museum on earth. The twin camps of Auschwitz and Birkenau are the museum and remarkably preserved. They are neither slick nor manipulative. From the moment you enter the camp areas, you step off the edge of the earth. The surrounding town of Oswiecim continues to function in the present, but the lager sites (camps) are tunnels back to the 1940s.
THERE IS NO RATIONAL way to comprehend Auschwitz. The intellect fails even if you know what to expect. The museum contains drab, grey rooms filled with the remnants of the possessions looted from the victims upon their arrival. Glassed-in showcases are filled with thousands of shoes, luggage, artificial limbs, prayer shawls, and an ocean of women's hair still greying into eternity.
We participants walked through this building in a mood of dread, feeling a buildup of tension. But trying to maintain your composure here would risk insanity. When I gazed at a low table of baby shoes and little threadbare sweaters, testament to the 1,500,000 children slaughtered by the Sho'ah (Holocaust), I dropped to the floor and sobbed uncontrollably. It wasn't sadness or outrage I felt, but a sudden connection to the millions of dead, those who were unknown and unmourned.
I could have cried on the floor forever. The entire world should come here and grieve, I thought, but there are not enough tears to shed.
The three women who came and lifted me up in love and comfort were total strangers. One was the Jewish daughter of Auschwitz survivors. The others were children of Nazi soldiers. We held onto each other and recited "Kaddish," the Hebrew prayer for the departed.
The stated purpose of the convocation was to seek healing and reconciliation, and Auschwitz was like a monstrous truth serum that prevented superficial gestures of goodwill. All our nerves were frayed after the museum visit, and rage was expressed along with sorrow and disbelief.
The longest and most memorable day of the convocation was our visit to Birkenau, the true killing field of Auschwitz. Birkenau is overwhelmingly huge. The rail spur leading to the selection platform divides the camp in half and each half sprawls out to the horizon. On that platform we joined the 30 Buddhist monks and nuns who had been fasting and praying there for eight consecutive days.
The prayer service was tense. Father Herbert Froelich of Heidelberg was the last to speak. A Roman Catholic priest and a spokesperson for Pax Christi International, he stood in the circle and slowly unveiled a painting of a weeping Jesus, fiercely broadstroked in blacks, yellows, and oranges. Froelich placed it in front of his face, for he was weeping, too, and told the story of how this uncompromising visage was created by two German soldiers at the end of the war. Horrified by their nation's crimes, they took it upon themselves to atone for Germany by walking throughout their homeland and Poland carrying this token of redemption. Father Froelich softened many hearts when he admitted that his father, too, had served in the Wehrmacht.
After a moment of silent reflection, we marched in procession and reassembled on top of the ruins of Crematorium No. 2. This was the apex of the Holocaust, the nightmare finally becoming real. On the roof above the ovens, John Schuchard, a maverick Christian minister, called down the heavens upon Christianity, proclaiming that no Christian could dare enter Auschwitz without asking forgiveness for the 2,000 years of anti-Semitic hatred that brought it into fruition.
Drained and stunned, convocation members rearranged themselves into circles of shoulders desperately embracing, seeking safety. For many, this was the nadir, the absolute depths. Wordlessly, the groups separated and individuals filed behind the chanting Buddhists who returned to their witness on the platform. The walk back was strangely peaceful, as though agony was starting to give way to reflection and reaffirmation.
THE THREE WOMEN who had comforted me in the museum are part of "One By One," a group whose members are either Jewish and Christian children of survivors or children of the Third Reich. They have committed themselves to the difficult task of finding peace and reconciliation with each other. It was their example and our willingness to honor them that helped us climb out of the abyss. The unique quality of One By One is best summed up by Anna Smulowitz and Otto Duschleit.
Anna's parents met at Auschwitz. Her father's first wife and children were gassed upon their arrival there. Her mother worked in the lager kitchen and once served lunch to Adolf Eichmann (later she would testify in Jerusalem against him). Anna was born in a displaced persons camp, but eventually settled in Kentucky where her next-door neighbor was head of the local Klan. Growing up was anything but normal in the Smulowitz household. Her father would greet the morning in the bathroom conversing with his murdered family; her mother had episodes of irrational violence. Neither parent recovered psychologically from Auschwitz.
At the introductory weeklong conference of One By One in Germany, Anna's hotel room bordered that of Otto, who was drafted into the SS at the age of 16. Upon learning the identity of her neighbor, it was all she could do not to run screaming from the building. During the seminar, Otto described atrocities committed by himself and his comrades on the Eastern front. He also shared a dream he'd had, in which Moses came to him saying, "If you come halfway and tell the whole truth, I will meet you and also tell my story. Only then will you be free." Otto spent the remainder of the week silent and morose.
"He asked for nothing," recalled Smulowitz. "He simply sat there. On the last day, I touched him. I hugged him. He cried, I cried. Others cried....All I could think was that this was why God put me here. My inspiration came from Jesus, his message to love our enemies. Why the hell anyone would want to love their enemies, I do not know. But I kept thinking that blessed are the peacemakers, for they will inherit the earth. When I accepted Otto's love, this great weight fell from my heart forever."
Since then, they have become, like all the German and Jewish members of One By One, close friends who travel and teach worldwide. In Europe, they work with Skinhead gangs and warn that in Bosnia all the children will suffer. Little acts illustrate their affection for each other. En route to the convocation from Krakow, Otto rented a bus in order to spare Anna the trauma of taking the train into Oswiecim.
The duality of horror and peace has allowed Anna to write a Holocaust drama, The Children of Terezin, and to have it performed by a cast of children from the progressive Odenwald School in Germany. Terezin (or Theresienstadt) was the "paradise" ghetto, used by the Germans to dispute the rumors of Auschwitz. Red Cross officials were greeted by sidewalk cafes, rosy-faced children, and symphony orchestras-"proof" that the Jews were being well-cared for by the "humane" Nazis. Of course, the dead and dying were kept out of view, for Terezin was nothing more than a holding pen for Auschwitz. Fifteen thousand children passed through Terezin; only 100 of them survived.
The play was performed for us by both an American cast and the German cast at the Auschwitz Museum Theater. During the curtain call, the young players stood before us, their faces lined with tears. We were saturated with emotion as each told how this play had changed their lives and the honor they felt bringing this message of remembrance to the world. Their youthful purity enveloped us as we finished this unforgettable week cleansed and filled with hope.
UPON MY RETURN to America, I have found the Auschwitz visit difficult to let go of. I have been placed in the unlikely role of lecturer, touring the Northeast and sharing at schools, seminars, churches, and synagogues. I reflect that while I never went to Auschwitz as an angry Jew (as some did), I returned a concerned American.
Suddenly I find the hate-chatter on the Internet intolerable. I can't so easily overlook the racist and homophobic slurs that seem habitual in Congress. I begin to comprehend that the Holocaust is not just some event in the past but a mentality, a state of mind, that can erupt anywhere.
A week after the Oklahoma City bombing, I was invited to speak to 600 high school students at the chapel of a prestigious New England prep school. They were, by reputation, a jaded crowd. I described the Auschwitz Museum to them and told the story of Anna and Otto.
On impulse, I drew a line between Auschwitz and Oklahoma and asked: Are not both the result of poisonous seeds of hatred being dangerously sown? Is not physical violence the end result of verbal violence? The Nazi hierarchy never personally harmed one Jew, but their words sent millions to their deaths. And while those who preach intolerance may hide behind the First Amendment, there is a higher law that will hold them accountable for the results of their words and deeds. My words seemed to hit home, for the applause was long and thunderous.
Today, I see America as a nation in desperate need of reconciliation between its wary and diverse factions. For the participants of the Convocation at Auschwitz, it is as though we have been called to proclaim a certain positive truth.
For people of conscience, this is no time to be timid, but to speak out fearlessly. The transformation of despair into hope that we achieved in the bleakest of places can happen here.
DANIEL A. BROWN is a teacher at Bernardston Elementary School in Bernardston, Massachusetts, and a freelance writer and photographer. To contact One By One, write P.O. Box 566, Milton, MA 02186.