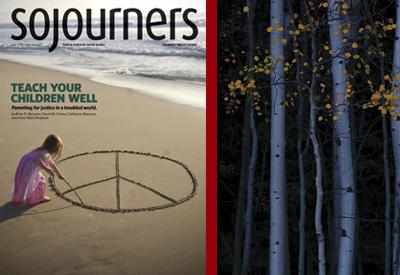 Jonathan Wilson-Hartgrove and Isaac S. Villegas are friends and fellow kingdom-bringers in Durham, North Carolina. Since publishing The Wisdom of Stability in 2010, Jonathan has been calling Christians to put down roots and pay attention to place for the sake of God's reign. Isaac has gently challenged him to recognize the dangers of stability and the way immigrants or marginalized members of a community are often excluded by those who "own their place." They offer their conversation as an invitation to discern with them a theology of place for our time.
Isaac S. Villegas: I was working alongside a little girl in our congregation's community garden at the women's shelter in Chapel Hill. As we were digging, she looked up at me and said that her mom warned her to beware of lice when playing outside. I reassured her that I hadn't seen any lice around, but I asked her if she knew what to look out for. "Yes," she said. "My mom told me to watch out for Mexicans because they bring lice." I looked down at my hands, wondering if my hue revealed that I'm from lands further south than Mexico. Will this child grow up to think that people like me don't belong in the South, that we are social contaminants, that our cultures dirty the body politic, that we spread lice?
These are the questions that linger in my mind when I hear my friend Jonathan argue for a recovery of "the wisdom of stability" in the Christian community. In this land where both Jonathan and I live, I'm uneasy when I hear "stability" because I see how such rhetoric belongs to a particular Southern tradition. I am the foreigner, of questionable lineage, that the people who've been here longer can reject or accept—reject because they think that I'm a threat to the stability of the community, or accept because they think I will contribute to a sustainable future. In either case, the assumption is that they are the ones entrusted with the land and culture. Arguments about stability have fueled people's claims to own or steward the land and their assumption that they are the gatekeepers of society, deciding who belongs where.
"I hope to reprogram your default setting," Jonathan writes in his book. "Our default is to move." Instead of movement, he points to the witness of trees, which serves as the book's focal image: "Trees can be transplanted ... But their default is to stay." I worry that to celebrate stability as the solution to movement renders recent immigrants as defective Christians—wild, unruly, in need of reprogramming.
Movement is my default setting: It's in my immigrant blood; it's the story of my family. While the wisdom of stability privileges the parts of the Bible that call us to permanency, I find good news in the biblical stories of wandering, exodus, relocation, and mission. These stories resonate with the lives of migrants—people who are not trees, but birds: always building and abandoning nests as they follow the seasons.
Jonathan Wilson-Hartgrove: Every writer needs friends who remind them that words can be dangerous. I'm grateful for Isaac, who keeps me thinking hard about what I'm saying and why.
Shortly after The Wisdom of Stability was published, I got a call from the director of a mission agency who'd read the book. He asked if I'd come and speak to the global gathering of the group's staff. I'd love to, I told him, but wondered why they thought a word on stability was needed. "Well, we have a problem in missions," he said. "We keep sending people who've never belonged anywhere. They don't seem to have much capacity to connect with the places where we send them."
In a hypermobile culture that has maxed out our technological ability without much attention to the long-term social and ecological consequences, I'm convinced that we're in desperate need of some Psalm 1 witnesses: people of faith who are like trees, planted by the waters, putting down roots in particular places, and building communities that advocate for the common good. On the other side of peak oil, everyone is going to be desperate for wisdom about how to stay well. The good news is that we have a treasure trove of wisdom in the literature of monastics, who've made vows of stability for more than 1,500 years.
But as I've continued to advocate for a recovery of the wisdom of stability, I've emphasized more and more that I don't think Christians should stay instead of go. Rather, I think we need to learn how to stay so that we can go well. The stability that's at the heart of scripture and the Christian tradition isn't opposed to mission. It is an integral part of it.
In the course of some people's lifetimes (I often use my granny as an example), we've moved from living in communities that are walkable to living in a so-called "global village." Humans have demonstrated our capacity to cover great distances. But we have forgotten the wisdom that teaches us when to go and when to stay.
Still, there's more to the story. Isaac has helped me see a consequence of hypermobility that many of us have ignored for a long time. Because technology is always connected to power, privileged people have often displaced vulnerable people. Native Americans thus became involuntary immigrants, African Americans were forced to endure the Middle Passage as slaves, and others became economic migrants in a global market where access was not evenly distributed. It would, as Isaac suggests, be incredibly unjust to consider any of this mobility "unfaithful." Instead, these migrants are the very people who may be able to help us learn what faithfulness means.
So as Christians try to discern a faithful and just way of life in a hypermobile culture, how does the immigrant experience teach us to understand our basic human need for place, for land, for a home? Isaac is right. We have to learn from the birds. But the wisdom of stability suggests that they, too, know something about the need to stay put. "If a bird abandons the egg she has been sitting on," the desert mother Syncletica said, "she prevents them from hatching, and in the same way ... our faith will perish if we go around from one place to another."
Villegas: I love Amma Syncletica's story about the mother bird. Jonathan tells this story at the end of his book as he shifts our attention to Mary, the mother of Jesus: "Mary demonstrates a fragile stability," he writes, "trusting God's interruption and making her nest in a borrowed manger." That's a wonderful way to picture the Christian life. We are like birds, making nests for life to grow; we are like Mary, borrowing a corner of the world in order to make room for the gospel to be born.
Yet, the story of Mary was a story of migration, of moving from place to place, of doing everything she could in order to keep her baby alive—a pregnant woman forced to move from her hometown, giving birth in a village of strangers, and fleeing in the middle of the night to protect her child from Herod's sinister plans.
And, yes, Syncletica told her people to build nests, but she was also part of a fourth century movement of migration from all that was comfortable and familiar. She pulled up her roots in the city of Alexandria, left behind the wealth and power of her family, and chose to live in a tomb. Her community had become toxic for faith, so she moved into the desert to form a new kind of Christianity where life in Christ could flourish.
If Syncletica shows us what it looks like to move with the Spirit, then we should always be ready to abandon our homes and relocate. For people who are living in the mission of God, there is no default setting for our lives when it comes to questions of geographic mobility or stability. Instead, faithfulness involves resisting the seductions of worldly power wherever we are, and such resistance may involve relocation, as it did for Syncletica. The same stories from which Jonathan discerns a call to stay can also give us the courage to move. There is wisdom in both ways of life.
The issue of mobility or stability is not what I find most central in the story of Syncletica. I am, instead, convicted by her decision to live in a tomb, to live in a place that has been given over to the powers of death. Perhaps that's what the Christian life should look like in our time and place: to let the Holy Spirit draw us into tombs, into the places where the forces of death seem to have dominion. As we dwell in these sites of desolation, we learn to hope and pray that the same God who raised Jesus from the dead would move in our midst, that we would bear witness to the power of resurrection. Like Syncletica, we can turn tombs into nests that welcome Christ's resurrection: nests, built for a season, as way stations for refugees and pilgrims who are being set free from the bondage of evil, from the chains of injustice.
Wilson-Hartgrove: Nearly a decade ago, when we invited new monastic communities from around the country to talk about patterns of life that we share in common, our gathering named "relocation to the abandoned places of Empire" as a mark we all valued. As Isaac says, people who live by the power of resurrection find their home in places of death and decay. Neglected inner cities and abandoned farmlands have been the fertile ground for our movement. It's no accident that Isaac and I work together here in North Carolina on Project TURN, a prison-based education program that invites people inside the walls and behind the bars to imagine with incarcerated friends what a new world can look like, right here in the shell of the old.
But as I work with people who are confronting America's system of mass incarceration, I find that they wrestle the same demons that the desert mothers and fathers did. Something deep in our gut says, "You don't have to stay here. Get out while you can." Yes, the Spirit drove Jesus and the early monastics into the desert to pray. They did, indeed, relocate. But the Spirit also gave them grace to stay put. Only by staying to face our fears are we born again to a new imagination.
I think this is why stability became a central vow of the monastic tradition. Generation after generation, communities of radical discipleship have witnessed the power of fear to overcome us as we face the systems of death. Yes, we have seen that love is stronger than death—that resurrection is possible in the abandoned places where we are. But we need practices to help us remember this. Stability, I think, is one of them.
But it's equally important to note how even the monastic wisdom warns against the dangers of stability. In the early days of the desert communities, vainglory and pride were identified as "bad thoughts" that could infect the mind of someone as she stood her ground in the struggle against the demons. In the Benedictine tradition, this pride of place led, in some cases, to the amassing of wealth and power and the corruption of whole communities. Reformers who made promises of stability wrestled with the question of how to live faithfully in light of these dangers. Their discernment returns again and again to two central practices of The Rule of Benedict: hospitality and humility.
If we're going to build nests where God's kingdom of justice and peace is welcomed into the abandoned places of our world, hospitality must be central. At the heart of this practice is the biblical reminder that we were once aliens and strangers ourselves. What's more, our Lord comes to us in the guise of the stranger, so Benedict reminds us to "greet every guest as Christ." That's not "be nice to every outsider"—a patronizing sort of hospitality—but "remember that every new person who comes along may be the gift that saves you."
This kind of hospitality is inextricably connected to Benedict's notion of humility, which is the ultimate goal of both the Rule and the gospel life. Monastic wisdom insists that we make promises, work hard, and devote ourselves to prayer for one reason and one reason only: to become like Christ. True stability, then, can never be a means to prop up ourselves or our group. It's always for the sake of the world.
Isaac S. Villegas is pastor of Chapel Hill Mennonite Fellowship and a co-author of Presence: Giving and Receiving God (Cascade, 2011). Jonathan Wilson-Hartgrove is author of The Wisdom of Stability and a new paraphrase of The Rule of Saint Benedict (Paraclete Press).