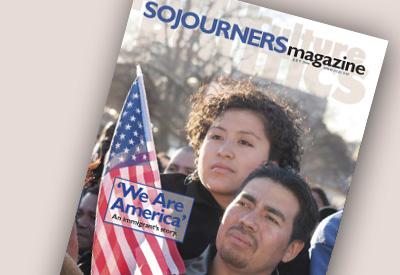 On May 1, 2006, as many as 800,000 immigrants flooded into the streets of Dallas and Chicago to demonstrate that their presence in the United States is neither insignificant nor to be taken lightly. Imagine the courage it took for these individuals to risk coming out of the shadows of our nation's underground and to openly declare their desire to be woven into the tapestry of the country with other immigrant citizens.
"The new immigrants seek precisely what has made our country great," said Jesse Jackson Sr. the following day. "They thirst for democracy and freedom, a job and security for their families, for citizenship rights, and to leave repression and poverty behind." Many of the participants saw participation in the march as an opportunity to go public with their deep desire to participate in the American dream.
In the red-hot debate over immigration reform, what often has been lost is the realization that we are talking about real human beings, and not commodities or statistics. The men, women, and children we so casually refer to as "undocumented immigrants" at best, and "illegal aliens" at worse, are in fact individuals created in the image of God.
We would like to introduce you to Patricia and her family. (Her name is disguised for her protection.) Patricia's own words about what it is like living in the United States without legal status might help us all to see the immigration issue in a more human light.
—Juan Hernandez and Noel Castellanos
When I crossed over with the three kids the first time, it was really difficult and dangerous. We almost died. The border patrol caught us and detained us for 12 hours. They didn't treat us badly or anything, but I felt terrified, because this was just not for me. Everyone else was calm because this had happened to them before, but I didn't sleep. I stayed up all night wondering what would happen if someone came in and took one of my kids. I was terrified. In the morning they sent us back to Nogáles.
The second time we went in a van. But they started to drive faster and faster, and the brakes failed. There were 30 of us in one van, and we were being burned by the heat coming up from the floor of the van. The children started to scream, and the guy stopped the van and told us, "Get out, get out, because the van's going to explode!" So we ran.
The crossing was much worse than Patricia could ever have imagined when she begged her husband, Antonio, to let her come join him in Staten Island, New York. Antonio had been in the United States, off and on, for five years before she arrived. The loneliness back in Mexico was nearly unbearable for Patricia, but there seemed to be no other choice. The family earned just $3 a day there, and the couple's lifestyle got worse, not better, with each passing year.
"Every time the kids advanced one level in school, our economic situation went down one level," she recalls. Patricia supplemented the income she received from her husband's remittances with pesos she earned here and there selling shoes and clothing. The economic struggle, combined with the pain of loneliness, started to drive Patricia to desperation.
Patricia: I spoke with my husband, and I said, "I don't know what to do, because it isn't enough money." He said, "No, but if you come here, we will be even less able to make ends meet. If we can't do it with you changing the dollars into pesos, here we'll die of hunger." And I just begged him over and over. I said, "Please, I want to go there with you. I can't be here for another year." I felt very alone more than anything else.
So we decided that I would come. I told him, "You're not going to regret this. If I say I'm going to the United States, I will have to make things work." And thank God, we're not rich, but our situation is good.
When she got to Staten Island, Patricia was determined to contribute economically to the family's well-being, as she had promised her husband. She started working as a babysitter's assistant for $20 per day. Shortly after she arrived, Patricia looked for a Catholic church. There they found a bilingual priest anxious to support them emotionally and to help them support themselves economically.
For Patricia, church has been an antidote to fear. After the trauma of crossing the border illegally, the support of her Staten Island priest has been indispensable to her emotional survival.
Patricia: About two months after I arrived in this country, I approached the church. I went to the father's office and introduced myself to him. I asked if he would please help me find work. He said, "Well, what do you know how to do?" And I said, "Father, in Mexico I didn't work; I was just in the house with my five kids, taking care of them." And he said, "What do you think you can do?" I said, "Well, I think here the one thing I could do would be to clean houses." He said, "Okay, if you want to work, I will have you clean the church." I felt like it was a great test for me.
The priest told Patricia that she did a great job. She continued to clean for the church. Six months later the priest said, "I have heard of some priests in the Bronx who help women with no jobs. I would like you to help me do something like that."
Patricia accompanied the priest to several meetings in the Bronx to observe the unemployed-women's groups. Within a month, Patricia had begun a similar committee at her Staten Island church. The group taught women tricks of the housecleaning trade and helped them figure out how much to charge their clients. Patricia was named committee president, and within a year the trainings had turned from furniture dusting to leadership building. By the end of the year, about 30 women counted themselves members of the committee.
Patricia: The father asked me if I knew how to cook Mexican dishes. He said, "If you want to sell at the church, you have permission." I decided to make tamales. Now a man named Ramón who has been going to the church for 20 years calls me "The Tamale Queen." Always green tamales with chicken.
The father has made me a representative of the women. For example, with the women who sell food at church, I am in charge of keeping everything in order. And when we want to give something back to the church—because the father has given us so much—the best thing we can give is our own work.
As in churches throughout the United States, this parish priest has been a one person first-response team to the immigrants his congregation serves. Rather than fight a losing battle against the changing demographics of Staten Island, the priest—who needed no census to tell him that the population of Mexicans in New York's boroughs had been exploding since the early 1990s—sought to bring the new community into his church.
For Patricia, the rewards of coming to the United States are beginning to arrive, slowly but surely. Her daughter attends college in New York City. The family's economic situation has stabilized, and they have rented a small house for the last seven years. English has not come easily to Patricia, who has invested more than $1,000 in books and videos to teach herself the language.
"I would like to be able to communicate with people," she explains. Sometimes she asks her bilingual children to speak to her in English so she can practice. "Even in Mexico," she recalls, "I always dreamed of learning English."
But one crushing day in 2000 it became clear to Patricia that she had not yet made it. Without a green card, she was forced to betray her most central value: her dedication to her family. When her father died suddenly in Mexico, Patricia was unwilling to risk the dangerous re-entry into the United States, and thus she could not leave the country to attend his funeral. If it were not for the support of the church, she said, she might have gone insane.
Patricia: It was [almost] fatal for me, that he had died so suddenly. The [priest] came, and he said, "No, Patricia, don't go. Believe me that if this were about money, I would find you the money. But I know that's not the only thing you need. You are not going to see your father, nor is he going to see you. So, we can pray for him, but we don't want to be worried about you." I was so sad, but I felt his moral support, that he was with us.
Everyone we know here on the island came to our house, and we were praying for my father to rest in peace. My mother-in-law died also, and my husband couldn't go to the funeral either. He lost his mother and I lost my father. I feel like I am in a cage. But everyone has supported us. Getting involved in a church is really a great help.
For Patricia, lacking the green card, the "papers," has been both inconsequential and crucial. "As my husband says, 'It's as if the papers were going to work,'" Patricia laughs. "But the one who does the work is me." And until the papers come, Patricia and Antonio will keep striving to achieve their goals without them.
Patricia: We have started our life, step by step, and it has taken a lot of effort. But we have achieved some triumphs that are like dreams to us, things we thought were out of reach because we don't have papers. But sometimes God has looked on us with merciful eyes. And there are people that have been able to help us, like the priest, for example. He has helped out all the immigrants here.
Patricia's story gives us a glimpse of the hazards that millions of undocumented immigrants must endure to survive in our midst, and the hopes that sustain them. It also challenges us to consider what it means to be a "good neighbor" to our immigrant brothers and sisters.
Like the priest and the Levite in Luke 10:31-32 (the parable of the "good Samaritan"), many of us in this country and in the church have come across individuals like Patricia and Antonio and their children. Instead of reaching out to help or get involved, we have shied away because of fear, ignorance, or indifference. And as we have crossed to the other side of the road to avoid dealing with our own convictions and actions, the Lord has sent "Samaritans" of every sort to demonstrate love and concern to our immigrant neighbors.
Today, it is time to go beyond offering service and compassion toward people like Patricia and Antonio to urging our lawmakers to reform our immigration system. Our deepest motivation is not to be on the right side of the political debate, but rather to show love and justice toward all our neighbors, with "papers" or not, as Jesus would have us to do.
Juan Hernandez is president of HispanA (www.hispanicorganization.com) and a former member of Mexican President Vincente Fox's cabinet. Portions of this article were adapted from his book The New American Pioneers. Noel Castellanos is director of the Christian Community Development Association Institute.