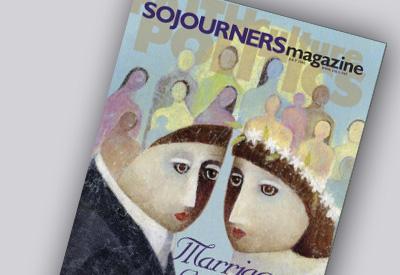 Joyce Banda, a widow in Zambia, is a vegetable trader who has AIDS and lives with her four children on less than $1 per day. She says, "Death has come to Zambia so I might as well give up on life." Levy Patrick Mwanawasa, Zambia's president, was quoted as having said, "At the moment the economy is insane." As one reads of these developments and sees them with one's own eyes, it seems easy to throw one's hands in the air and wait for death.
Is the situation really hopeless? It depends on who is doing the talking.
The vision of the kingdom of God is of creation brought to wholeness and a society in which the values of justice, peace, prosperity, and joy prevail. Isaiah 65 gives us a picture of this kingdom in which the people will enjoy safety and the produce of their farms. Social justice will triumph, and no World Bank or IMF will deprive the citizens of what is rightfully theirs.
The Micah Challenge campaign is an international anti-poverty campaign organized by the World Evangelical Alliance and the Micah Network, comprising hundreds of Christian aid and justice organizations worldwide. It aims to deepen Christian engagement with the poor and to influence leaders of the rich and poor nations to fulfill their public promise to achieve the Millennium Development Goals (MDGs), such as halving absolute global poverty by 2015. Therefore, the Micah Challenge calls Christians to lobby and advocate on behalf of and with the poor to increase and improve aid, drop the unfair debt burden on the poorest countries, and achieve a more just trading system.
The Micah Challenge is timely. Consider Zambia: About 80 percent of the population is poor, with 53 percent living in extreme poverty (less than $1 per day). Per capita income is $360. Thirty years of IMF and World Bank intervention in the Zambian economy have been a sad story of increasing debt, economic collapse, and social crisis. Most worrisome in Zambia's continuing debt crisis is that it is unlikely that Zambia will achieve any of the development goals.
JUBILEE CENTRE, a Christian movement in Zambia and a Micah Challenge partner, has been working with church leaders, encouraging them to shape a Christian worldview for Zambia. Each month "Will the Church Save Zambia?" discussions are held, averaging 30 pastors in attendance; so far 30 church leaders have signed up with the Micah Challenge. We send a weekly publication to more than 400 church leaders to deepen their engagement with the poor and to challenge them to influence politicians to serve the people instead of their pockets.
We have also been encouraging Christians to aspire to leadership positions in public affairs and to participate in community-based projects that uplift the livelihood of the poor by focusing on critical issues such as HIV/AIDS, poverty, water, and sanitation. For example, in Chibuluma, Zambia, the 30 people we trained formed an association that has become the political watchdog for the community. They also work with the local youth in the fight against AIDS.
In the past, evangelicals' action in the fight against prevailing social and environmental traumas - poverty, the HIV/AIDS pandemic, and the governmental corruption in most of sub-Saharan Africa - has been reactive rather than proactive. But in response to the Micah call, many of us are now committing to work together for the holistic transformation of our communities, to pursue justice, to be passionate about kindness, and to walk humbly with our God.
Lawrence Temfwe was executive director of the Jubilee Centre in Zambia and coordinator of Micah Challenge Zambia when this article appeared. Learn more about the Micah Challenge.