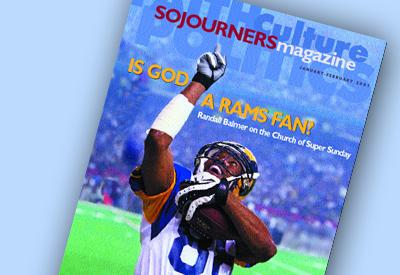 Top editors at The Los Angeles Times met one afternoon a few years ago with three reporters who specialized in religion news to talk about enhancing coverage of that delightful but daunting field—one that is now receiving more media attention than ever.
The L.A. Times gave good space to religion stories over the years. But the three of us were grumbling a bit. We worked in three different sections of the newspaper then, a situation we believed limited our ability to move fast on big national and regional stories. However, the only decision made that day was a letdown: On Easter, Christmas, Rosh Hashanah, and other major holidays, we were to make sure the Times had a story about it—to spare them a spate of reader complaints! Running a related article days ahead was fine, they said, "but write one to run on the actual day as well."
Writing holiday stories is a dreaded task for most experienced religion writers. We'd rather be explaining some new religious trend or scandal, profiling a new religious personality, delving into a religious-medical dilemma, or announcing a breakthrough in interfaith cooperation—events that stir our journalistic calling.
But the editors' discomfort over angry holiday complaints was not as trivial as it sounded. It reflected an important function of the news media—validating the religious (or political, ethnic, racial, economic) identity of readers who feel they and their values are noteworthy aspects of community life. People of faith want to see the media recognize via news coverage that religious expression is a significant American trait. "They want to see religion mainstreamed in the newspaper," said Stewart Hoover, a University of Colorado expert on religion in the news.
When it comes to churches, however, the feelings are mixed, according to a pivotal 1989 study by Hoover. Like other institutions, church bodies want to maintain control over descriptions of their symbols and stories, yet many also desire the validation and credibility conferred by appearing in the news. But going public with their news and views runs the risk of misinterpretation by journalists.
"This suggests that secular press coverage always will be somewhat unsatisfactory and unsettling for religious organizations and religious people," wrote Hoover. He noted also that "the religious press has a role to play in giving religious organizations an outlet through which they can tell their own stories their own way." Religious publications, of course, lack the wide impact of the secular news media. (The adjective "secular" should not be equated with "atheistic" or "anti-religious," even if cases of caustic commentators, careless writers, and bad headlines sometimes create that impression.)
IN 1992, I was asked by the then-new First Amendment Center at Vanderbilt University to research and write a study on tensions between organized religion and the news media. My partner was Rev. Jimmy R. Allen, a former president of the Southern Baptist Convention and the founder of that denomination's ACTS-TV cable system.
We concluded in Bridging the Gap, published in 1993, that there was little overt bias against religion in newsrooms, but that ignorance and avoidance of the subject by many journalists had led to inadequate coverage overall. For one thing, too few religion specialists were assigned to cover such a complicated topic. For another, general assignment reporters who should explain religious and moral aspects of major events often avoided doing so. The biggest reason was unfamiliarity with religious terms and contexts. Our survey found that clergy agreed that wrongdoers in their ordained ranks or church leadership should be exposed in the news. However, without a fuller range of religion news getting reported, the media portrayals of religion seemed to emphasize scandals and stereotypes. Both conservative and liberal critics were unhappy.
The atmosphere for religion coverage has improved since then. The economic recession bottomed out, gradually permitting news budgets to grow at a time when "spirituality" had become socially popular. Allusions to God and faith did not link one automatically to the Religious Right. It was becoming safe for religion again, even in television programs and in the movies.
Bridging the Gap's release had coincided with other calls to rectify news media deficiency. The drumbeats emboldened a number of people with such concerns. ABC's Peter Jennings pushed his network to hire the first full-time religion correspondent, Peggy Wehmeyer, in the winter of 1993-94. Lilly Endowment gave money to National Public Radio for regular religion reporting and has spent more than $20 million since 1996 on the excellent Religion & Ethics NewsWeekly. The number of newspaper, magazine, and wire service religion writers and editors has grown, reflected by growing membership in the Religion Newswriters Association and by reports of expanded religion sections and heightened page-one coverage of religion.
For example, a 1999 canvass of a few hundred U.S. newspapers by the First Amendment Center found that 190 said their coverage of religion had increased in the last six years, 83 said it remained about the same, and only four said their coverage had somewhat decreased. The number of full-time religion reporters at papers responding increased from 57 to 92, while part-time religion reporters went from 95 to 163.
EXACTLY HOW WELL the news media are covering religion is very difficult to determine—mainly because there are so many news sources available. Even the best-fed consumers have only four to five "kitchens" dishing up their regular news diet. Aside from popular news items about faith leaders—that is, spiritual celebrities such as the pope, the Dalai Lama, and Billy Graham—decisions on what religion news to use are in the hands of countless reporters, editors, and producers around the country. Most of us miss wonderfully perceptive religion stories in The Atlanta Journal-Constitution or Denver Post, on the AP wire or Religion News Service, or a feature widely used by television stations in the Bible Belt.
To be sure, the sweeping remark "The media didn't cover X very well" can be justified if a major event was overlooked or fumbled by the biggest print, broadcast, and cable outfits. On a major story, the best-known media companies tend to set the pace. Others follow suit to stay competitive.
A study released in early 2000 by the Garrett-Medill Center for Religion and the News Media sampled the religion news content of The New York Times and USA Today; Time, Newsweek, and U.S. News & World Report; CBS, NBC, ABC network news and their Chicago affiliates; plus the two Chicago daily newspapers. Researchers found that the quantity of stories "about religion, spirituality, or values" ranged between 11 percent and 20 percent in those media, though most were not prominently played. Nor were those three elements "the primary focus" of the stories. Many stories were international ones, such as the warfare in Kosovo, in which religion was an incidentally cited element. The reporting did not appear to be biased but generally failed to provide needed theological or historical context, the study concluded. In addition, short shrift was given spirituality per se and faiths outside Christianity, Judaism, and Islam.
Regarding stories lacking theological or historical context, the complaint fits most TV coverage on most topics. Even in newspapers, the knowledgeable reader often finds reporting in her field short on detail; such are the limits of the mass media.
The low proportion of stories about Eastern religions and other movements arises partly from the relative lack of "hard news" occasions. It is ironic, however, that the Garrett-Medill report said that the three major Western religions "nearly monopolize news about religion…." Fifteen years ago, except for stories from abroad, Islam would not have been described as a monopolizing newsmaker. In the last decade, American Muslims frequently have made news with action—protests of bias, political activism, and the building of mosques in city after city.
It often takes a tragedy for lesser-known religious groups to be noticed. Thus, their internal squabbles can often escape notoriety, and by the same token, the groups often suffer anonymity when they achieve something. Just ask leaders of small colleges, local businesses, and minor sports how that goes.
Consumers will continued to see the media as irresponsible at times for giving space or air time to radical-sounding voices. But religion specialists must keep scrutinizing "sacred cows"—who better? Once lawsuits and church censures opened thedoors for news on child molesting and pastoral philandering, people realized there was a value in such exposure, however painful.
People in religion have a way of keeping quiet about other things, too, that might better be examined by reporters. The National Baptist Convention, U.S.A., was listed at 8.2 million members in yearbooks, but few pressed that denomination for a statistical breakdown to see whether it was really much smaller. Only after denomination President Henry J. Lyons was jailed for money swindles did reporters cite a prosecutor's claim that the membership figure could be as low as 1 million.
Investigative reporting is time-consuming. Thus, on religion or other topics, reporting usually will fulfill other duties—keeping up with what's new, providing forums on contested issues, squelching false reports or bloated claims, producing engaging features, and, yes, noting all the religious, ethnic, and public holidays. Nothing wrong with meeting expectations, though the stories with the best chance to be reported contain unexpected twists or merit adjectives like first, biggest, earliest, and the like.
Religion reporters also can be forgotten players on some stories. The Miami Herald goofed in 1998 when it assigned two political reporters to cover Pope John Paul II's historic visit to Cuba, said then-publisher David Lawrence. The assigning editors overlooked the paper's religion writer, apparently assuming that the political implications greatly outweighed the visit's religious significance.
WHAT'S AHEAD? The short-term trends are toward more-sophisticated religion reporting. Objectivity, fairness, and balance persist as goals in U.S. journalism circles. But bigger questions center on the coming shape of news.
Author David Halberstam said that when he started to write The Powers That Be in the early '70s, print and broadcast journalism seemed to be at a high-water mark. Even as he finished the book about big media outlets, Halberstam wrote recently in Brill's Content, profound changes were taking place as the children of television assumed positions of importance. Now, of course, the children of the Internet will become the managers and consumers of news media and entertainment. Stories are shorter but inquiring minds can be referred to more detail on Web sites and other click-of-a-button places.
How will religion be perceived in 21st-century America? Alliances have been shifting: For a time it was denomination vs. denomination. Now, on social-cultural issues, it's conservative Catholic, evangelical, and Orthodox Jewish allies vs. various bedfellow liberals. Tomorrow, I believe, we will see "believers" (Christian, Jewish, Mormon, Muslim, Hindu, New Age) vs. "non-believers" (atheists, agnostics, free thinkers, secularists, areligious) attracting news attention.
If religious literacy continues to slide, then editors and producers may feel that religion specialists are unnecessary. Religious nuances might seem irrelevant when all one needs to know is if a group's members are believers or non-believers.
Yet the resiliency of U.S. churches and other faith traditions during the last century was remarkable. That things will change is a certainty in which we scribes find comfort, even if a decade or so down the road we on the "metaphysics beat" are writing for Worldview.com.
John Dart, news editor of the Christian Century, covered religion for three decades for The Los Angeles Times. He is the author of Deities & Deadlines.