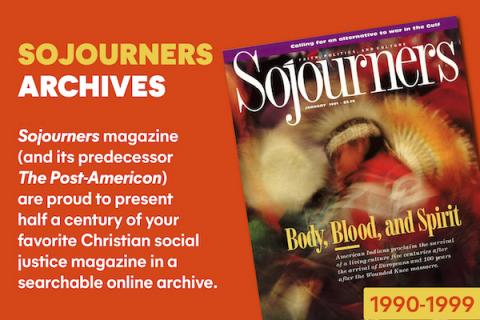 In our hearts many of us already live in a post-nuclear era. We so yearn to be free of nuclear fear that our imaginations have leaped ahead to the future. With the menacing dangers of the 1980s seemingly past, we no longer even think of the bomb. We want to believe the president when he says that our children really can sleep safely at night.
But troubling realities intrude and shatter our dreams of security. Nuclear tests in India and Pakistan. Israel's formidable nuclear arsenal amidst the cauldron of Middle East tension. Atomic ambitions in Iraq, Iran, and North Korea. Continuing doubts about the security of nuclear weapons in traumatized Russia. While the threat of thermonuclear attack on the United States has diminished, the risks of nuclear weapons being used somewhere in the world are probably greater now than at any time in the nuclear age.
The United States is a major part of this huge problem, with nuclear weapons as the cornerstone of U.S. defense policy. The U.S. nuclear arsenal stands at approximately 15,000 weapons, and even after all currently planned reductions are completed (in the year 2007 or later) the United States will retain some 10,000 nuclear bombs. More ominously, the role of the bomb in U.S. military doctrine has expanded, and the potential uses of nuclear weapons have multiplied. A December 1997 Presidential Decision Directive extended the role of nuclear weapons to permit their use against countries possessing chemical and biological weapons, against nations with "prospective access" to nuclear weapons, and even against "non-state actors." Under this extraordinary but little noticed doctrine, nuclear weapons can now be used against so-called "rogue states" or terrorist groups suspected of possessing weapons of mass destruction. Nuclear weapons, far from fading away, have taken on frightening new roles and seem destined to remain a permanent and increasingly central element of U.S. military strategy.
In response to these alarming trends, a new citizen's movement for nuclear sanity is emerging. This new movement is avowedly abolitionist in purpose, consciously drawing a moral parallel to the earlier historic struggle against slavery. The new abolition movement is based as much on hope as fear. It sees the end of the Cold War and collapse of the Soviet Union as a golden opportunity—what Jonathan Schell has termed "the gift of time"—to achieve a future free of terror and the fear of annihilation. The new movement is motivated by a passionate yearning to escape the untenable moral dilemma of a defense policy predicated on the threat to annihilate tens of millions of innocent people.
MANIFESTATIONS OF THIS NEW movement are evident among former officials and prominent experts. The leading voice is that of Gen. Lee Butler, former commander of U.S. nuclear forces, who in December 1996 stunned the arms control community and the political establishment with an eloquent speech at the National Press Club calling for the complete elimination of nuclear weapons. Butler was joined by 60 retired generals and admirals from the United States, Russia, and other countries in an appeal for nuclear abolition. In January 1998 more than 120 world leaders released an additional statement urging abolition. Among the signatories were 52 past or present presidents and prime ministers. Both statements were organized by the State of the World Forum under the direction of former Sen. Alan Cranston, who has played a central role in the emerging nuclear abolition movement. Other recent actions include:
In July 1996 the International Court of Justice in the Hague declared that the nuclear weapons states have an obligation to negotiate in good faith for nuclear disarmament.
In August 1996 the prestigious Canberra Commission released a detailed report arguing for a step-by-step process toward the elimination of nuclear weapons.
In December 1997 the U.N. General Assembly adopted a resolution urging negotiations for a convention to outlaw nuclear weapons.
Last June eight nations issued a joint declaration calling for a world free of nuclear weapons.
As welcome as these international efforts may be, they are no substitute for political pressures within the United States. The United States first developed and used the bomb, and it has a special responsibility to end the nuclear threat. If American political leaders can be convinced to support abolition, other nations will follow suit.
Bringing about such a change will require a massive mobilization of grassroots awareness and pressure. However valuable the many elite statements for disarmament, these declarations are not sufficient to overcome the entrenched power of the nuclear establishment. Politicians will not act unless they are pressured to do so by an informed, articulate, and well-organized citizen constituency. Public opinion polls show widespread support for denuclearization, but this sentiment must be turned into active citizen involvement if change is to occur.
FORTUNATELY there are encouraging signs of re-emerging nuclear activism in the United States. Perhaps the most striking manifestation of this new movement is the statement "The Morality of Nuclear Deterrence," organized by Pax Christi USA and signed by nearly 100 U.S. Catholic bishops. Issued in June 1998, the Pax Christi statement challenges the moral and political validity of deterrence in light of the end of the Cold War and the collapse of the Soviet Union. The statement urges the United States and other nuclear weapons states "to enter into a process leading to the complete elimination of these morally offensive weapons." "Nuclear deterrence as a national policy must be condemned as morally abhorrent," the bishops' statement declares. "We urge all to join in taking up the challenge to begin the effort to eliminate nuclear weapons now, rather than relying on them indefinitely."
Other evidence of renewed disarmament activism can be seen at the grassroots level. Dozens of cities and towns have passed resolutions in favor of nuclear abolition. More than 120 people attended the conference "Bottling the Nuclear Genie" in Chicago in October 1998. Some 300 people attended an abolition conference in Cambridge, Massachusetts, in October 1997. One of the most interesting recent actions was the Vermont Walk for Nuclear Abolition, organized in August 1998 by the American Friends Service Committee. The Walk began with a August 15 rally of 200 people in Montpelier and continued for seven days with about 100 people trekking 93 miles to Springfield. Along the way walkers distributed flyers informing local taxpayers how much of their income taxes are spent on nuclear weapons, an amount which in some towns equals half the local municipal budget.
Also in New England local groups are planning to bring the nuclear abolition issue to local town meetings. For the first time in history, Americans will have an opportunity to vote on getting rid of nuclear weapons. In March 1999 voters in 22 communities in Vermont and Maine will be asked to consider a resolution urging the elimination of nuclear weapons. The same resolution will be brought to additional New England town meetings in the year 2000. The nuclear freeze movement began in a similar way in the early 1980s, when local organizers in New England succeeded in winning support for the idea of a bilateral freeze on the arms race. Today a similar tactic is being employed to address the question of abolishing nuclear weapons altogether.
In October 1998 more than 50 people from 25 national and regional organizations, including Sojourners, gathered in Chicago to discuss the creation of a U.S.-based nuclear abolition campaign. The assembled organizers agreed on the need for an abolition campaign and formed an interim coordinating committee to create the necessary decision-making structure and program strategy. Many of the participants expressed enthusiasm for a proposal from Jonathan Schell to build wide public support for a simple resolution, "Resolved: that it should be the policy of the United States government to proceed speedily to a world without nuclear weapons, and to work actively with other governments to achieve this goal by a time certain." Under the Schell plan, peace groups would approach civic organizations of every kind and ask that they ratify the resolution and appoint an ongoing committee to work actively for nuclear abolition.
The task of changing U.S. policy will be a long and difficult one, requiring a multiyear campaign of persistent commitment. The post-nuclear age that we yearn to see will not arrive without determined citizen action. The times are ripe for such a movement, though, and the concept of abolition is gaining legitimacy. We have "the gift of time," but there is also a race against time as nuclear storm clouds threaten. Let us seize the opportunity before us to make a new beginning toward a safer and more secure world without nuclear weapons.
DAVID CORTRIGHT is president of the Fourth Freedom Forum and former executive director of SANE.
For more information on nuclear abolition and the work of David Cortright, check out these sites:
Forth Freedom Forum - Advocating freedom from fear of war and weapons of mass destruction.
PeaceAction - A national and grassroot citizen action group working for nuclear disarmament and reduced military spending. Formerly SANE/FREEZE.
Nuclear Misdirection: The Cold War's Over--the Threat Isn't - By David Cortright. Sojourners, March-April 1998. Commentary.