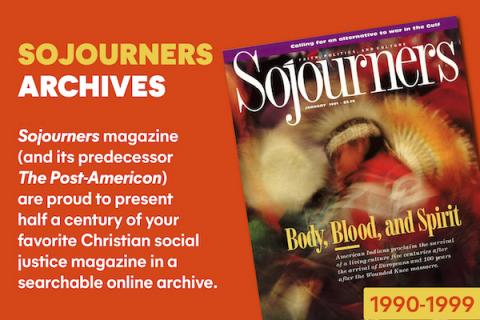 In Numbers 10 we read: "And the Lord said to Moses, make two silver trumpets for the calling of the assembly and for the journey of the camp. When you blow an alarm, the camps shall set out."
When the children of Israel were camping in the Sinai wilderness about a year after their deliverance from Egypt, the camps and the tribes were scattered, and there was a problem with communication between the camps. So God instructed Moses to make two silver trumpets and to use them for communicating commands from one tribe to another. The trumpet blowers used several sounds to signal different activities for the people to participate in.
When they blew only one silver trumpet, it was for the leaders to come together to work or because there was a conflict that had to be addressed. When they blew both silver trumpets, it was to summon the entire congregation to meet, worship, and praise God at the Tabernacle. Whenever Israel heard this sound they knew not to get weary because there was a camp meeting in the Promised Land.
However, there was a third sound on the silver trumpet; this was an alarm. These were urgent notes. When the people heard this sound, they knew it was time to break camp and move on to their ultimate destination of Canaan. When that alarm was blown, the camp had to move out.
I offer the analogy of Jean Sindab as the blower of a silver trumpet. Like David and Queen Esther, she was chosen by God to blow the trumpet for the calling and empowerment of leadership, and for the people to stand before God in praise, in struggle, in obedience, and in thanksgiving.
The trumpet players were never ordinary. Their presence guaranteed for them recognition and rank. They only had to enter a room for others to know how ordinary they were in comparison to them. You knew Jean was a queen before you knew her tribe or the location of her inheritance.
But Jean never forgot who she was or where she had come from. To know her was to know Brooklyn, New York, where she grew up. Jean took us back to her roots, to her story, to the joys and pains of growing up black, female, Christian, and proud.
Our trumpet player was rooted in family. She loved her mother, grandmother, Debra, her sisters, her nieces and nephews, and all of us who became her extended family of sisters and brothers. From this circle of family, she received the love and support that she needed for blowing the silver trumpet in the barren terrain of the desert.
This trumpet blower was clearly God-centered. She knew that her power and authority came from God, who called her into existence. Jean knew that God's hand was upon her through her history, experience, pain, and joy. Therefore, she did not compromise her convictions or her faith. She stood up for what she believed in and knew that there is no cheap grace. She had been rescued for a reason and set free for a purpose. Jean knew that she had been bought by a price. She was eminently qualified to blow the silver trumpet.
WHEN WE WERE DIVIDED by race, gender, or class, Jean would blow the silver trumpet and remind us to leave our narrow spaces and polarizing closets. She would claim the ground of friendship where we could reach out and get to know each other—experience each other's dreams and aspirations, sufferings and struggles, cultural traditions and values.
When leadership was fragmented, isolated, and divided, she would sound the trumpet and remind us that we don't have time for petty jealousies, grudges, or hating each other. She made the connections, saw the linkages, and forged common strategies toward a world of justice and peace that respects the integrity of creation.
But her trumpet was never as clear, as passionate, or as poignant as it was when it centered on our youth. She knew that we had to bring our young people back from the fringes of society where they had been pushed. Jean understood that it is really hard to turn your life around. She believed that God had saved her for a purpose, and so she became an advocate for young people who were members and former members of gangs, male and female.
In meeting after meeting, Jean brought young people to the table to tell their stories, and she knocked on doors to raise money for their programs. One of the last conversations we had was about a young woman she met in Kansas City, Missouri. Her thoughts were of her and her welfare and who was standing with her.
As we entered the last of the 20th century, we needed our trumpeter as never before. We needed her wisdom, her spirit, her passion, her anger, her vision, her convictions. We needed our sister, aunt, godmother, friend, and colleague to prop us up on every leaning side.
But in 1995 the trumpet blower herself became aware of a sound, distant at first, but soon growing stronger and stronger. As 1995 drew to a close she recognized the urgency in the sound. It was the alarm. This time the trumpet was blowing for her, and she knew what it meant.
It was time to break camp, to move on to that place which God was preparing as her final destination. And so after putting all things in order, Jean quickly passed over. She passed through the Jordan with her head held high. She crossed too quickly for any watcher to see her break her stride.
Now we stand here breathless, still reeling from the mighty power of God's spirit in her and desiring more. In the twinkling of an eye, God called Jean home, leaving all of us who were left behind unprepared. We were not ready for her to go. She had too much to do, and we still needed her. She was a woman for all seasons but especially the season we now experience.
WHAT THEN CAN we say? We can say with our brother Paul to the Romans that death is not the final word, love is! We can say that there is nothing in this present age nor the age to come that can separate us from the love of God which is in Christ Jesus, our Lord.
Jean's death is not the final word. Beyond the moment of her death is a circle. And what a circle! It is a circle of love—all of the love that she invested in family, in all of us, in her commitment to justice. Jean's circle of love is not simplistic or sentimental. It is a tough love, a truth created out of her passion, her anger, her vision, her compassion, and her ability to see and love in us that which we often did not see or love in ourselves.
The circle of love that she leaves as a legacy to each of us was created by her tears, her large and encompassing heart, and her strategic mind. She was able to discern the demonic nature of persons and institutions to destroy the human spirit and, at the same time, the possibility of persons and institutions to work for systemic justice and to advocate the dignity of all life.
If you look beyond her death, you can perceive the circle of love. It is a love that embraced differences rather than sameness. In that circle are many of us who would never speak or walk with one another. Jean had a way of drawing us close to her, and because of our love for her, we drew closer to one another.
We all felt like her sister, her brother, her best friend. We laughed with her, cried with her, told our personal stories, drank from her deep well of wisdom, and we strategized with her for justice and survival.
Jean provided the space for us to exhale, to center, to focus spiritually, mentally, and physically. Even from her sick bed, she was fine- tuning the circle of love, caring for us, mentoring us, giving us advice and hope.
In the last year of her life, that love she so freely gave came full circle. It surrounded her and held her when she lost hope; it nurtured and affirmed her when she asked the question, Why? It healed her as she soared on its wings and prepared herself in body, mind, and spirit for her homegoing with the one who created and authored her. Death is not the final word, love is.
What then can we say? We can say with assurance that death is not the final word, God is. Whether we live or die we belong to God. Jean was rooted and shaped by her deep and abiding spirituality. She believed that with God all things are possible and that without God nothing is possible. She would say to us over and over, "The will of God would not take us where the grace of God would not keep us."
She faced the mountains and valleys with courage and strength. Her spirituality and her knowledge of God was shaped and defined by her search for justice, wholeness, and freedom. She knew and believed that in life and in death she belonged to God. Just beyond her death is her legacy to us of God-centered existence that allows us to press on and sustain hope in the midst of chaos and despair.
What then can we say? Death is not the final word, hope is! Beyond the cross of Good Friday lies the good news of Easter Sunday—new life, new hope. The circle is never broken. The coffin and the grave simply have her body, but her wonderful spirit of hope is soaring free. Her spirit is with us.
We are therefore surrounded by a great cloud of witnesses—persons who heard the trumpet sound, broke camp, and headed for a new city. We are surrounded by women who received their dead by resurrection, the founders of our faith Sarah and Abraham, Rebekah and Jacob. We are surrounded by all those saints of the faith—her mother, grandmother, Martin King, Fannie Lou Hamer, Faith Evans, and now Jean.
They are here. They surround us at precisely the moments when the way ahead seems most difficult. They fill us with courage, strength, and life. They surround us so that we can move into the struggle that they helped to establish.
What then can we say? We can say that this is not a time for mourning, this is a time for rejoicing. Jean was a gift from God, and Jean's investment of her life for justice was the gift and stewardship that she rendered back to God. I know that in the last days of her life, she was ready to lay down her earthly body and take on her heavenly presence with all the saints that have gone before. Her pain has ended, the time of trial and tribulation is over. A silver trumpet is passed from one who had fought the good fight and finished the race.
TODAY, WE ARE BEING asked to take the trumpet and sound a clear and certain call for justice. Let the leadership assemble; let the entire congregation gather in worship, praise, struggle, and thanksgiving. Let the trumpet sound here in Riverside and throughout this nation and globe.
Jean, the trumpet has been passed. We have positioned ourselves to make the journey into the 21st century. Your day is over, ours is nearly so. Our weeping is here for this night, but joy will come in the morning. For when the morning comes, all the saints of God will gather home. We will meet Jean again, embrace, sing a song, and then tell the wonderful story of how we've overcome.
Until that day, let us be faithful to the work that Jean did, let us be true to the faith in which she found so much strength, let us sing the songs she sang, tell our stories, and let us keep on reaching for the dreams she lived and died for.
Jean, your name and your mark are deeply etched upon our hearts. You are a part of our story. Thanks be to God for your life, love, faith, and witness!
YVONNE V. DELK, a Sojourners contributing editor and executive director of the Community Renewal Society in Chicago, preached this eulogy sermon at Riverside Church in New York City at Jean Sindab's memorial service on January 12, 1996.