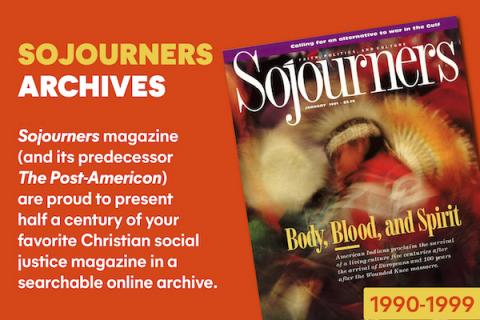 In the breadth of her person, and in the specifics of the projects that she undertook, Jean Sindab wove together the long, proud lineage of struggle for economic, racial, and social justice with the increasingly urgent impulse to protect the natural systems of the planet in response to the escalating environmental crisis. In bringing these two great rivers together, she helped envision and lead a movement for environmental justice in the context of her Christian faith.
Jean was a moral compass in this work. Never again will the nexus of these issues be absent from the ministries of our country's great religious institutions, and, from hereafter, our shared understanding of their meaning will be shaped by who Jean was and what she taught us.
Jean worked to increase the churches' engagement with the environmental crisis because she believed it was a crisis of spirit and a crisis of community. She ensured that these final projects reflected so much of what she cared about. She became the living embodiment of the word "ecology," which literally means "that which binds together."
So often, Jean was that which bound together. She stretched us to deepen our intellectual and political connections between issues while simultaneously deepening the bonds of candor, trust, and vision among those gathered to do the work. Jean was a woman of great compassion, able effortlessly to connect the suffering of our inner cities with the devastation of the rain forest, intuitively knowing the close relationship between the toxic waste poisoning our neighbors and friends and the poisoning of the sky and sea.
That, then, is part of her legacy to us: Ecos. Holding the whole. She called us to let our hearts break, again and again, as she did, opening to the magnitude of the pain and then acting to relieve suffering in all its forms. And then she called others to action. And then she bound them together. Jean created community everywhere she was, finally creating the grand community we are gathered in today.
MORE AND MORE IN our meetings these last few years, Jean spoke primarily in spiritual terms, reminding all of us that the root of the work is love: love for ourselves, love for one another—all of the others—and love for the earth itself. In the end I believe that kind of utterly devotional love, as Jean practiced and taught it, is a profoundly radical kind of politics. Radical and difficult.
It is a politics of total inclusion, demanding a selfless and constant sense of service. It is a politics of witness and a politics of connection. It is a politics to protect the dignity and integrity of the whole. Jean told me the week before she died that it would have been far worse than death for her if she had not been part of the great walk for justice, and that she had to be willing to risk everything in the name of the struggle. Jean's courage and commitment was that total. She called us to a politics of total surrender.
As Jean lived it, this journey into ecology is ultimately the politics of communion, acting all in God's name. The week before she died, she showed me the Bible verse she had beside her bed during her time of passing. From Isaiah 49:15-16, it reads, "See, I will not forget you. I have carved you in the palm of my hand." She actually lived a life in testimony to that truth, choosing again and again to do God's will.
I believe this call of her final work, her ability to bind it all together, has enormous power and hope. It is a call to deepen our faith and our faithfulness, to deepen our capacity for joy. I believe it is our responsibility and privilege to carry it on. I know that every time we speak for these truths, and let our hearts break, and come together, she will be with us. And on the day when sweet justice finally comes, I believe the wind will sing her name.
AMY ELIZABETH FOX is a consultant in Cambridge, Massachusetts, on projects that bring together spirituality and social action. When she offered this tribute at Jean's memorial service, she was associate director at the National Religious Partnership for the Environment in New York City, a coalition of faith communities working for environmental sustainability and justice, co-founded by Jean Sindab.