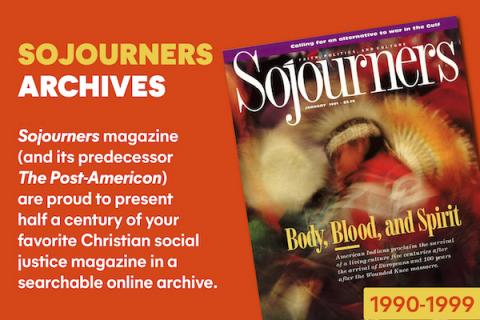 On October 16, 1995, more than a million black men, young and younger, old and older and the stages between; prosperous, accomplished, striving, and struggling; representing every denomination of the religious spectrum and every possible phase of African-American male experience, including some recently released from jail, converged upon the Mall in Washington, D.C. Vincent Harding speaks truth when he refers to the Million Man March phenomenon as the "manifestation of a hungering and thirsting after righteousness" and quotes the electronic testimony of a marcher, "The Spirit Lives!"
Indeed, the power that has defied every attempt to reduce it to language is profoundly spiritual. Those who were present try to describe it and those who watched on television understand because it was visible and audible and tangible even through the television screen. What was it? The power was transcendent-profoundly greater than any single participant or leader or spokesman. It was imminent-as wholesome and intimate as the hug of brother and brother and father and son.
What drew so many black men from so many places to this sacred pilgrimage? The call to march touched a deep-seated yearning within African America.
For more than three centuries, black men have been vilified and demonized in this country. The breaking-in process after the horrific Middle Passage intended to destroy the identity of those men and women from Africa. They were stripped of name, language, family, and the practice of their faith.
The process has continued in the latter 20th century. The predominant media image of black manhood has been either criminal or foolish. The repeated recitation of negative data would have the world believe that African-American men are in jail, on drugs, selling drugs, and intentionally irresponsible. To be sure, there are too many who fit the popular description. But they are not the majority of black men.
Just as black men and women during slavery managed to hold onto and declare their true identity and proclaimed through their spirituals and narratives that they were children of God, so black men gathered on the Washington, D.C. Mall, responding to a deep and abiding need to assert their own identity. They declared: We are African-American men! We are diverse in age, appearance, and circumstance. We are not criminals. We are committed to responsibility and progress. And the positive, powerful spirit generated in them and through them-a spirit which was theirs and at the same time beyond them-spoke of power and possibility and potential even for those who presently fit the negative description.
THAT IS WHY I, a womanist, Christian ethicist-a black woman liberationist-could support the Million Man March. I saw and heard and felt the yearning of the men in my life and work to say, "This is who I am." Only black men can proclaim their own identity as black men. That is what they did. Black men gathered one million strong and defied the attempt of others to define them! They named themselves.
A further need was quietly expressed by men preparing to march who I know have renounced patriarchy and are working on their own sexism. This was the need to make a statement "for ourselves, by ourselves." We do not like to talk about it. However, there are ways in which African-American women have tried to compensate for the assault upon black men by the dominant society.
Sometimes we have been so protective of our sons, so desperate to keep them out of the hands of hostile police and others, that we have not allowed sufficient space for them to take personal responsibility for themselves. We have in some instances forgiven brothers too much and understood too much, and in the process weakened rather than strengthened many of the men in our lives. Millions of black women were proud to see black men stand for themselves.
There is a third reason why many black women supported the pilgrimage of black men. There are blessings in the solidarity manifested among the marchers, which will benefit the health and well-being of African-American men. That solidarity has too often been fractured by the obsessive individualism in American culture. That individualism is dangerous for oppressed people who struggle for survival and liberation. It separates and isolates people who need each other.
Black women have been better at claiming the space for affirmation of sisters by sisters. We believe that the more black men learn how to brother-each-other the healthier they will be. Their life-expectancy may be impacted in a positive way.
Finally, I must make it abundantly clear that while as a black woman I could understand and support the March of Men on October 16, the survival and liberation of our community requires the equal partnership of black men and black women in the family, in the church, and in the community. There is no place in our forward-movement for the misogyny too often demonstrated by some march organizers.
The hatred of women, however dressed it may be in chivalrous garb, is absolutely destructive to women, men, and children. It must be totally purged from the hearts, minds, and practice of all who will function effectively in the continuing struggle for liberation and development in which the Million Man March was a powerful part. We will move forward as women and men-
as diverse as we are as a people-committed to each other, our community, and our posterity, faithful to the memory of our ancestors and to the glory of God.
PRATHIA HALL-WYNN is associate dean of the Doctor of Ministry program at United Theological Seminary in Dayton, Ohio, and pastor of Mount Sharon Baptist Church in Philadelphia.