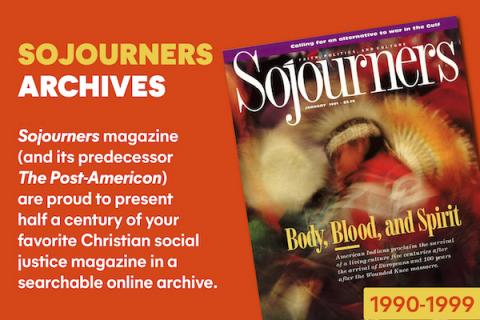 ALTHOUGH THE FICKLENESS of our country's public attention-span might have tempted us to file away last October's Million Man March as a piece of semi-ancient history by now, it seems clear to me that such careless inattention would be a serious mistake. For there was a profoundly moving truth in the words of the local march participant who came home that night filled with the excitement of a transformative day and posted these words for his computer-network companions: "The Spirit Lives!"
While I was 2,000 miles away from the Mall in Denver, and had to wait until I arrived home that evening to watch the videotapes that my family had lovingly made for me, after hours of intense electronic participation I arrived at the same conclusion. What glued me to the screen almost until dawn was the sense that I was witnessing an overwhelming manifestation of a great hungering and thirsting for righteousness. These erect and thoughtful brothers (and the sisters who shared the day) were surely on pilgrimage, responding primarily not to Farrakhan and Chavis, or to any other of the platform party, but seeking to answer a relentless spiritual calling that was rising up from deep levels of their being, a calling that they often found hard to articulate in words.
But in a land where words are cheap commodities, the black pilgrims did not need ordinary language. Everywhere they gathered-in airports, train stations, churches, mosques, and bus depots-they communicated in benevolent glances, in smiles and tears, in handshakes and hugs, offering new examples to the many children they brought with them. And when they did use words they often chanted, sang, and prayed half-forgotten songs, petitions, and hopes.
One pilgrim in his 20s was deeply moved by the spontaneous rallies that almost organized themselves in the Howard University area on the weekend before the march, as cars, vans, and buses of men and boys came into the area. This young man, Otis Moss III-whose father had worked closely with Martin Luther King Jr.-was most deeply impressed by one of the impromptu weekend rallies where
the temporary leader (whose father had developed a significant black nationalist movement in Brooklyn in the late 1960s) said to the hundreds of mostly young men who had gathered shoulder to shoulder in a parking lot: "Now, turn to someone you don't know and hug him, and say, 'My brother, I love you.'"
"I never saw so many strong men crying in my life," Otis reflected. For him these were tears of great expectations and infectious joy, tears that come when you are literally touched in love by another black man, perhaps for the first time in your life, tears in response to the possibility that the Lord has laid firm hands on you.
THE HUNGER AND THIRST were manifested in many ways, and many people testified to the filling presence of the spirit that Monday. Early in the morning one African-American librarian came into her office declaring, "I was overjoyed seeing black men as far as I could see." Then she offered another testimony to the power of the occasion:
My mother, who has been sick for a week, was up all night, caught up in the moment, and she and a neighbor were out on the Mall at 1:00 a.m. and again at 3:00 a.m., just absorbing the spirit of the moment. At 5:30 a.m. she rousted my father, my uncle and me, and said we needed to be there regardless of when the program starts, for "fellowshipping." So we dragged our weary selves down there and I am so glad.
Another black woman caught the spirit in the eyes of the men who came up out of the Metro station near where she was standing. Almost without exception, the men chose to look her directly in the eye, quietly, gently, reassuringly, and several of them took the time to say something like, "Good morning, sister. How are you?" She echoed so many of the testimonies of black women from that day, marveling in the sense of respect, safety, and deep pride-none of which was meant to diminish their own firm commitment to challenge the evidences of patriarchy they had seen in the original planning of the march.
But that was another evidence of the powerful wind of the Spirit. Everyone who opened to it was moved beyond their original setting, especially if they focused themselves not on the original leaders and conceptions but on that sea of pilgrims who moved with such quiet dignity and hope on the Mall and around it. Their steady movement, external and internal, inspired others, even those as far away as Lanese Aggrey. In the midst of the marching, witnessing day, he wrote from Iowa:
Can't tear myself away from the television, where I'm alternating between screaming, crying, and testifyin'!!! When them brotha's broke out into a rockin' version of 'Time to make that change, and we are the men who can do it,' I was through. This is too wonderful, too wonderful. The spirit of it all. Rock on brotha's! March on!
From the heart of the crowd, the testimony was somewhat more sober, but no less moved and moving. That was the word from Robert Wesley Anderson who returned from the march to his job at Duke University's Cancer Center to testify on the net. Anderson said:
I have not had a good cry in about a year. Yesterday I did. Yesterday I joined countless Black men in Washington, D.C., for the "Million Man March." Yesterday, I was on another planet. Never have I felt as strong, been as proud nor seen such hope. It was a day bubbling with more truth than any plan or agenda could ever anticipate. As far as my eyes could see, tribes of Black men with pride-ridden postures and wide-eyed Black boys with nervous energy represented all of us with grace and dignity. I felt like a soldier in a new army...Yesterday was an unabated forward step toward freedom.
And what would the next steps be? Many of the speakers had specific proposals, including acts of personal atonement and change, such as taking new responsibility for young people in families and communities. The new soldiers were urged (especially by Jesse Jackson) to challenge the retrogressive political status quo and all the current mean-spirited attacks on the poor, the unorganized, the children, and the aged. Many persons placed massive voter registration and economic development campaigns on the agenda for the work of pilgrims when they returned home.
The pre-packaged programs may play an important role in the continuing development of the next steps. But if it is true that what we were witnessing on the Mall was a contemporary manifestation of the unpredictable, uncontrollable, living Spirit, then just as the march itself was thrown open to new possibilities, taking its participants to levels and directions they had not dreamed, so the living Spirit may have a number of unprogrammed steps in mind for our personal and collective futures.
In Denver, I saw two small examples of those unprogrammed possibilities for the "new army" of responsible love, hope, and transformation. In class on the day of the march, we discussed its meaning on behalf of all Americans, including white Christians. We explored what kind of responses local white church members and leaders-like those represented in the class-could make to the march participants. One simple suggestion was the idea of taking a bouquet of flowers to the church of one of the black class members to express solidarity and appreciation and to welcome home those who had gone to Washington.
A spontaneous collection was taken up in the class and two of the white students volunteered to purchase and deliver the flowers. As they made the choice at a local florist they found that they were $10 short of the cost of the flowers. The white proprietor of the store asked them what the flowers were for. When my students explained their purpose, the owner smiled and said, "Please take the flowers and let me share the gift."
Then, sometime later, an Afrocentric study group in our city sponsored a potluck celebration of the march. Unexpectedly, happily, two Native Americans came to the gathering of about 100 persons and as a part of their response to the march they offered a ritual of atonement from their own traditions, atonement they said, for the often broken and hurtful relationships between their people and African Americans.
IN QUIET, HIDDEN, unexpected ways, the florist and the Indians may have been bearing the same message: The God whom we sought on the Mall may choose to find us in other unlikely places, may choose to join us with allies who were not on our original agenda. For the enlivening Spirit may well have work to be done in this nation and this world that demands more workers than black men alone can supply.
It may be that the work we envision in our homes and communities is only the absolutely necessary beginning place for the new army. For the Spirit of God, of love, of hope still refuses to be confined by human categories and is ready to leap beyond all our safe barricades and subvert our most treasured certainties.
That was clearly what happened on the Mall. The sea of men literally swamped all the older ideological channels that had been dug so carefully over the last few generations. That is why the men could welcome Maulana Karenga and Jesse Jackson, could applaud references to Marcus Garvey, Fannie Lou Hamer, Martin Luther King Jr., and the Honorable Elijah Muhammad, could remember with gratitude both James Farmer and Malcolm X, could groove to the music of John Coltrane, Stevie Wonder, Ice Cube, and the powerful gospel choirs. The intentions of the platform party-and most of their speeches-were received with patience, appreciation, and magnanimity, but they were clearly not the central reality of the day.
Rather, at the heart of the affair was the powerful sense of pilgrimage, the sense of a loving community, the sense of possibilities that the men had brought with them and that they had found expanding in new forms all around them, in their hugs, in their smiles, in their sense of family, in their loss of fear. When they ended with "To God Be the Glory," it was filled with at least as much fervor as anything they had ever sung in church pews. They had discovered what it meant to taste, even for a moment, the meaning of the promise: "Those who hunger and thirst after righteousness shall be filled."
Now the men, their hunger and thirsting, their brother-creating spirit-and their sister-partners-continue to present a powerful challenge and promise to the churches and to themselves. They cannot be the same as before the pilgrimage began. Now they are a part of hundreds of thousands of black men abroad in the land, black men who have seen a new vision of themselves, their brothers, their sisters, their families, and their communities. Even if it was only for a short time, they saw and felt their capacity to love, to trust, to be trusted, to make commitments, to be part of a caring community. They caught a glimpse of their ability to cry and laugh and be disciplined and pray and make sacred commitments.
In other words, the men, those blessed pilgrims, for a powerful moment in time were able to see themselves with new eyes, to encounter their own best possibilities. They saw and heard and felt the God in them and in other black men-and women and children. Amazing vessels of grace.
So, what is most needed now is not a program for the spirit-swept army, but a community of men, women, and children who can help to remind the pilgrim men, and the rest of us, of what they saw, of what we saw and heard and felt while they/we were on pilgrimage. What that means in Detroit, Bogaloosa, Atlanta, Roxbury, Los Angeles, and all the places in between will have to be explored together. Men, women, and children, constantly reminding each other of the new beings we discovered on pilgrimage, of the Spirit who discovered us, will now have to help each other discover where love, commitment, courage, and very hard work can lead us in the renewal we seek for our lives, our communities, and our nation.
Perhaps we shall discover anew that the Spirit really lives, on malls, on streets, in schools, in homes, and is not confined to the official places of worship. Indeed, one of the greatest challenges of the pilgrims' march may be to the keepers of those official places.
Perhaps one of the unintended consequences of the beauty of that pilgrim army was not only to remind us that the Spirit is not limited by our vision of who is properly qualified to be a catalyst for hope. It also may well be a call for us to venture further out from our own self-constructed safe religious places and discover a new and risky safety at the edges of those spaces where the hungry and thirsty pilgrims gather to remind us that "The Spirit Lives!"-to shout and whisper and tell us that some of the most unexpected folks are just waiting to be hugged, bearing gifts of flowers and hope, dancing with us toward atonement.
VINCENT HARDING is professor of religion and social transformation at Iliff School of Theology in Denver, a Sojourners contributing editor, and a noted civil rights historian and author. He received invaluable assistance for this article from his daughter Rachel Elizabeth Harding, who spent many hours surfing the Internet and also made important suggestions concerning the meaning of the march. The discussions of the march that took place in his Iliff class on Religion and Human Transformation were also a significant source of inspiration.