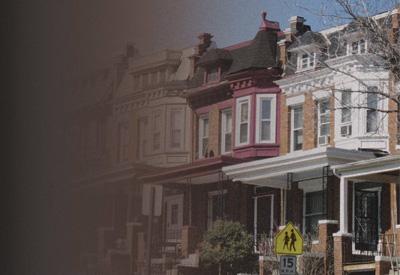 When I moved to the riot-dismembered neighborhood of Columbia Heights, Washington, D.C., in 1986, I had no idea I would still be here more than 20 years later. I anticipated a rather bohemian life of Christian itinerancy -- owning little property and moving where the spirit led. Instead, I was provided with a 100-year-old house (with much of the original wiring) and the gift of stability.
It is from this house that, on some mornings, I glimpse little neighborhood boys on their way to school. Donte Manning was undoubtedly one of those boys -- laughing with the school crossing guard, running with his friends, scraping handfuls of snow off parked cars for snowballs. He was just a little boy.
In the mysterious mechanics of God's universe, Donte's murder on Holy Thursday in 2005 set off a spiritual alarm deep inside me. I followed the scraps of his story in The Washington Post. I read the police reports and spoke with neighbors. Over time, his story became linked with my own -- and with our own story as Americans.
Donte Manning was in the third grade when he was shot in the face around the corner from my house. Pop, pop, pop. It was Holy Thursday -- a little before 10 p.m. The next morning I was leaving Washington, D.C., for a trip to El Salvador. Pop, pop, pop. Six shots on a street filled with kids enjoying a warm night before the Easter holiday.
The bullets left 9-year-old Donte in a coma. A month later, his family decided to take him off life support. "It was a decision the family made with some agony," District police captain C.V. Morris said. Donte survived four more days. I learned that he'd died over our neighborhood e-mail list.
Fran and Larry Bellinger live in a house around the corner. Fran, a former judge, has multiple sclerosis and is a passionate quilter in the tradition of the African-American slave and story quilts. Larry is a writer, political organizer, occasional tour guide, and bank officer. "The night Donte was shot," Larry told me, "I was watching the NCAA tournament and Fran was upstairs working on a quilt. I heard several shots in rapid succession and then a lot of screaming. I went to the front windows with cell phone in hand dialing 9-1-1 while I ran.
"I was looking out of the window when I was jarred by the sight of the people reacting to the incident. That they were running back and forth, jumping up and down and screaming was not unusual. I have seen that scenario played out in other times in other places. But that's when I realized they were all children, not even in their teens. By then Fran had come downstairs and was crying, 'It's a little boy!'"
Fran and Larry learned Donte had been taken to Children's Hospital and was still alive. Fran, who serves on the hospital board, decided to make a quilt for him. "Most kids come to Children's for medical procedures and treatment," said Fran, "but many are brought in as victims. When a child has been molested or assaulted and brought into Children's, their clothes are taken for evidence. They are given blankets to wrap up in and hold onto. The blankets provide a tactile source of comfort for victimized children."
Fran chose a fabric with an animal pattern she hoped would delight a child. The reverse side had a pattern of African masks. "I wanted to represent the solidarity of the neighborhood in support of the Manning family," Fran said. After Donte died Fran gave the quilt to Donte's mother.
A few days after Donte was shot, his family asked friend Jacqueline Ponders to make their first public statement. "The family is praying that the person who is responsible for this crime, that God will convict their heart, that they will come forth and turn themselves in." I hear the echoes of Cain and Abel, and of God who asks Cain, "Where is your brother?" This is the living scripture of the city.
In the early 1990s, the U.S. Census Bureau put out interesting data about poverty rates in the District. While most residents may not spend time in the data sets, they do know the percentages in their bones. Out of the dozens of census tracts that make up the larger Washington, D.C. metropolitan area, 36 of them had poverty rates greater than 30 percent -- and all of those were located within the District.
"Despite the Washington region's overall prosperity, the number of high-poverty tracts rose during the 1990s, their population increased, and their poverty deepened," according to Housing in the Nation's Capital (2003), a report by the Fannie Mae Foundation. "The total number of high-poverty census tracts in the Washington region increased from 36 in 1990 to 43 in 2000. The number of extreme-poverty tracts (with poverty rates greater than 40 percent) rose even more dramatically -- from 10 to 23," the report concluded. In part the data uncovers the growing gap between neighbors or those who ride the subway together.
While the language of prosperity is trumpeted in some corners of the city, whole neighborhoods understand that the music of success is not meant for them.
The census data now describes Columbia Heights as a neighborhood in the process of shifting from an extreme-poverty census tract to merely a high-poverty census tract. As of 2000, 22 percent of the Columbia Heights population was under age 18. The poverty rate was 26 percent. Eleven percent of the housing was public or subsidized. Also, 33 percent of the population was foreign-born and 55 percent had moved in the last five years. The neighborhood is changing from a poor, unemployed or under employed, multigenerational African-American community of mostly non-homeowners to something quite different.
The shift that is happening is called gentrification. High-income individuals are moving in. Often, for a very cheap price, wealthier folks buy houses that have fallen into disrepair, either because the tenants couldn't afford to keep them up or the landlords refused to do so. They rehab the houses and either live in them or sell them at a substantial profit (known as "flipping"). Occasionally the houses they buy are abandoned, but most often the purchasing process displaces families who have lived in the neighborhood for years, sometimes generations, but who were never able to own their own home.
Though the police had no leads in Donte Manning's murder, they thought he was probably caught up in an act of retaliation against the residents of the Warner Apartments on 13th Street. Earlier that evening there'd been a drug raid at the Warner. The police arrested three people. The shooting was one of at least three within about 20 minutes in northwest D.C. that evening -- in addition to Donte, two men were shot and another killed.
In 1995, members of the Christian Peacemaker Teams worked with the Warner Apartment residents in an Urban Peacemaking project following a series of violent incidents. The CPT project did reduce violence and increase safety over time. However, the neighborhood population continued to turn over -- people moving every three to five years, primarily for economic reasons -- so lack of stability undermined long-term organizing. CPT moved on to other projects. Ten years later the drug dealing was worse than in 1995.
On that spring night in 2005, the drug dealers flipped the script on the cops and came back, guns ablazing. The result? Donte Manning lying in a pool of blood on the sidewalk outside his apartment.
In the history of Judeo-Christian imagination, the city has represented many things. The Hebrew scriptures tell the stories of the earliest human settlements; the Christian gospels portray Jesus' Jerusalem; and the book of Revelation is constructed around an image of the "City of God." How do these biblical images of the city theologically interrogate "my" city of Washington, D.C., and my neighborhood of Columbia Heights? How can urban space be read as biblical narrative?
Maybe the most important question any of us -- especially Christians, with our fascination for incarnation -- can ask is: Where are the bodies in a city? Where do people locate themselves temporally, spatially, and spiritually? Who lives, who dies, and why? Whose blood is sacrificed on whose altar and for what purpose? Is Donte's blood -- shed on this city sidewalk -- also Christ's blood? Doctrinal and theological arguments aside, everything in me says yes: Christ's blood and Donte's blood are intimately connected because the cross is always in relationship with the least and the lost.
Rose Marie Berger is an associate editor of Sojourners. This article is adapted with permission from her book Who Killed Donte Manning? The story of an American neighborhood (Apprentice House, 2010), available at store.sojo.net.